As we age, the need for assistance becomes more and more prevalent. One of the best ways to help you aging loved ones is with new technology that makes their lives easier and safer. Here are best tech gadgets for elderly people that will make a difference in your life today!
Types of gadgets which are suitable for the elderly
Smart clock
This is a great way to help your loved one stay on schedule. A smart clock is a great way to help your loved one stay on schedule. It's important for older adults that live alone or with others who might not be as attentive, like children or grandchildren, to have an easily accessible reminder of what time it is and when they should do something next.
A smart clock is a great way to help with this because it speaks both the time and what you should do next. It has three alarms for specific people, so grandma or grandpa can have their own personal alarm that wakes them up in the morning.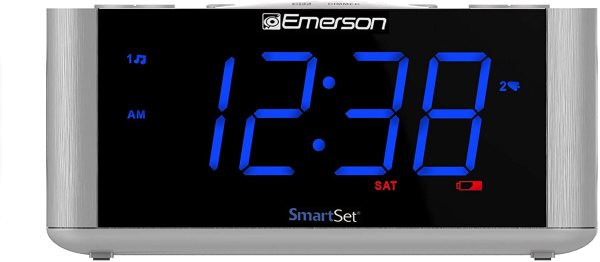 Emerson SmartSet Alarm Clock
The Emerson SmartSet Alarm Clock is professional and reliable. It has a large, 1.4″ display with blue LED lighting that never needs adjustment because of a patented smartest automatic time setting system. Furthermore, the Emerson clock automatically sets itself to the correct year, month, date, day, and time as soon as it's plugged in or after every power interruption. Best of all? No more having to set your alarm clock!
Voice activated TV remote
These are very helpful for people who have trouble with their hands or can't see the buttons well. A voice activated TV remote can be used to easily turn on the television, change channels and adjust volume levels. This is especially helpful for elders who have arthritis in their hands that makes it difficult or too painful to use a regular remote control. Voice activation remotes are also great because they're easy to figure.
Emergency call button
An emergency call button that sends an alert when pressed, so they don't have to get up and find the phone to call for help. It is a helpful gadget that can be used to get a senior citizen's attention in an emergency situation, or when they are feeling poorly but cannot reach the phone themselves.
An emergency button also means less risk of falling and hurting themselves while trying to find their way back to bed; it is usually placed next to their bed so they can always find it.
Some models will contact up to three emergency contacts and offer a verbal announcement of the senior citizen's location, condition, and situation before automatically hanging up (to prevent any unnecessary panic).
Digital frame
A digital photo frame that displays pictures of family members, friends, and other memories. Your grandpa and grandma will love looking at pictures of their grandchildren, or great-grandchildren.
Doorbell camera
A doorbell camera will allow them to see who's at the door without having to open it themselves. The camera is typically mounted near the door in a place that's easily accessible. After you sync it with your Wi-Fi, all they need to do is open their mobile app and press "answer" on any calls or alerts from the front door. The person at the other end can see them via video chat, and they can also talk to them through the speakerphone.
This is great for people who live alone and have a hard time getting around, or those with sensory impairments such as deafness or blindness. It will allow you to see who's at your door before opening it! And if someone tries to break in, this device can ring alarm to scare them away or give us sometime to call the polices.
Smart lighting system
Smart lighting systems like Philips Hue or LIFX which come in different colors and can be controlled by a smartphone app from anywhere in the world. It can change colors and save up to 80% on electricity bills by turning lights off when there is no one at home.
You can also use this lighting system as a burglar alarm if someone tries to break into your house! If the sensors detect any motion, they will automatically turn red and give an alert sound so the elderlies can call relatives or polices.
Voice-controlled robot
Voice-controlled robots which can read stories aloud for the seniors or play music. The benefits of these devices are that they don't require the elderlies to use their eyes or hands in order to be entertained by them, which can help with vision and mobility problems. Another good thing is that this robots will never complain about being bored while listening to our stories!
Surveillance camera
A surveillance camera is a good way to keep track of your grandpa and grandma's daily life. It's not enough to only rely on phone contact, these devices will be able to see what is going on in the house and if there might be any accidents happening.
Some of them have built-in motion detector and a camera which can speak back through an app so that you don't need to miss out anything important. If you have a camera with night vision, then it is going to be really helpful in the dark as well!
Tablet
A portable, password-protected tablet for seniors will help them stay connected during their retirement years. It has many features such as an alarm clock, calendar, weather forecast, news headlines and more! And if there's ever an emergency? No problem – this device can call 911 right away so they know everything will be okay no matter what situation arises. There are even preprogrammed "home" or "hospital" modes where all of these options are available for quick use.