If you want a great product in the audio equipment industry that doesn't disappoint and satisfies your music listening needs, you should get something designed by Bose. The SoundLink III by Bose is an exquisite portable Bluetooth speaker that delivers a great combination of mobility and superior audio performance that you're looking for.
It comes with a charging cradle as well so that you can easily charge the speaker and make sure it is always ready to be taken out. It comes with Bose's signature technology, which means it contains high-quality components, and the small size of the speaker means you can easily take it with you anywhere.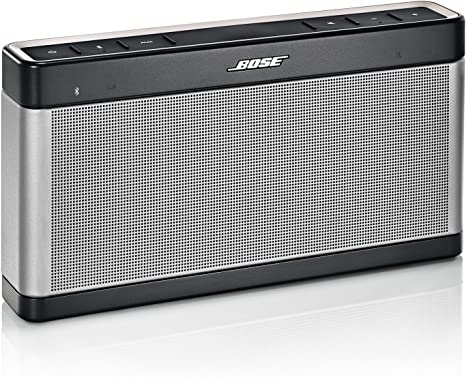 Bose SoundLink III Specs
Features two high-level audio drivers, two mid-level audio drivers, and a subwoofer.
The speaker comes with Bose charging cradle for uninterrupted charging.
Powered by a Li-ion battery to give you 14 hours of uninterrupted music playback in just one full charge.
Connects to all Bluetooth devices, universal and portable.
The silicone button panel protects from dust and dirt.
The wraparound metal grille makes it more durable and resistant to fingerprints.
5mm aux jack provided for alternative connectivity, 90 dB of loudness.
Charging Cradle
The new and innovative technology of Bose has resulted in this charging cradle, which gives us ease of use and the ability to charge the speaker as it plays music. The charging cradle by Bose is easy to use, and it's so convenient that it charges the speaker easily and seamlessly.
You won't even have to charge the Bose SoundLink III all the time as it's powered by Li-ion batteries that let you play music for 14 hours non-stop. A playback time of 14 hours in just one charge means that you never have to stop the party, no matter where you are.
Sound Quality
Bose is a reputable name in the audio equipment industry, and it has been that way for decades now. Thus, the SoundLink III speaker is a device that has been engineered for high-quality sound performance.
Boss SoundLink III features two high-level audio drivers, two mid-level audio drivers, and a subwoofer, and all of this is enclosed in the small and portable SoundLink III speaker whose dimensions are merely 10″ by 1.9″ by 5.2″.
This incredible feat shows how Bose technology is one of the best as the speaker delivers high volume as well as a superior audio performance at all volumes so that you can enjoy your music to the fullest.
Final Verdict
The Bose SoundLink Bluetooth speaker III is a high-quality speaker that connects wirelessly to your smartphone, tablet, or another Bluetooth device. It has a sound performance that is unlike any other mobile speaker this size, with its curved edges and thin profile making it easy to grab and go. The silicone button panel protects from dirt and dust, while the rechargeable battery plays for up to 14 hours.
The Bose SoundLink III is truly one of the best portable Bluetooth speakers that you can get for your listening needs. It has got the superior hardware you need for clear and loud music, and the ease of use when it comes to charging the speaker or connecting it to your devices is another great plus point. With 14 hours of playback time and 90 dB of volume, this portable speaker is a great choice for anyone looking for a high-quality, portable speaker.