It's tough to impose a schedule to the young ones. They tend to oversleep and enjoy the comfort of their bed. If you are encountering this difficulty as a parent, you should be interested about getting a high-quality alarm clock that can help you ensure that your kid is following his or her proper schedule at school or events.
We all need a good alarm clock to get up in the morning, but what if it were easier and more fun to wake up? These 8 clocks are cute enough that you'll want to start your day with them.
Why pick a cute alarm clock instead of a normal one?
Cute alarm clocks are more fun to wake up to.
They can be a great way to start your day with a smile.
It's important for kids and adults alike to have an alarm clock they enjoy waking up to.
You can find cute alarm clocks in many different styles, from cartoon characters like Mickey Mouse and Minnie Mouse, to popular TV shows such as Game of Thrones or Friends.
There are also lots of options when it comes to color – you might prefer something bright and colorful that will make you feel energized in the morning, or maybe you want something more neutral if you're not feeling too well.
Cute alarms come with all sorts of features that regular alarms don't have – some play music or nature sounds, others feature snooze buttons that give you extra time before starting over again.
Some even offer light therapy! This is perfect for those who need help getting out of bed on dark winter mornings.
8 best kawaii clocks
Here are some cute alarm clocks that you can get for your child:
Japanese Anime FAIRY TAIL Natsu Seven Color Change Glowing Digital Alarm Clock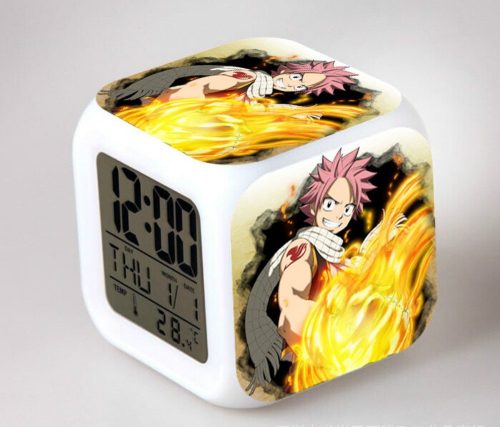 If your kid is hooked about Japanese anime, this is perfect for getting. This alarm clock is well-designed and could emit 7 different colors that can put your child into amazement.
Natsu is a character from the anime series Fairy Tail. Natsu Dragneel is a Fire Dragon Slayer, who uses his power to fight against evil and help those in need. He's also one of the main protagonists of the series. His goal is to find Igneel, his foster father and the master of all dragon slayers.
Fairy Tail Natsu Digital Alarm Clock is a perfect gift for his fans. The product is made of PVC material, which is durable enough to use for long time. This clock can support 12-hour and 24-hour time format, calendar, alarm and temperature display function. It also has an LED powered by 4 x AAA batteries (not included). With the unique design, it will make your room look more elegant and attractive.
Enjoy Life: Cute Digital Multifunctional Alarm Clock Glowing Led Lights Undertale Sticker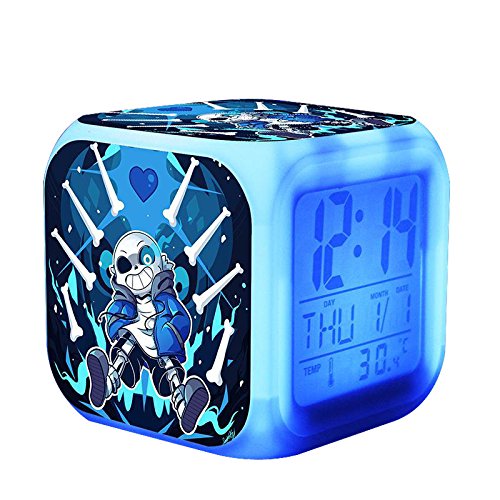 The alarm clock is nice to have because of its digital feature. Your kid will be able to check the time immediately without calculating the hours. The particular time will be displayed on the screen. This also makes use of led lights to make it fancier.
This alarm clock is made from sturdy plastic and has a circular, changing LED light that creates an interesting effect at night. The lights are adjustable so the user can have it working for little time or all-time depending on their preferences. This clock also includes many features like displaying year, month, week day and temperature as well as having snooze indicator with its flashing LED lights in different colors which makes this cute cube design more attractive to look at!
Deco Space Japan Anime One Piece Digital Multifunctional Alarm Clock with Glowing 7 Led Color Changing Lights PVC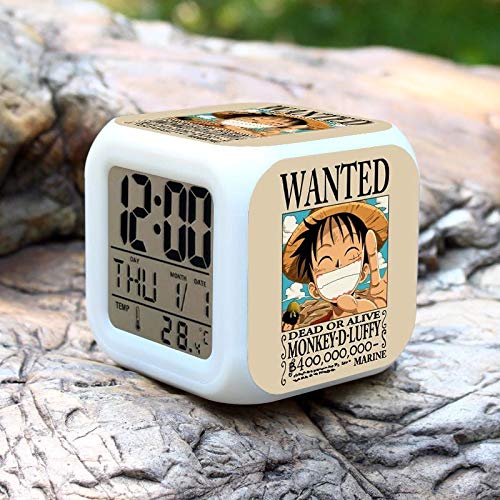 This quality Deco Space designed alarm clock also has 7 glowing led lights that could change following a pattern. This makes use of a durable PVC material to ensure the longevity of use. This clock is a must-have for One Piece Luffy fans.
This seven color, backlit alarm clock is a cool way to wake up in the morning. The display features time, week day and date information as well as temperature readouts for Celsius or Fahrenheit readings. With every 3-5 seconds that pass by on this device you'll see it's base change colors from one shade into another; it will illuminate your bedroom with 7 different hues if used there at night!
Enjoy Life: Cute Digital Multifunctional Alarm Clock with Glowing Led Lights and Super Mario Sticker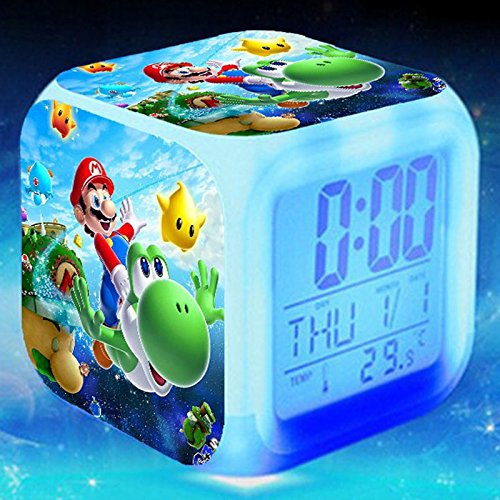 If you are a fan of Super Mario, your kid might do the same. Get him this cute alarm clock with Super Mario Sticker. This will entice your kid to use the clock and wake up on time every day.
This kawaii clock is a beautiful way to enjoy the night with just enough light for comfort but not so bright that it distracts. Its soft colors and changing illumination let you relax while sleeping or create an atmosphere of romance, making this device perfect for any room in your house! It can emit seven different colors of soft light: red, yellow, green blue purple pink white support 12-hour and 24 hour time format calendar temperature alarm (not include battery) dimensions are 8x8x3cm/ 3.15 x 3 cm / 1 inches
Cute Facial Expression Alarm Clock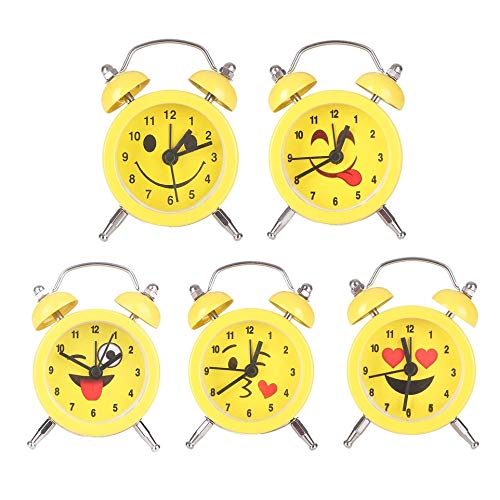 This alarm clock is good to give your kid a good vibe every time she wakes up. The cute design that reflects a facial expression of this clock will surely set her mood every morning.
Struggling to get out of bed? The Facial Expression Alarm Clock is here to help! This small, table-top alarm clock features two set modes: silent walked until it alarms (it's a great first alarm for children), or pre-alarms that you can time with 60 minutes – after those are done, it will start beeping loudly. Whether you're waking up tired kids for school, snoozing in between meetings at work, or shuffling off to bed yourself, this adorable little invention will have your morning routine sorted in no time. Great for either home or office use
URbeauty 1Pcs Fashion Silent Night Light Cartoon Chicken Desktop Clock Alarm Clock Children Bedroom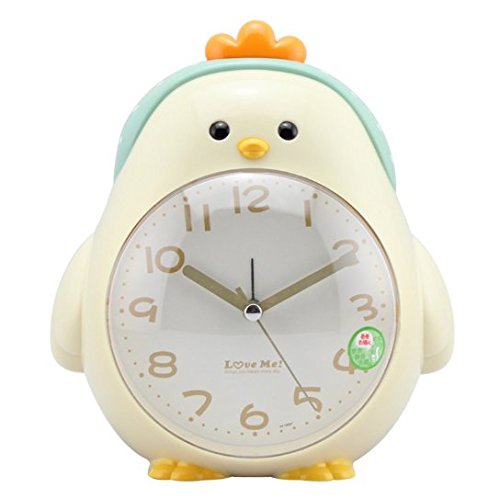 This UR Beauty clock is another option for your little girl. This looks nice and can be easily placed on your desktop. This is made of high quality plastic material that can stand the test of time.
Kanical Wake Up Light Alarm Clock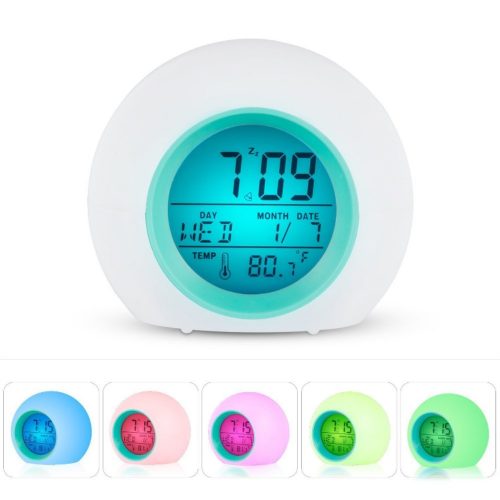 This Kanical Wake Up alarm is perfect if your kid is getting older or getting into the teenage stage. This alarm clock has a lot of features that he or she can enjoy like the snooze function, lights, and temperature display.
Kawaii Cute Cartoon Design Multifunctional Alarm Clock Wake Up Night Light Remote Control Desktop Recording Light Lamp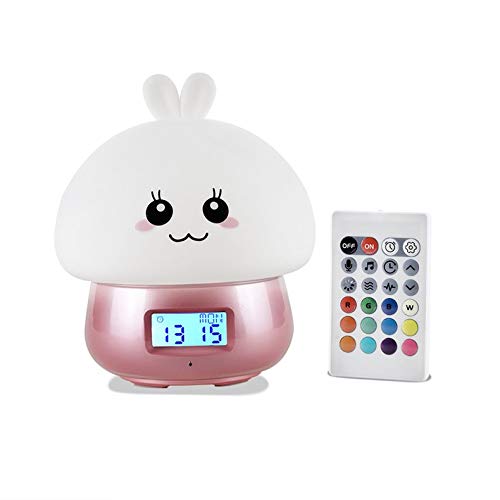 This Kawaii cute alarm clock is nice because of its remote and recording feature. This makes use of modern technology to function well for your child's wake-up alarm and convenience.