I am sure that at some point you have been in the position where you needed to charge your phone, laptop or tablet but you were unable to find an outlet nearby. I know it is frustrating. Luckily there are many options for charging these devices and one of them is a USB wall socket! A USB wall socket will allow you to plug your device into any standard wall outlet and provide power through a USB cable. Whether you need access to power while on the go or just want more outlets around your home, this article can help show which option could work best for you!
5 Best Wall Outlets with USB Ports
Thanks to the latest technology even wall outlets can be improved. Here are the USB wall outlets with USB charging ports that offer precisely that.
POWRUI Surge Protector, USB Wall Charger with 2 USB Charging Ports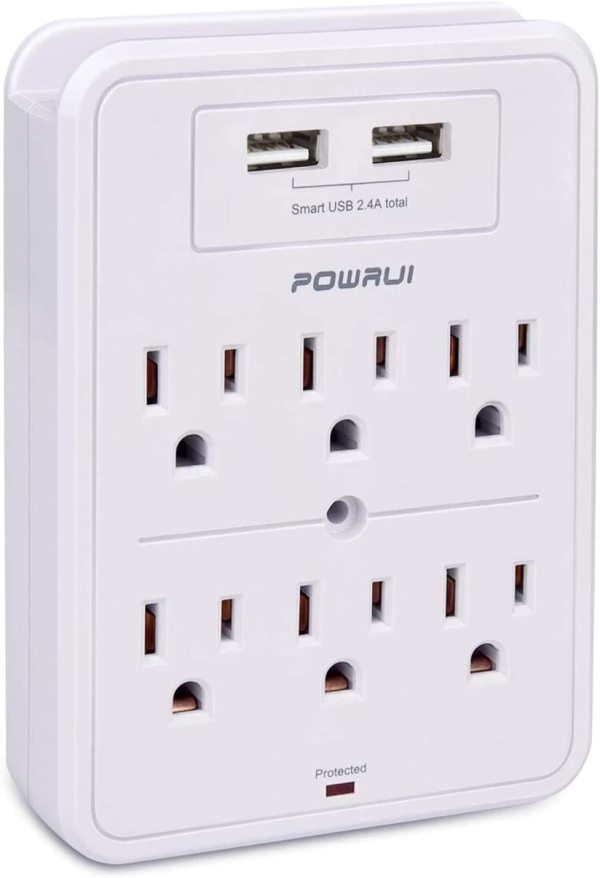 The POWRUI USB Wall Charger is the perfect product to keep your phones or tablets fully powered at all times. This dual-plug wall charger provides 2 USB ports, each with a charging speed up to 2.4A– which means you can charge multiple devices at full capacity simultaneously. The Surge Protection Technology on the device has a rating of 1680 Joules and maximizes safety for you and all your devices plugged into this QUAD outlet power strip.
The POWRUI USB wall charger has two high-speed charging ports and six built-in AC outlet plugs, including surge protection. It's perfect for hotels, offices, garages, or other areas without enough outlets to charge up all of the devices you need access to. When not in use, your cell phone can sit on top while it charges—an added convenience!
The POWRUI USB wall charger is superior in every way compared to traditional power strips with a measly four outlets (and no dedicated charging stations). You'll never have to worry about running out of space again for extension cords and cables when you're using an effective device like this. Built-in protectors keep your gadgets safe from energy fluctuations.
With POWRUI, you get a professional grade 2-port USB charging station that includes six built-in outlets to power up all of your electronics with just one outlet from the wall. Premium circuitry prevents against overload, overcharging, or shortage.
Huntkey 2-Outlet Wall Mount Cradle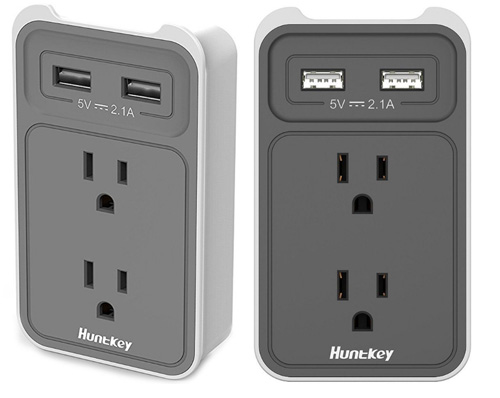 Huntkey 2-Outlet is one of the best-known devices of this kind. In a matter of fact, it is one of a bit special models. Not only it will fit any wall socket, but it will make it more functional. This is possible because once inserted into a wall socket, it will still provide 2 sockets and additional 2 USB ports. The device is specially designed for smartphones, tablets and other accessories that can be recharged via the USB port. An interesting addition is a cradle feature, allowing you to place a device on the charger itself.
TOPGREENER Dual USB Charger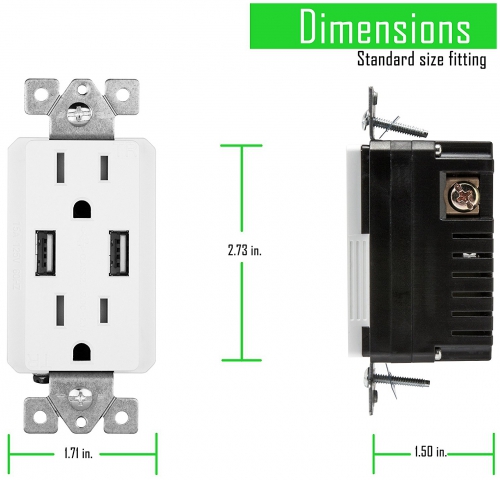 This device is a permanent fix. It is designed to replace conventional wall sockets and make them more useful to newer gadgets. Once installed, a user will also get standard wall sockets, but he will also get two USB ports. The version in question is available in different colors and with different designs. A must be mentioned fact is the commercial application. Each new restaurant, hotel or other facilities will need these wall sockets. It is an essential choice when it comes to motion sensors, Z-Wave gadgets and other devices of the same kind.
TOPELE LD-UR01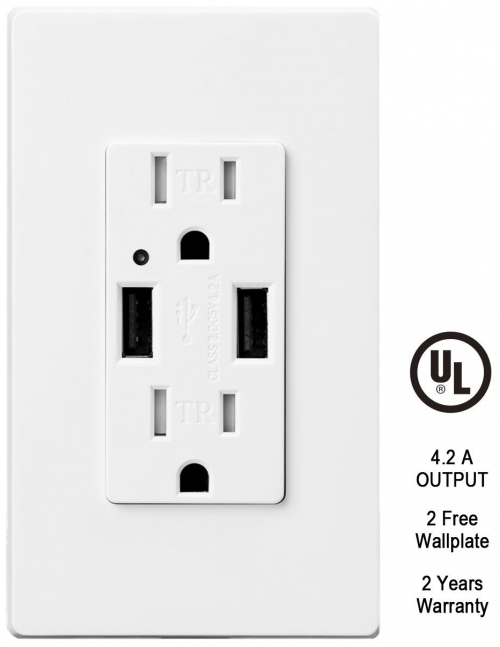 Here we have a wall socket developed for homeowners who want to make the entire home tech-friendly. The main fact is the support of the different voltages. It can be used for 100-120 Volt electricity. It also offers dual USB port system and high-speed charging. This feature will, in essence, recharge all plug in devices 4 times quicker that conventional chargers can, but it will also protect the battery and prolong the lifespan. Due to the crewless wall plate and installation guide provided, fitting this wall socket is simple and it takes a few minutes. The warranty is amazing 2 years.
TOPGREENER TU2154A Smart Ultra High Speed USB Charger Outlet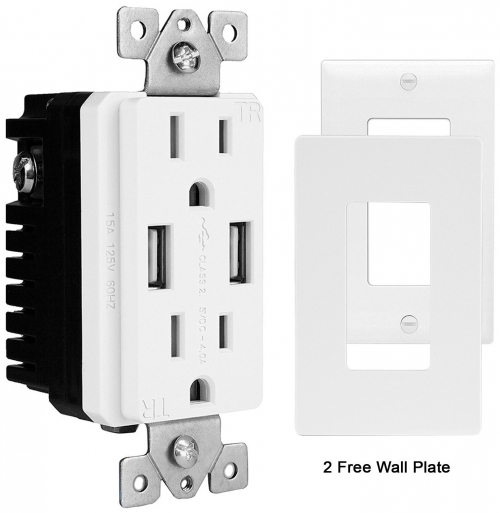 Once installed, this wall socket will make the entire home ideal for teenagers. Thanks to the Intelli-Chip that measures the exact amount of electricity, a device needs, recharging batteries is safer and faster at the same time. Installation is also easy because it uses existing wiring. High-speed charging is obviously supported, but we liked the NEC (2011 National Electrical Code) addition. In general, it is a shutter mechanism that prevents children from trying to insert an object into the socket. This made it the most common choice for parents, and the best-selling item on the market right now.
Conclusion: Whether you need to charge your phone, laptop or tablet while on the go or just want more outlets around your home, a USB wall socket is one option that can work for you. We hope this article has helped show which option could work best for you and we would love to hear from any of our readers who have tried these options out!