There are many Unity assets that can help developer quickly create a map and terrain in a scene.
Gaia Pro is a all in one solution for generating landscape, terrain and scene in Unity. It allows you to create stunning mobile, vr, desktop and console scenes in minutes.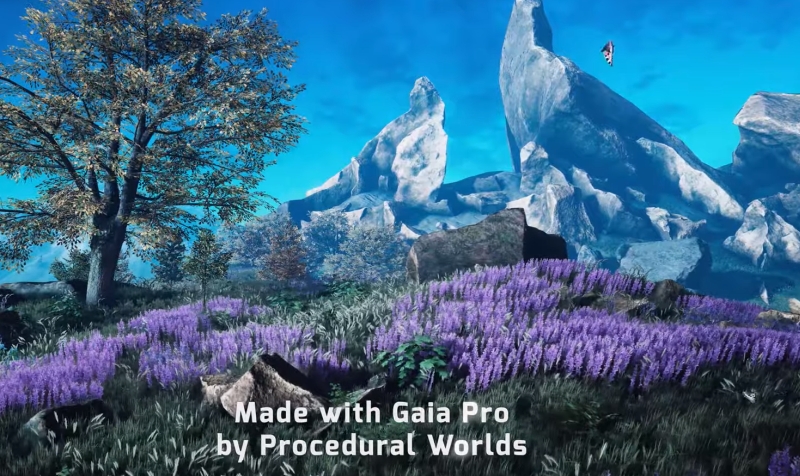 The asset includes many typically disparate and expensive assets into one integrated, optimized and professionally supported system.
Features:
Multi Tile Terrain Support
Powerful Biome Creation & Mixing System
Massive World Creation with Non Destructive Editing
Massive World Streaming, Culling & Floating Point Fix Support
Modular wizard driven design, use as much or as little as you want
Vegetation shaders with location and seasonal variation, sss, cover and snow
Asset shaders with location and seasonal variation, sss, world cover and snow
Over 100 Photogrametry Enhanced assets including: terrain textures & rocks, billboard & mesh based grasses and flowers, bushes, berries, ferns, mushrooms, stumps, dead and fallen trees, spruce, pine, maple, sequoia, oak trees
Beautiful & configurable lighting system with time of day support
Spawnable VFX sytem with birds, butterflies, falling leaves and pollens
Spawnable Sound FX system with a range of sample sounds and music
Integrated & matched skies, lighting, fog and post fx for beautiful visuals
Integrated weather system with rain and snow support
Beautiful & Fast Water Shader and presets system
First, third, flying & vr/xr character controllers
Easily extensible with your own assets
GPU Accelerated Stamping & Spawning
Real time stamp & spawner previews
LODDed Terrain Mesh Export system
Layer based asset culling system
Builtin, URP & HDRP 7.2+ support
Stackable filtering system
GeNa is a tool for spawning systems that helps you to create stunning environments fast.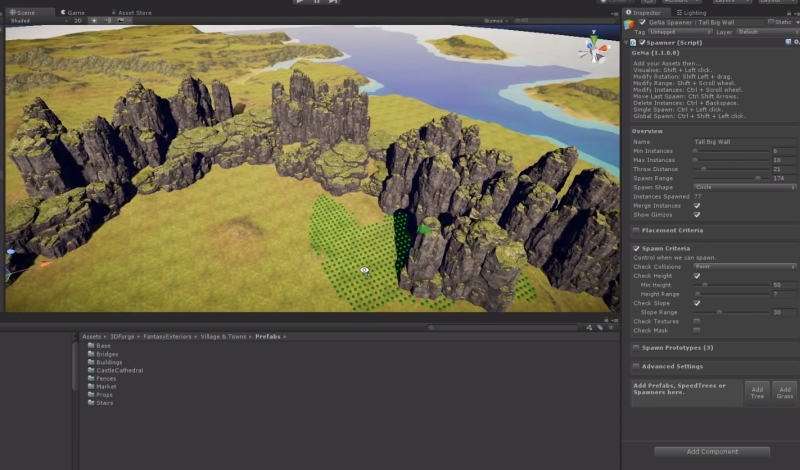 Features:
SECTR support
Fast intuitive setup
Single, Global and Paint based spawn modes
Layer based collision detection
Works with terrains or meshes
Works with single or multiple tiles
Automated prefab optimization system
Automated light probe placement
Spawns textures, grasses, trees or prefabs
Spawns individual items
Spawns complex structures
Spawns locally or across entire scenes
Composable spawner and sub spawners
Extensible spawner system via API
Design time or runtime spawning
Precision placement modification
Save spawners as prefabs for re-use
Rock ledge and rock wall building
Preference & preset systems
Cool fence building system
Amazing gravity simulation
Multiple spawn algorithms
Cool Iteration mode, Ctrl+I
Multiple levels of Undo
UModeler is an extension for Unity editor to allows modeling and prototyping easily and quickly. With UModeler, you can create a static mesh asset as well as prototype a game level without any other external DCC tools.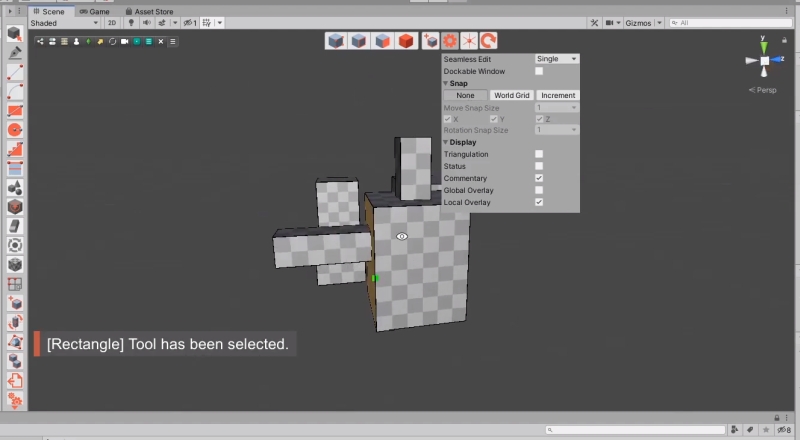 The tool allows you to:
• 3D Modeling from a low poly mesh to a rather complicated mesh.
• Prototyping.
• Modifying a mesh with Meshfilter component.
• Texture Mapping with UV Editor.
• 2D Drawing.
Octave3D is a collection of prefab snap and paint tools offer you ability to build beautiful and cool looking environments.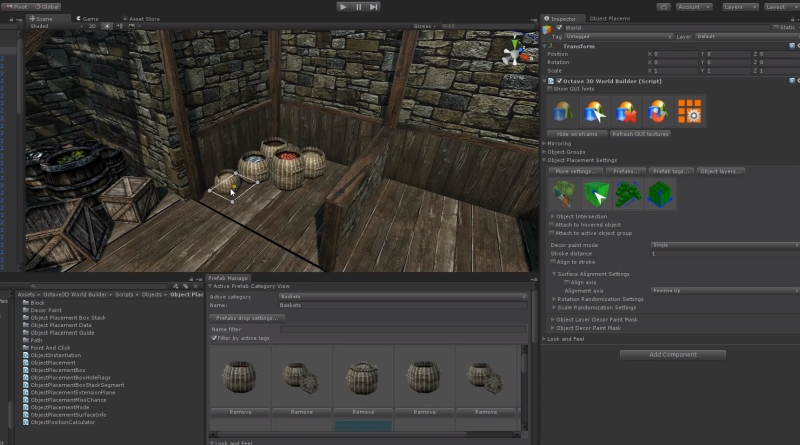 Octave3D organize your prefabs in categories and tags, which allows you to quickly access to a multiple prefabs and put them in screen. With the pivot point snapping system, you can snap objects to the grid or to other objects.
Features:
prefab categories and tags
grid snapping
object to object snapping
easy prop placement
prefab brushes
object groups
symmetry
support for multi-story environments
tile connections
object selection
single and mass erase tools
snap and paint masks
2D sprite support
level optimization (mesh combine)
… and many more!
Archimatix is a powerful node-based parametric modeling that helps you quickly create mutable props and engrossing environments. It comes with many game-ready example models featuring interactive handles that let you manipulate forms in realtime.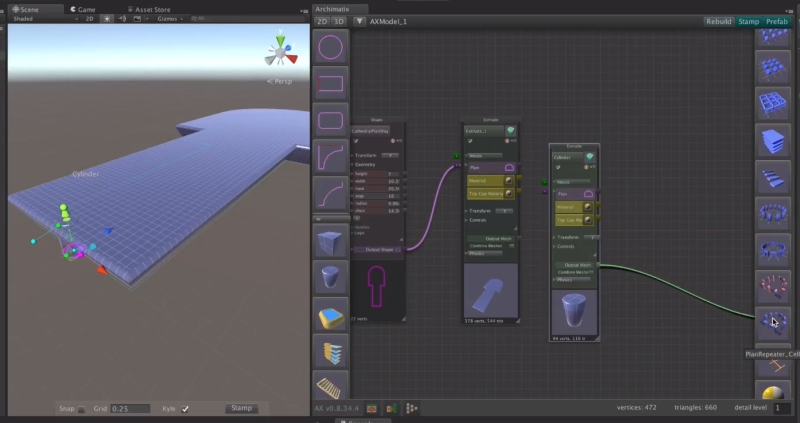 Features:
Node-based Graph Editor with Intuitive UI
Library of Parametric Shapes and Objects
Library Items You Make Can Be Shared via Email
Interactive Editing with Scene View Handles
Very Fast Realtime Editing, Even with Large Models
Grid Snapping
Nested Node Grouping
2D Shape Merging, Thickening, Offsetting and Rounding
Relations with Mathematical Expressions
Freeform Curve Editing
Turtle Scripting for Custom Parametric Shapes
Texture Scaling and Shifting to Align Both Repeating Textures and Atlases
Automatic UV Mapping and UV2 Unwrapping
Texel Budget Display
Substance Support
Collider and Rigidbody Controls
Per-Node Static Flags
Automatic Mesh Combination per Material
Level of Detail Control
Prefab Creation
Dungeon Architect is a procedural level generation tool, which allows you quickly craft your own dungeons both at runtime and design-time.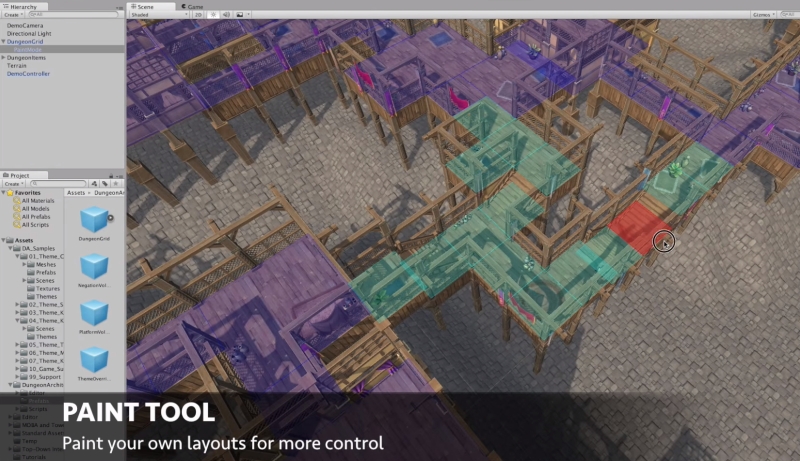 Features:
Procedural Levels – Generate vast procedural levels with a single click
Runtime Dungeons – Generate dynamic dungeons at runtime
Theming- Use an intivitive graph based theming approach to interactively design the look and feel of your dungeons
NavMesh- Generates dynamic navigation mesh. Also comes with a navigation agent implementation for moving AI bots along the nav mesh
Paint Tool-: Paint your own dungeon layout within the editor for more artistic control, and have the environment automatically build around it
Volumes- Use various types of volumes to influence the dungeon layout
Terrain Modifier- Procedurally modifies and paints the terrain along the dungeon layout
2D Support- Use the same workflow to create 2D levels. The theming engine supports sprites for your 2D games
Scriptable- Add your own logic on any of the theme graph node to control the way the props are populated in the scene.
Extensible: Designed to be modular and extensible.
Sample Content: Free modular assets are included to help you quickly get started.