High-intensity interval training (HIIT) and other similar types of exercise are extremely good at improving both aerobic and anaerobic health. These types of training require observing time. You need a right app to track your workout anytime and anywhere. Following are the best workout timer apps on iPhone.
Interval Timer – HIIT Workouts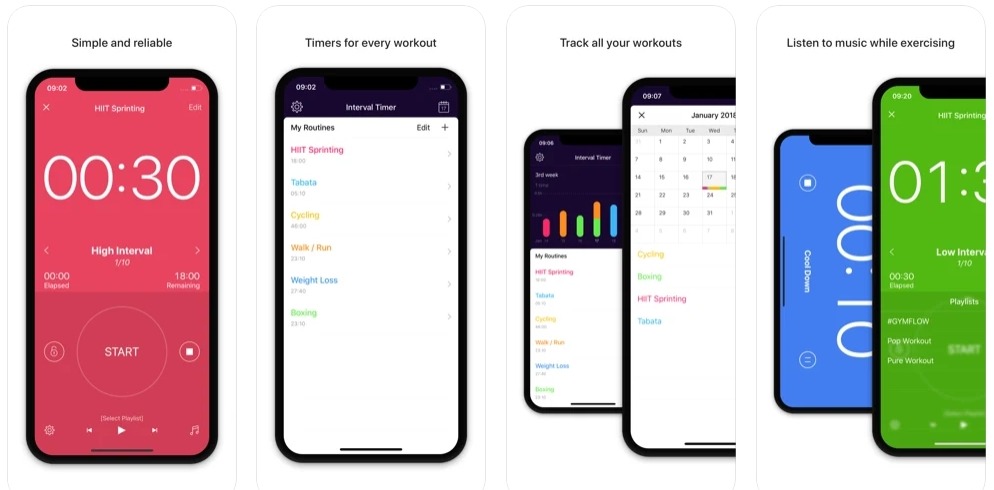 This app helps you keep track of your work and rest periods during workouts, be it cycling, running, lifting weights, exercise, workout, stretching, boxing, MMA or HIT.
Getting fast HIIT workouts and accessible anywhere, this app will keep surprising you with every next tap. With customizable sets, high/low intensity interval and rest for your own need as well as Retina display and multitasking, never worry about the concern of safety again when running foreground on the road. You can also insert in your favorite song into playlists so that it could accompany you all through an extensive workout without interruption to control volume or change the track. Moreover, export directly to Facebook or Twitter; save settings as templates for future use – just what more do you want?
Customizable sets, high/low intensity interval and rest
Multitasking
Run in background when screen is locked
Play your song or playlist during your workout
Share your workout to Facebook or Twitter
Save settings as templates
Tabata Stopwatch Pro – Tabata Timer and HIIT Timer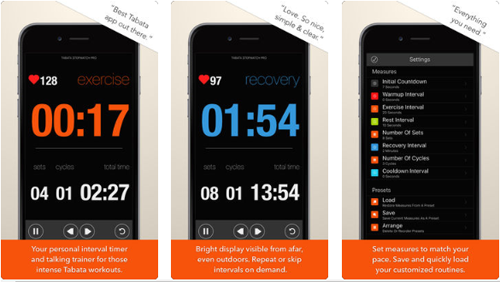 The app is an Tabata interval timer that works for all your interval training needs. You can use it with Tabata, HIIT, kettlebells, bodyweight exercises, interval running, sprints, and other types.
The Tabata HIIT Interval Timer is a simple to use interval timer that's just right for any training routine. With 2 beautiful themes, color coded display visible from afar and customizable intervals the Tabata HIIT Interval Timer is perfect for pro grade workouts. The Tabata HIIT Interval Timer works on both iPhone and iPad, has customizable initial countdown/warmup time, allows configuring exercise-rest-recovery-cool down times as well as number of sets and cycles per workout.
Classic Tabata comes built-in.
Simple and easy to use
Support 2 beautiful themes by default.
Color-coded phases.
Customizable sets and cycles, initial countdown, warmup time, exercise, rest, recovery and cooldown intervals
A list of presets to support multiple interval training needs is available in pro version.
Pause your workouts if needed.
Works with the screen locked and in your pocket.
Support vibration and beeps.
Voice assist so that you focus on your workout without looking at the screen.
Support music played from iPod.
Apple Health support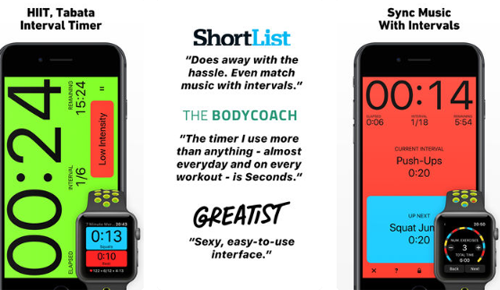 Seconds Interval Timer HIIT is a paid app. Non-Pro user can only use 1 template. This app is one of the most advanced interval timer.
Seconds is a great extension to the basic timer app. It's looks are sleek and in-depth. Seconds seamlessly integrates with music, using your phone's microphone to listen for when you're ready to switch from one interval of exercise to the next. With forward alarm and countdown, this app eliminates any need for watching that clock or following along on paper while working out. As a result, Seconds is perfect for Interval training programs like HIIT (High Intensity Interval Training) or Tabata as well as circuit training based workouts where you need more than a single reminder of which timers are running at the same time.
Support Apple Watch
Built-in templates for HIIT, Tabata, Circuit Training and more
Custom timers to create any intervals
Suport Bluetooth heart rate sensor
Speaks your interval names in your language
Allow music during intervals
Support external display and AirPlay Mirroring
Can run in the background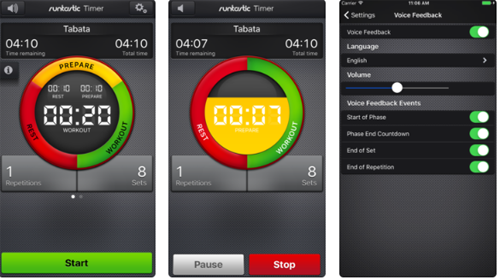 Runtastic Timer App can be use while training at the gym, with weights, kettle bells, spinning, bodyweight exercises or other fitness activities.
Customize your time for each phase: Workout, Rest period, Reps, Sets
Voice feedback
Support unlimited templates