Why buy a separated stop watch when you can do it with an Android phone and an app.
Interval Workout Timer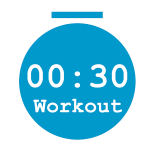 Interval Workout Timer is a simple timer app which allows users to customize repetitions, sets, and duration of preparation, workout and rest periods. The app also provides color and voice feedback to assist users in their workout process. Interval Workout Timer is suitable for mot kinds of exercises, including HIIT, Tabata, and Seven Minute Workout. If you want a simple countdown, this is app is for you.
Stopwatch Timer is a simple app that will help you to measure the time in most situations like doing sports, cooking, playing games, learning, etc…
The apps supports basic features such as stopwatch, timer, lap. Its design was made to make you feel that you are holding a real stopwatch and timer on your hands. It provides beautiful themes and animations, up to 12 themes to choose, with clean Holo android designs and classic retro.
Stopwatch and Timer offers easy to read large digits and a full screen mode. It displays notification of time elapsed or remaining in the notification bar so you don't need to open the app to see these info.
Its look can be customized with a choice of several colors and fonts. it supports renaming of timers and laps to avoid confusing activities' names and to make it easier to re-use daily.
This is an app developed by famous fitness developer, Runtastic.  It allows customization of your timer with various activity phases like warm-up, workout, rest periods. Its voice feedback is a great feature, which reads out loud info such as remaining time, number of laps. You can create an infinite number of timers with different options then save them and use these again and again.
Impetus is not a simple stop watch app. It is an advanced interval timer for all training with intervals or other timed repetition; HIIT, Tabata, Fight Gone Bad, Crossfit, breath hold training, Beastmaker, boxing, martial arts, yoga,kettlebells, pyramid training, running, BodyRock, ZWOW, physical therapy, and many more other activities.
You can use it the traditional way by using simple mode to make it feel like a real stopwatch or choose from a list of presets. Its can play different music during the work and the rest intervals.
Workout Timer is one of the best workout round timers for interval training such as martial arts, crossfit, cycling, running, tabata. This app can run in the background while you run the music player or other apps.
Exercise Timer is another ultimate companion app for your gym or home workouts. Whether you need to perform simple workouts, tabata, HIIT or any other style, the app is your perfect interval timer.
You can customize your workout to include warm-up, workout, interval period and rest period. You can add as many exercises/sessions as you wish to your workout unlike most gym timers.