This is a review of the Gamevice Controller for iPad, the best ipad controller in the Market.
Playing a high intensive game on a touch screen can be frustrating and boring; it's also very slippery. You are also limited when it comes to the use of awesome features. Imagine taking your PlayStation experience to your iPad.  Gamevice, an industry leader in accessories unveiled the Gamevice iPad controller to the market in 2017. The iPad controller comes with improved thumbsticks, buttons and a light design. This ensures that gamers are able to enjoy more than 900 games on the move. The iPad controller can be attached on your ipad in a few seconds; though it's a bit hard with a phone cover.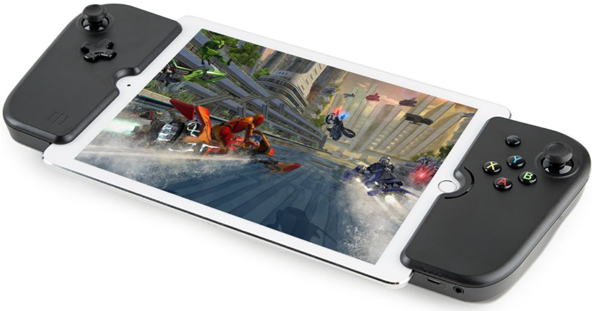 Features
The iPad controller is easily attached to your phone lightning port. The controller does not have power of its own but uses the phones power. You will need to charge your phone through its own lightning port; though they say the controller consumes the same as battery headphones. The ipad controller consists of two halves held together with a flexible, rubber strip.
Just like the Xbox controllers, you get two thumbsticks, shoulder buttons, four ABXY face buttons, directional pad and menu buttons. You also get an additional headphone port. The gaming buttons are very comfortable, giving you easy gaming.  You also get a four LED indicator which shows you just how much power is available.
Gamevice controller is compatible with many games on iOS App store; that has more than 900 games. This ensures that you have uninterrupted game play on the iPad controller. Some of the popular games include; Assassin's creed and Anniversary edition. The iPad controller is available in many online stores like amazon; so go ahead and get one.
Pros
It is very light weight making it easy to carry around
Gamevice supports over 900 games on iOS App store, giving customers lots of variety
Comfortable gaming pads
Lighting port that lets you charge your phone as you play
It is very easy to assemble
This iPad controller consumes very little power
It's compatible with the iPad, iPad Pro 9.7, iPad Air 2 and the iPad Air.
Cons
Expensive compared to other iOS gamepad.
Verdict
This gaming console from Gamevice is surely to get gamers talking through the year. Touch screens are quite clumsy when playing games and this accessory surely gives you a totally unique gaming experience. The comfortable buttons and lightweight design, make this iPad controller a must buy for anyone serious about gaming. Power consumption is low and you get an additional lightning port with headphone jack; this gives you a 3D experience when gaming.
Gamevice supports over 900 games on App store and they keep increasing them. This gives gamers many choices. The controller is made of lightweight material making this console very convenient when travelling. The 800mAh battery gives you over 30 hours of gaming before charging; which you easily do through without any interruption to your game. This is a must buy gaming controller for iPad owners.