If you don't want to use the controller which is included when buying an Xbox One, the following controllers are good alternatives. These controllers have been hand-picked by experts because they provide a great experience, and will allow you to play your favorite games as well. If you're interested in buying one of these fantastic controllers, make sure to read on and find out more about each one!
Xbox Core Wireless Controller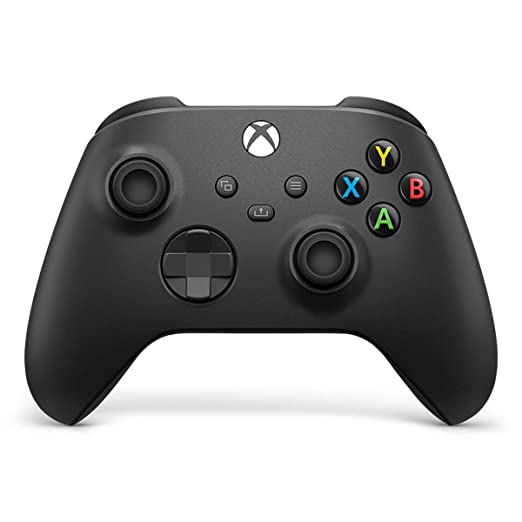 Experience the modern design of the Xbox Core Wireless Controller while enjoying up to 40 hours of battery life. The hybrid D-pad ensures precise control, while the textured grip and bumpers provide a firm hold during intense gameplay. Additionally, the 3.5mm audio headset jack allows you to connect any compatible headset for immersive audio.
You can also directly plug in the controller to your console or PC using the USB-C port. Plus, with the Share button, it's easy to capture and share your favorite gaming moments with friends and family. The Xbox Core Wireless Controller is compatible with Xbox Series X|S, Xbox One, and Windows 10/11 devices.
Razer Wolverine Ultimate Officially Licensed Xbox One Controller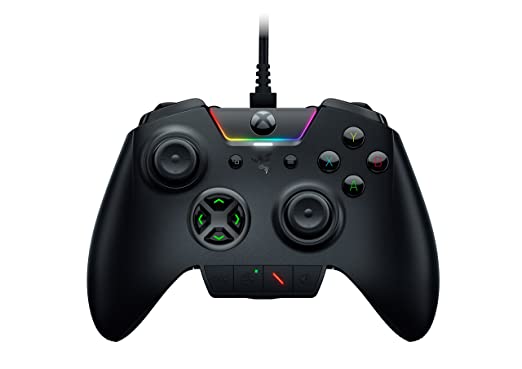 This is a great choice if you want a comfortable grip that can adapt quickly to your individual playstyle. It's also built with extra features like remappable bumpers and triggers so you can change how they work while using it.
If you really want to customize your experience even more, then plug into their Razer Synapse software and look down on the vast library of lighting effects and profiles available for this product!
There are options to pick from with different lights sets, cool designs, or entire themes as well as all sorts of tweaks in between! Keep practicing for hours on end without ever having pain build up because these controllers have been ergonomically designed with your comfort in mind.
Xbox One Elite Wireless Controller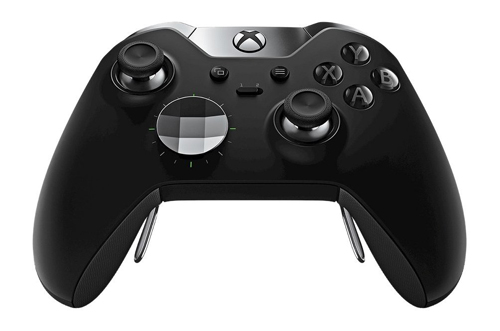 The Xbox Elite Wireless Controller came as a surprise when it was first announced because of its high price. Perhaps, it is only useful for a few Xbox users. Despite of its expensiveness, the Elite still became the best-selling controller of Xbox One.
There is no serious design flaw with this new control pad. Holding it is more comfortable thanks to the rubberized grip and smooth matte finish. What I can say is that it is easily the most comfortable one of all Xbox One controllers.
The Elite Wireless Controller package comes with an Xbox Elite Wireless Controller, a carrying case, a set of 4 paddles, a set of 6 thumbsticks, a set of 2 D-pads: faceted and standard, a USB cable, AA batteries and a quick set up guide and product manual.
Razer Wildcat Gaming Controller
To focus on the best possible set up for professional esports players, Razer heeded to the requests of many players, and decided to release a completely different kind of a game controller, which would be considered ideal. At first glance, it seems to be nothing out of the ordinary compared to your average controller, but a closer look should reveal the result of a collaboration between competitive esports professional players and Razer, in order to create the optimal accessory that would make gaming much easier and give everyone the winning edge they need.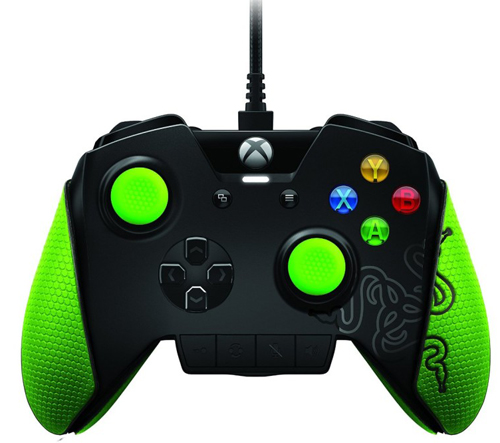 Features:
Lightweight construction, for longer sessions
10 feet braided cord, to eliminate input lag
2 Removable trigger buttons
Programmable buttons
Smooth design, for more comfortable handling
Pros:
Premium quality at a very affordable price
Buttons can easily be mapped to your preference
Lightweight
No input lag
Lovely visual look
Although it is primarily intended for professional gamers, casual players should be able to find quite a lot to enjoy in this joystick. Considering the fairly low price, this makes for a wonderful addition to your current setup, as it will offer you a very comfortable design combined with a lack of input lag. This should make your future gaming sessions much more comfortable and enjoyable, so it is definitely worth checking out if you are on the market for a new controller. Although players have expressed that the Elite is much more adaptable, the Razer Wildcat Gaming controller is still a very satisfying purchase that will provide you with everything you are looking for in a good quality controller.
Star Wars Boba Fett Controller
If there is one thing more popular than high quality game controllers, those must be the customized and themed controllers. Customized videogame controllers have gained a lot in popularity, and when you put together high quality with one of the science-fiction classics, such as Star Wars, you get the instant classic any devoted fan of the franchise and video games is going to consider a must-have for their collection. The Star Wars Boba Fett Controller for Xbox One and Xbox 360 comes through with a perfect match for your requirements with an amazing controller for you to use.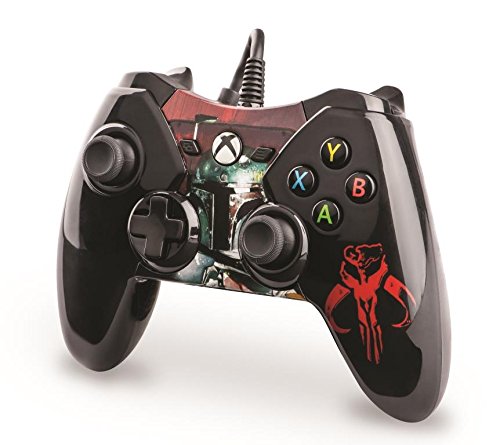 Features:
Licensed by both Microsoft and LucasArts
Impulse triggers
Comes with Dual rumble motors
Officially themed Star Wars Xbox controller
Contains amazing and limited edition Star Wars themed artwork
Comes with a flexible and reinforced 9.8 ft release cable to prevent hazards
Fully analog compatible buttons
Pros:
Extremely accurate and comfortable
A beautiful design worth of every Star Wars fan
Release cable prevents tripping hazards
Choose between different design artworks, such as: BB –8, R2-D2, Darth Vader and Stormtrooper
Compatible with Xbox One and Xbox 360 consoles
This is definitely going to be a sure hit for anyone who frequents video games and is a longtime fan of the Star Wars franchise. In terms of performance, it is perfectly capable of handling anything from casual gaming sessions to tournaments and competitive plays. It is perfectly lightweight and comfortable, meaning that it will be able to take you through extremely long gaming sessions without feeling like a burden. Definitely worth considering, even as a collectible for fans.
Halo 5: Guardians Limited Edition Master Chief and Spartan Locke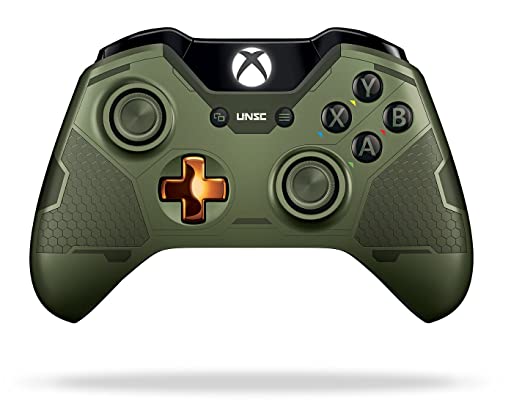 Microsoft introduced 2 new variations of the Xbox One Wireless Controllers in the U.S. Halo 5: Guardians Wireless Controller features Halo combat design with metallic blue accents and military insignias while Halo 5: Guardians Master Chief Wireless Controller features the signature colors of Master Chief's armor with laser etched design which matches the decor of the Halo 5 limited edition console.
Both controllers will includes a Bonus Req pack. Guardians variant gets the Resolute visor while Guardians Master Chief variant gets Dauntless visor.