Apple's iOS has lined up with Google's Android when the 7th version kicked in. It offers similar connectivity and plenty of opportunities for external devices. Apple users can finally enjoy the games they love with physical buttons and plenty of entertainment like any Android users. If you own an Android device, you can choose the best controller on here.
Apple has not pushed too hard in promoting the new connectivity standard. From this point of view, finding the best iOS game controller might be a bit challenging. You have to research these options yourself. Luckily, some models can easily stand up in the crowd and make your life easier. As for the gaming experience, it is priceless.
What is MFi Controller?
MFi is acronym of "Made for iPhone/iPod/iPad". MFi program from Apple Inc. is a licensing one, which allows developers to produce hardware and software peripherals that work with Apple's iPod, iPad and iPhone. So, MFi game controller is just a gamepad that works with iOS devices.
Top iPhone and iPad Game Controllers
SteelSeries Nimbus Wireless Gaming Controller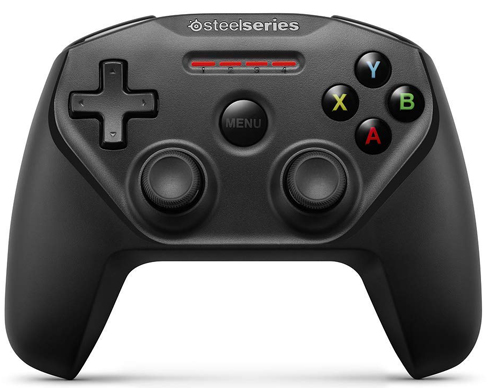 You won't be able to get a better controller than this one. It comes with a built-in battery that will last for 40 hours on a single charge via Lightning port. You also get pressure-sensitive buttons and 4 LEDs that will reveal the status of a player at any given moment. Let's not forget about superb compatibility. The controller is compatible with iPhones, iPads, Mac computers and etc. Basically, you can use it on any Apple device that has Bluetooth 4.1. The last but not least, the controller is very comfortable to use.
Mobile Game Controller with Trigger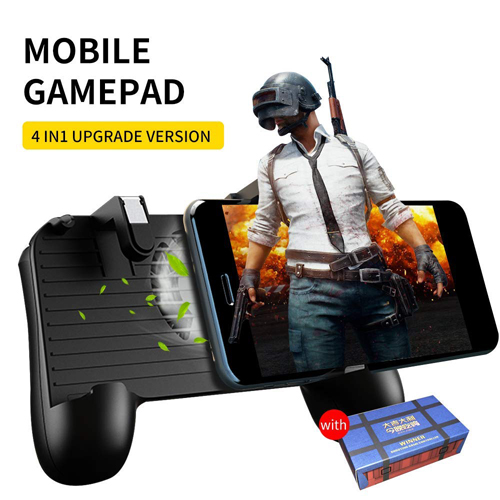 All of those who are looking for the advanced controller will appreciate the tested model. It is a 4-in-1 unit, meaning that you get a gamepad, trigger, cooler and a battery bank. The battery has 200 mAh capacity and it is suitable for the most advanced gamers. The cooling pad will make sure your smartphone overheat while playing for hours. The controller is compatible with many different devices with different screen sizes.
WeeDee Fortnite PUBG Mobile Controller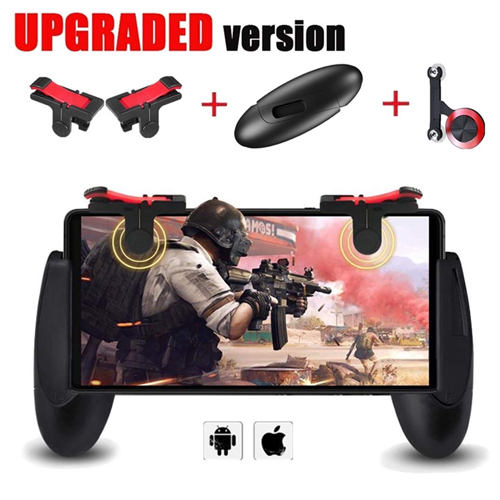 First of all, the model we have here is a new version, as you are able to see. It is designed and made in 2018 and it is more than just affordable. We liked the pressure-sensitive controllers that make gaming easier and more focused on the professionals. The controller is also very comfortable to use and can be paired with different iPhone models. The mentioned upgrade eliminated map blocking issues, alongside other matter.
Mad Catz C.T.R.L.i Mobile Gamepad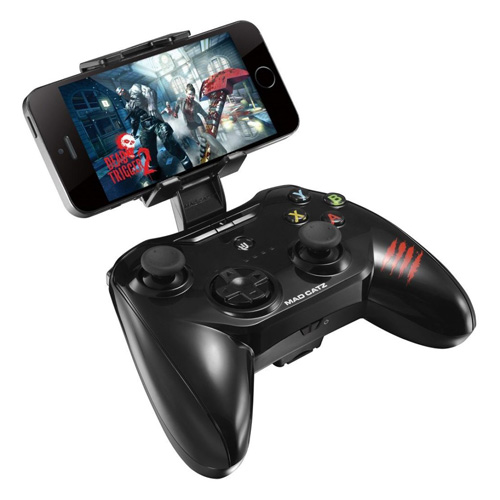 The game controller from Mad Catz is mountable and offers a top-notch gaming experience. In fact, this is the aspect that makes it so attractive. You have the possibility to turn a small gadget into a beautiful console. How does it work? Simple. Just put the smartphone on the game holder and enjoy a comfortable console. This is one of the few controllers that are actually certified by Apple. It works on iOS 7 or higher, as well as iPhone 5 and higher, iPad 4 (the fourth generation) and iPod Touch (the fifth generation).
The multiplayer support is one of the most attractive features, especially when it comes to team games. The gadget can pair with up to four different controllers, yet they must be purchased separately. It has an extensive battery life – up to 40 hours – and has its own AAA batteries in the package.
The cables can also connect the smartphone or tablet to your HDTV for a more exciting experience.
MOGA Power Series iOS Mobile Game Controller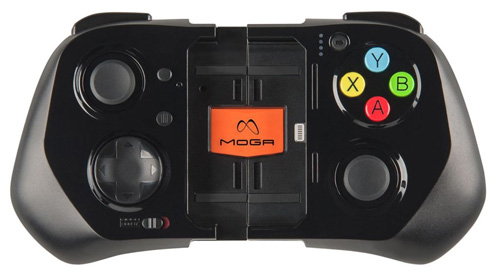 MOGA has specialized in these game controllers for Apple's iOS as soon as the connectivity standard was implemented. The controller is compatible with iPod Touch 5, as well as iPhone 5, 5C, 5S and 6. Got an older model? It is not going to work. Other than that, the controller requires iOS 7 or higher.
Worried that gaming might ruin the battery in no time? This controller comes with the built-in Boost Technology. It has its own 1,800mAh battery, which will easily expand the life of your battery while gaming. When the device requires charging, this gadget becomes an auxiliary source of power. Given this technology, it can easily become the best iOS game controller.
As for the construction, it is classic – two analog sticks, L1/R1 buttons, L2/R2 buttons and a precision D pad. Another technology keeps the device locked into the controller – S.M.R.T. Lock Technology.
Megadream Wireless Bluetooth 3.0 Game Controller Gamepad Joystick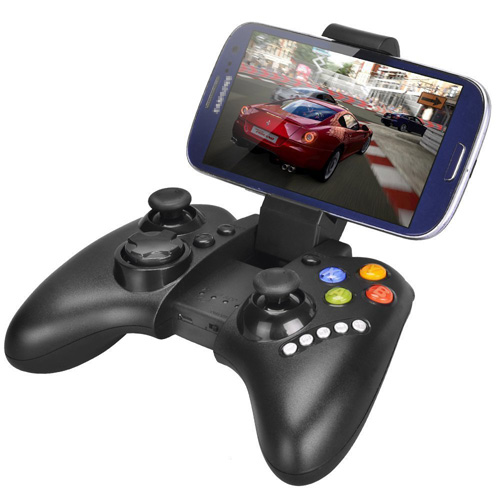 Megadream's gamepad is different and can push its capabilities a bit farther. Its compatibility leaves no room for mistakes. It works with both iOS and Android, but it also supports the most common gadgets in commerce – iPhone 3GS and up, iPad Mini, Galaxy S2 and up, Note, Xperia and so on. It supports all kinds of games with wireless Bluetooth connectivity standards.
It has its own battery and can sustain your gaming activities for up to 20 hours, As for the Bluetooth transmission, it can easily get to 8 meters. When it comes to the operating system, you can use the controller with Android 3.2 and higher, as well as iOS 4.3 and higher.
Given the construction, Megadream's gamepad can easily become the best iOS game controller, especially since it integrates the smartphone and turns it into a large portable console. However, users should rely on the "icade" pair mode and stick to games listed under this keyword. They are compatible with iOS devices.
Logitech PowerShell Controller

Logitech does not fool around when it comes to such gadgets. This PowerShell controller can certainly make the difference. Its controls are known for the deep accuracy and precision. The built in 1,500mAh battery boosts the capacity of the smartphone. The controller is compatible with iPod Touch – the fifth generation – and iPhone 5 or higher.
The controller works with iOS 7 or higher. It is not compatible with all the games, yet it works with most of them. Plus, no extra applications or softwares are needed. Despite the construction (which integrates the smartphone), you still got access to all the functions, including calls and camera.
Logitech's iOS game controller is widely appreciated for its portability. It practically makes your iPhone a little thicker and longer. It is still slim, but it can also fit into your pocket without feeling awkward. Controls are intuitive and simple, while the ergonomic build makes the gaming experience a breeze.
iPEGA PG-9021 Bluetooth Wireless Game Controller Gamepad Joystick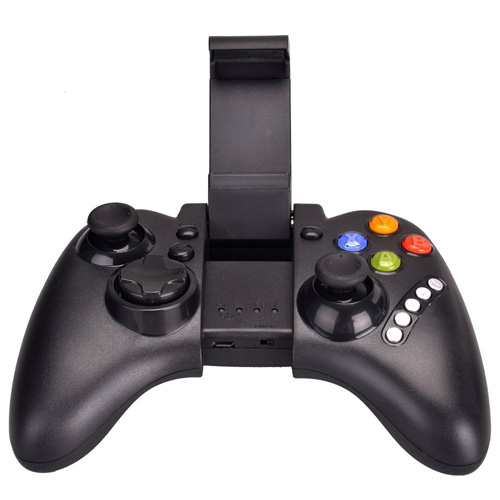 JINTO may not be the most popular gadget manufacturer in the world, but its gamepad can certainly make the difference. It is compatible with all kinds of smartphones and tablets, including iPhone 5 or higher, iPod Touch, iPad and Android based systems. It is relatively new on the market, yet its compatibility standards have made it a front runner.
Just like many other controllers, it comes with its own lithium battery. Once charged, it will support your gaming activities for up to 20 hours. The connectivity is outstanding. You got wireless Bluetooth 3.0 connectivity. You can keep the two devices about 8 meters one from another, yet its construction makes it ideal to turn your smartphone into a huge gaming console.
The package includes the actual controller, USB cable and owner's manual. Go through the manual if this is the first time you use a controller.
Conclusion
As a short final conclusion, deciding on a suitable iOS game controller might be a little confusing. However, a little research can open plenty of doors. It is up to you to determine the optimal requirements and necessities before making a final choice. One thing is sure – the high connectivity standards have made millions of Apple users happy.