Desk fans are a great addition to any office. They're perfect for those hot summer days where the AC is broken and you're feeling like you'll melt any minute now. There's nothing worse than being stuck in a room with no airflow and it's even hotter than outside. A desk fan will help circulate the air so it feels less stuffy and more comfortable to work in.
What to Consider When Choosing Desk Fans?
There are several factors you'll want to consider when choosing desk fans. You'll need to think about the size, power source, shape and design of the fan before purchasing it.
Size – Desk fans range in size from quite small (5-6 inches) up to large (20-24 inches). Choose a desk fan that will be able to fit in your desk area without taking up too much space.
Power Source – Desk fans are available in both battery-operated and electric power sources. Battery-powered fans are usually smaller, making them great for taking with you wherever you go. Electric desk fans will require an outlet nearby but tend to provide more airflow at a faster pace.
Shape & Design – Desk fans come in many different shapes and designs including standing floor fans, oscillating tower fans, desktop box fan styles or even handheld mini fan styles. You can choose the design that best fits with your office decor or features the one that's most comfortable for you to hold while working on your computer all day long.
5 Best Desk Fans
There are many different types of desk fans on the market, but here are 5 that I think are worth looking into:
Honeywell HT-900 TurboForce Air Circulator Fan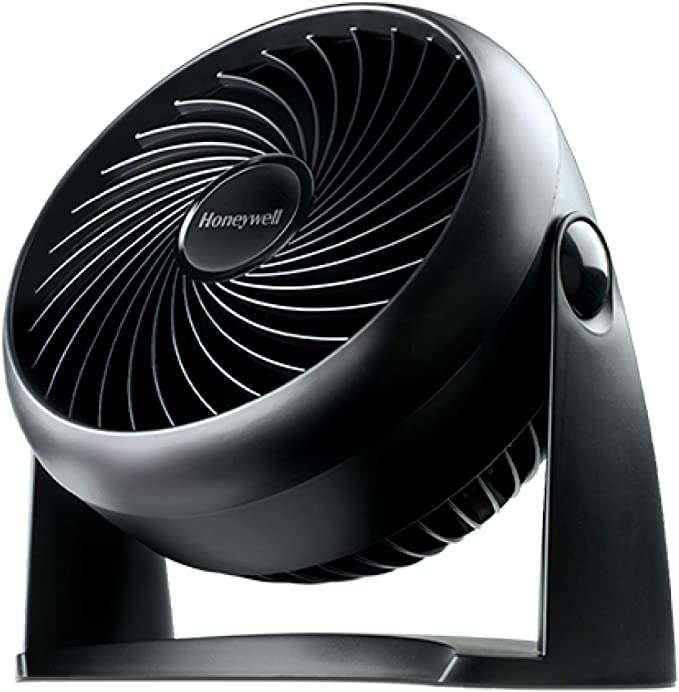 Hot days are hard to deal with, especially when you have to be in an enclosed space. There is a solution for this problem – the Honeywell HT-900 TurboForce Air Circulator Fan. This fan will help keep your cool on hot summer days and nights by circulating air throughout your room or office. 
The Honeywell HT-900 TurboForce Air Circulator Fan has 3 speeds and a 90 degree pivoting head that allows you to direct airflow exactly where you want it. It's small enough for table or floor use but powerful enough to circulate air in small rooms up to 27 feet away! Its quiet operation makes it perfect for night time cooling as well as daytime use. With its fused safety plug, the HT-900 is safe around children and pets while its cord storage keeps things neat and tidy when not in use!
The HT-900 TurboForce Air Circulator Fan comes with three different settings that allow you to set your fan at just the right level for comfort.
SkyGenius Battery Operated Clip on Mini Desk Fan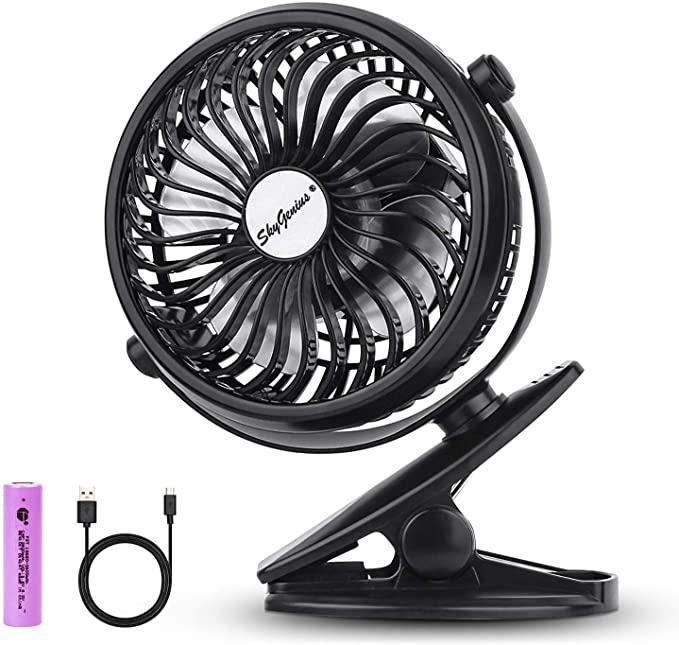 You can't afford to have a big, loud fan in the office or at home because it would be too distracting for everyone else. Plus, who wants to spend $100+ on a fancy new desk fan? That is why we created this unique mini desk fan that clips onto anything so you can stay cool without being disruptive.
The SkyGenius Battery Operated Clip on Mini Desk Fan is perfect for any situation where you need some extra air flow but don't want to disturb anyone around you with an annoying noise level of 50dB(A). This clip-on mini desk fan will provide just enough wind speed while still keeping things quiet! It comes with three different speeds and two modes (high/low) which allow users to adjust the airflow according to their needs.
With its compact size and portability, our battery operated clip on mini desk fans can be easily stored in a desk drawer, car glove box, backpack or suitcase.
efluky 3 Speeds Mini Desk Fan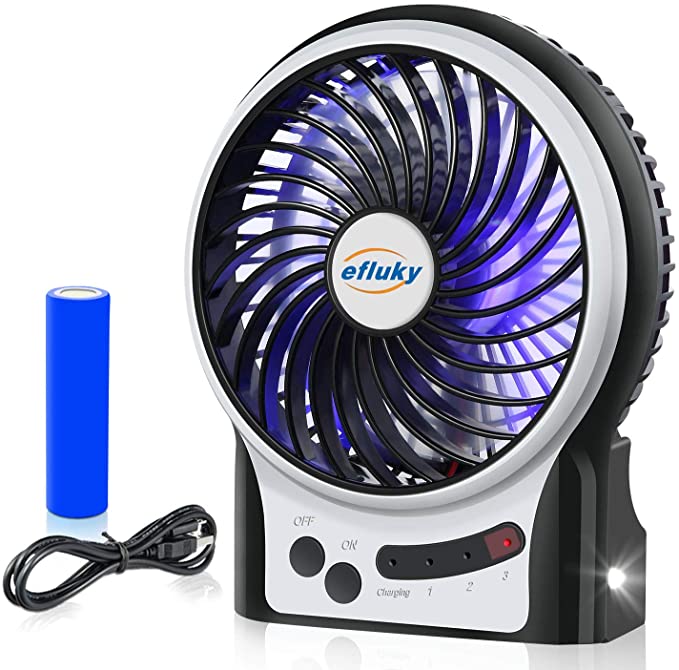 The majority of fans are too loud, or not powerful enough to create the wind you need. efluky mini desk fan is one of the most powerful and quietest fans on the market today. It offers three different speeds with a rechargeable battery that can last for up to 9 hours! You will be able to enjoy its fresh air without any noise disturbance in your home or office.
The efluky 3-Speed Mini Desk Fan is here to solve all these problems once and for all! With an incredibly strong motor, this portable device can help you keep cool while working at your computer during hot summer days.
This fan has three different speed settings so you can always get exactly what you need out of our product. It also comes with a USB port so that you're able to plug in any device into it as well!
What's more? This fan is ultra-quiet so it won't disturb anyone around you as it works perfectly well even when set on high speed mode! Plus, it comes with a built-in LED light which allows you to use this device as a night lamp if needed.
Vornado FIT Personal Air Circulator Fan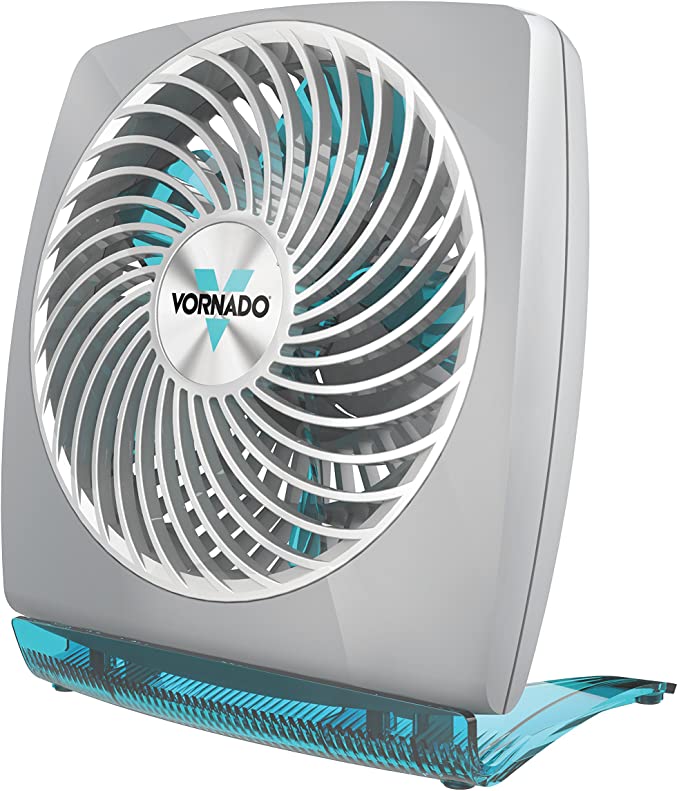 Most fans are big, bulky and noisy. They don't fit on your desk or bedside table and they don't do much good when you're trying to sleep. The Vornado FIT Personal Air Circulator Fan solves these problems by being small enough to carry with you anywhere, quiet enough for your bedroom nightstand, and powerful enough to keep you cool all day long without breaking the bank! It even folds up so it's easy to store in a drawer or take along with you on vacation.
This compact personal circulator fans move more air than competing models while keeping noise levels low and energy use minimal (only 8 watts). This makes them quiet enough to run at night without disturbing your sleep, able to fit on desks or counters without taking up valuable space and powerful enough to keep you comfortable in the heat of summer.
The Vornado FIT has two speed settings with directable airflow so you can tailor your comfort level from soft breezes all the way up to full-on cooling power when temperatures rise. It also features an auto shutoff function if tipped over by kids or pets for added safety protection!
CAMTOP Desk USB Fan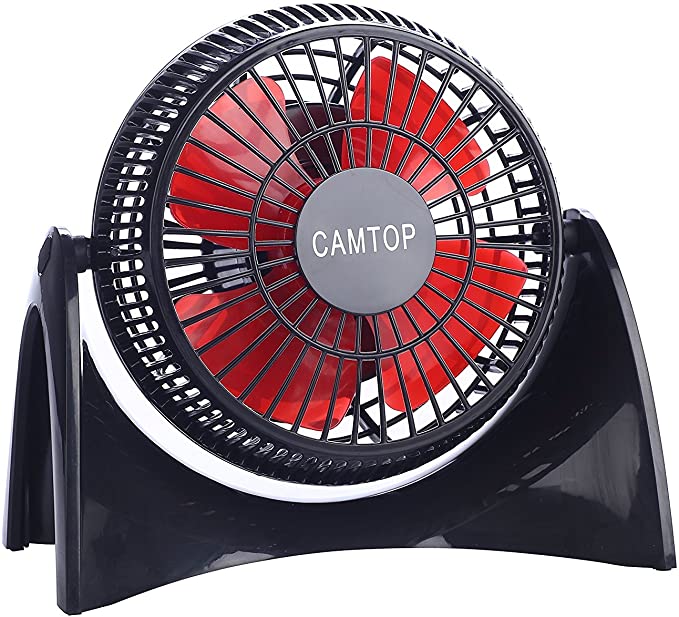 The Desk USB Fan features 2 quiet speeds so it won't disrupt your workday – but still moves enough air around to make you feel cool on even the hottest days. It plugs into any computer with a USB power source, so it's perfect for use at home or in the office during those sweltering summer months! Plus, its compact size makes it easy to store when not in use – great for dorm rooms, RVs, boats and more!