If you're like most gamers, then you probably use saves to keep your progress in games. But what if you want to go back and replay a section of the game? Or what if you just want to start a new game with all the powerups and weapons that you had at the end of your last game? This is where PS4 save editors come in.
Sony PlayStation 4 save editors are a must-have for any serious gamer. These powerful tools allow you to modify your saved game data in ways that can improve your gameplay experience significantly. In this article, we take a look at the four best Sony PlayStation 4 save editors currently available. We'll help you choose the right tool for the job, so you can get back to gaming in no time!
Cyber Save Editor for PS4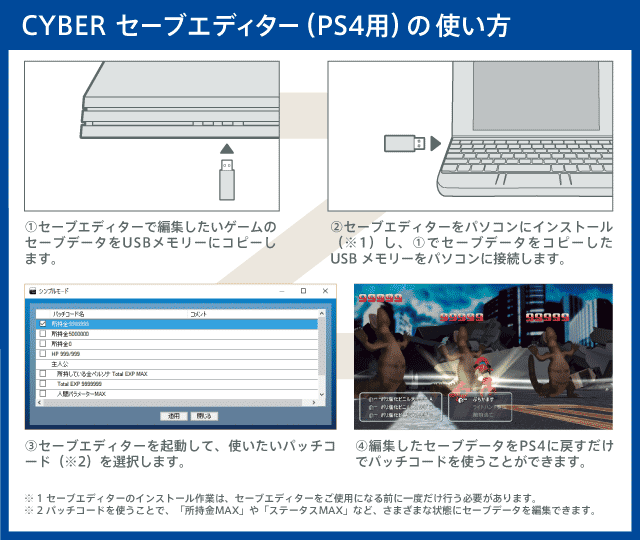 Cyber Save Editor is developed by CyberGadget, a company famous for cheating devices on platforms such as 3DS and PS3. This piece of software can help modify your save data to increase gold, hit points, and other advantages.
To edit a save file, you need a piece of software from Cybergadget, a USB with at least 8GB, a PSN ID, and a PC which connects to the internet. I think the PSN ID and internet connection are required because the software need it to decode and encode save file which will be uploaded to their server every time it needs modification.
Even though the gadget was only got released a few months but it supports a large range of games. Of course, the most famous ones are getting cheated faster.
You can see games like Persona 5 and Final Fantasy XV on the CyberGadget homepage's showcase region.
It only supports Japanese region games for now. You can order the product on its official website, Play-Asia or Amazon.
Save Wizard for PS4 MAX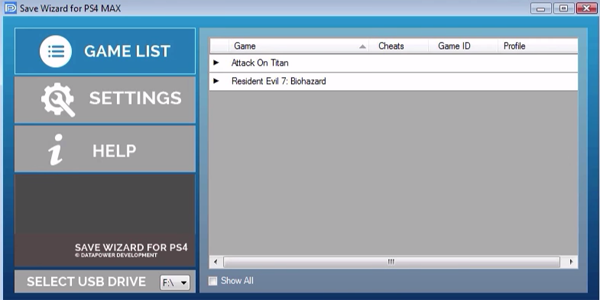 Save Wizard is similar to Cyber Save Editor but it is much cheaper and supports games from NA and EU regions. Save Wizard doesn't have pre-made cheats for many games but it supports Advanced Mode which allows you to find cheats for all games.
Features:
Includes real cheats, not pre-made, unchecked poor quality user submitted saves.
Automatically downloads the latest cheats and supported games.
Quick Mode allows cheats to be simply and quickly applied to your save.
Advanced Mode to modify your own save.
Automatically backs up your save before performing modifications.
Allows up to 4 PSN IDs to be registered and 2 clients to be activated at any one time (for more information, click here).
24 month subscription.
Free support.
Free updates.
Save Wizard uses subscription-based for their software. It can be purchased from http://www.savewizard.net.
apollo-ps4
The Apollo Save Tool is a homebrew application that allows you to manage your save-game files on the PlayStation 4. The app is easy to use and requires no advanced setup. It is also standalone, meaning that everything happens on the PS4 and no computer is required.
The app features automatic settings for PS4 firmware, User ID, and Account-ID. It also supports multiple user accounts. The Save Management feature of the app allows you to quickly access all the save files on USB and internal PS4 HDD.
You can also update the param.sfo User ID and Account ID information. The app also supports patching of save files for Save Wizard and Bruteforce Save Data.
You can download it on GitHub.
Xploder PS4 Cheats System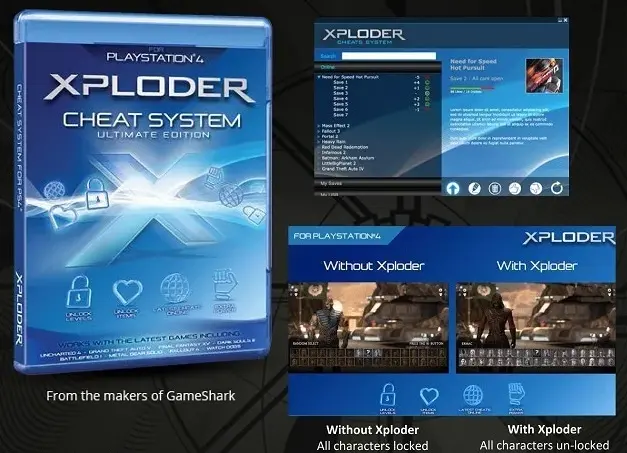 With this simple-to-use tool, you can unlock levels, get 100% game progress, get maximum money and ammo, and much more – all at the click of a button. Just download our database of cheats for over 100 PS4 games and you're good to go!
Its database is updated weekly, so you'll always have the latest cheats available. No more spending hours hunting around online for saves – Xploder Cheat System: Ultimate Edition makes it easy to get ahead in your favorite games.
You can visit the shop at https://www.coolshop.co.uk.