If you are looking for a way to improve the quality of your live stream videos, then it is time to check out our top 5 picks for on-camera LED lights. These products will help you get rid of all those shadows and make sure that your viewers can see everything in detail!
What to Look For in an On-Camera LED Light?
Durability: You want a light that's going to last and work well for the hours of shooting. Look for lights that are made with durable, impact resistant materials.
Weight: Some on camera LED lights will come in at less than an ounce so you can have them mounted all day without feeling like your arm is about to fall off! But some others may weigh as much as two pounds or more – which could be too heavy for extended use. So if weight is a concern then it might pay to do some research beforehand and see what weighs less (and also has other features).
Battery Life: Battery life varies by model but most should provide between three and five hours of battery power before needing recharging (though some can last up to 12 hours).
Lumens: LED lights are measured by the amount of lumens they produce. For on camera LEDs, a small number generally means more power and brightness (though in some cases it's because that light is using less energy so there will be an inverse relationship between lumen count and battery life).
Ease of Use: Some models may require you to continually adjust them every time the sun moves behind a cloud while others have sensors which detect changes in lighting conditions automatically.
Price: Price ranges widely from about $25-$500+ but most fall under around $100 or less – though this does exclude any additional accessories like carrying bags or mounts.
5 Best On-Camera LED Lights
Manfrotto Lumimuse 8 On-Camera Led Light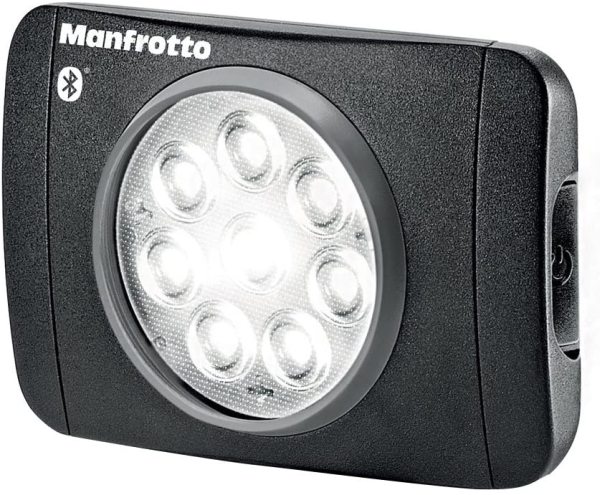 The Manfrotto Lumimuse 8 LED light provides high quality lighting and can be controlled via a Bluetooth connection. Get professional results in demanding situations without sacrificing power or space!
You'll get your lighting needs covered thanks to an impressive eight LEDs and access to four levels of brightness, including flicker-free dimming capabilities. It fits into many shooting scenarios for both stills and video, and its easy attachment can secure it on almost any object.
The Lumimuse also comes with 3 filters – a diffusion filter, a CTO filter and 1/4 CTO – allowing you more choice in how you use your versatile new light!
The Lumimuse is a lightweight and powerful LED light fixture with Bluetooth control that can fit into most shooting situations for both stills and video. It offers 4-step, flicker-free dimming via a push button on its side as well as optional diffusers and filters to create just the effect you want. The Lumimuse is lightweight and uses the latest technology to provide a bright, quality light. It's an affordable option that can be used.
VILTROX L116T Key Light LED Video Light Kit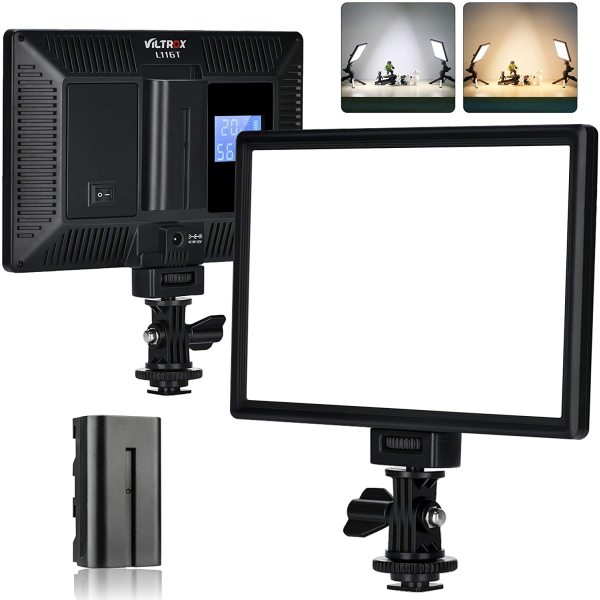 We all know that when shooting, a good light is vital. And often times those lights can be heavy and cumbersome to carry around with you. Easily perfect for vloggers and recorders wanting a fuss-free key light with adjustable brightness to create stunning images day or night. 20%-100% brightness with 3300k-5600k color temperatures makes it easy to find the exact level of light you need, while the LCD display screen conveniently monitors all the relevant information so that you can keep things running smoothly during difficult environments
Lightweight design and battery power levels combine into one safe production kit less than 300 grams in weight while providing up to 120 minutes use time at full output on a single charge -perfect even if you're on an international shoot overseas! Travel easily from professional shoots back home thanks to this slim, portable design.
NEEWER 160 LED CN-160 Light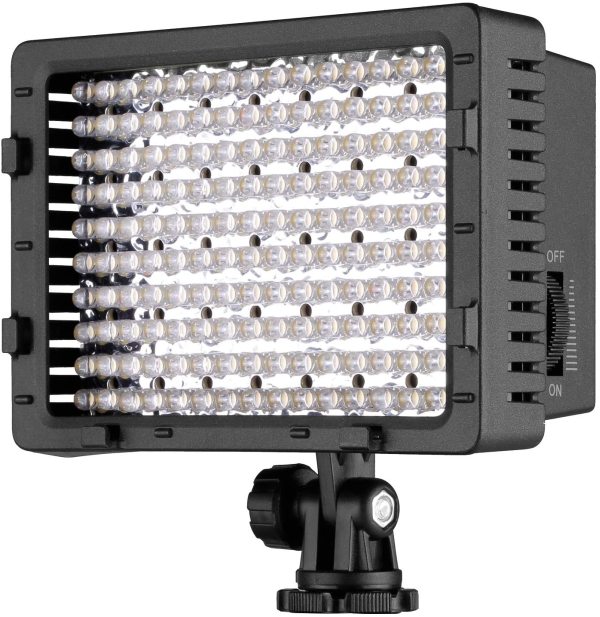 The NEEWER 160 LED CN-160 light kit has more than enough features to make anyone happy. This is perfect for anyone who needs a little bit of extra soothing and illumination in their lives when it comes to housework or any craft activity which requires a decent amount of dexterity.
The diffuser helps create softer baselines, which is great if you're looking for something calming after an intense day at work (or school). With the high quality LEDs, prepare for colors that seem brighter yet less saturated – and with the color filter included, there's practically no end to how much control you have over what shades are illuminated! But wait – there's also a switch on board so that you can change your mood from full brightness to low illumination.
VILTROX LED On Camera Video Light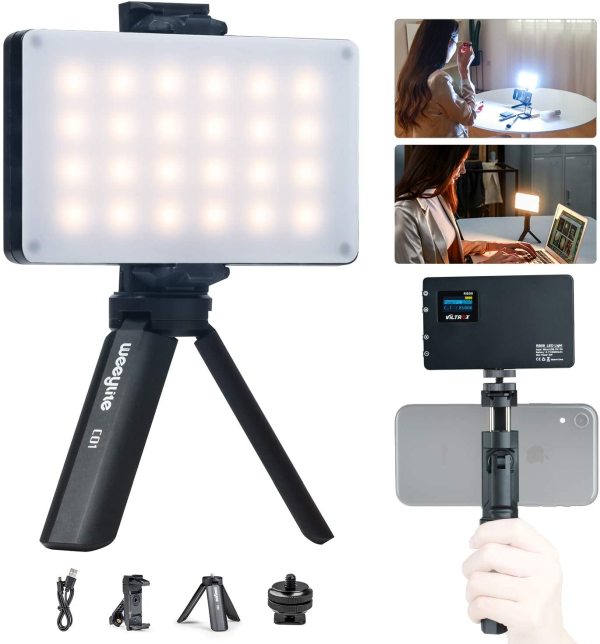 This on-camera LED light is your solution to an improved video experience. Made of durable and lightweight aluminum alloy, this little light packs a punch with its extremely long battery life.
You'll find great features like 10%-100% brightness adjustment, 2500-8500K color temperature support, OLED display for accurate reading and convenient adjustment in real time, built in rechargeable DC 3.7V 3000aAH lithium battery with USB charging port that guarantees up to 1.2 hours workmanship at 5600K 100% brightness (listed times are approximate).
The adjustable mounting system for both portrait and landscape orientation will give you more versatility as well as the included mini tripod, 180° rotated phone holder; also features a 1/4 screw hole ready for mounting on a tripod.
ULANZI Rechargeble 96 LED Video Light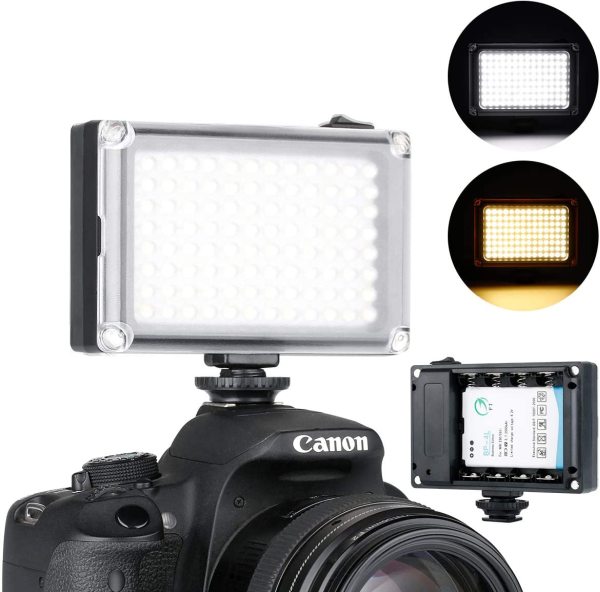 Create a scene with this new accessory, your next vacation will be filled with beautiful and exotic photographs. Don't let the battery scare you or the blaring sun leave you without power! Recharge this product using AAA batteries or an AC charger to show off all of it's 96 LED capacity! It'll last long enough for anything you want to film, and focus on couples in love or families gathering together.
With the industry's brightest 96 LED, you can feel confident that you are getting the quality of light needed for any situation. Adjusting brightness is easy peasy – just use our built in Brightness Wheel design on the side and get exactly what you need! This ULANZI Rechargeble Video Light will make sure time spent shooting never needs to be wasted again.
Let memories come alive with our bright video light that adapts easily between harsh natural light and even softer shots using included magnet filters. See what YOU can create now, instead of waiting another day for something better than what's here!