It's summer and you're stuck in front of your laptop for hours on end. There are a lot of things that can go wrong when it gets too warm, like hard-to-see screens and overheating. A laptop cooling fan is the perfect solution to these problems! You don't have to worry about frying your CPU or having an unreadable screen with one of these amazing products. We've compiled a list of our 5 best laptop fans for you to consider below.
Factors to COnsider When Choosing a Laptop Cooling Fan
What type of laptop do you have? There are different fans for various types, such as MacBook Air and Dell Inspiron. If you don't know what kind your computer is, it's best to consult with a professional.
What kind of cooling do you need? This is a matter of preference. Some people prefer to cool their laptop from the bottom, while others want it on top or side.
How much does your fan weigh and how loud is it? The weight can be important if you plan to carry your computer around often, but most fans are lightweight enough that this doesn't really make a difference in our opinion. Loudness varies quite dramatically with different products, however–you'll want to pick one that's quiet yet still powerful!
Do you want an external cooler or something built into the machine itself? If you're looking for something more affordable up front (or don't have space inside), an external system might work better. If you need something more powerful for heavy gaming or other intensive tasks, an internal system might be the best option.
How much noise do you want to generate? Some fans are louder than others–if this is a concern, it's important to take measurements before purchasing anything!
5 Best Laptop Cooling Fans
havit Laptop Cooling Pad Computer Quiet Cooler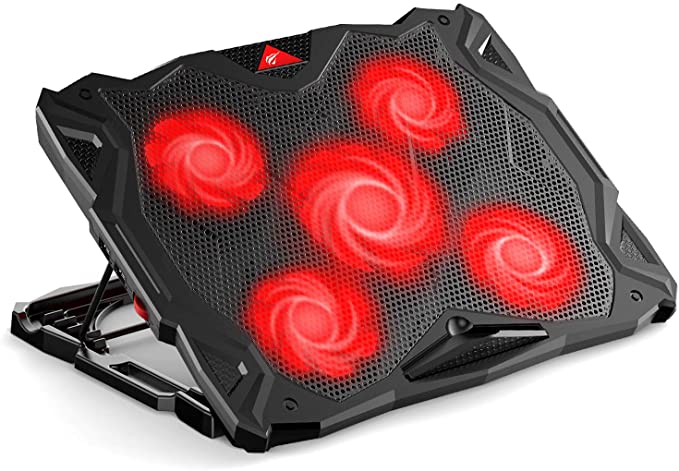 Slim and lightweight laptop cooler pad features an ergonomic design, with a height-adjustable stand that can hold your notebook in either a standing or flat position. The flexible wrap around arms provide extra stability for any size notebook from 11″ to 17″. And, for ultimate convenience, the USB cable plugs right into any open port on your device so you don't have to fumble with cords or limit yourself to only one free outlet!
With this laptop cooling stand, you can enjoy your computer without the air blowing directly at you while it's in use. With five high speed fans and a striking red LED light, optimized for 14-17 inch laptops, your laptop will stay cool throughout hours of usage – plus it gets to rest on an ergonomic comfort space!
It plugs into any USB port easily with no tools needed; all heat exhausts from those ports. You will need a little additional floor room next to your desk just for yourself or another person so they won't get blown away by the fan currents when using this product. We challenge you not to feel satisfied once you try out our havit Laptop Cooling Pad!
IETS GT300 Double Blower Laptop Cooling Pad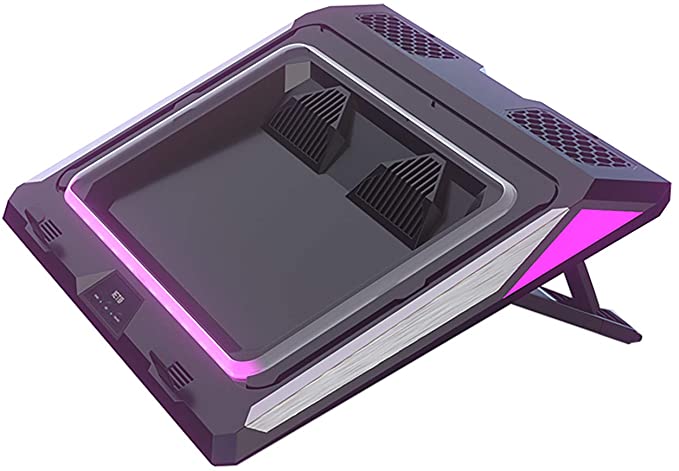 The IETS GT300 Double Blower Laptop Cooling Pad comes with two air filters to prevent dust from building inside the laptop, as well as three fan speeds. The height of the stand can be adjusted at different heights and positions for ergonomics and prevention of spinal injury. It provides access in all directions between 14-17 inches laptops due to its one-year warranty.
This is an optimal choice for gamers who want a higher grade heat dissipation but with less bulkiness, even through they never need to remove their laptops from the confines of their computer desktop each time.
With over three wind speeds and seven light colors, you'll be able to switch from relaxation mode when typing papers late at night to bright and fun when playing games! The design even includes an easy-to-clean air filter so there's no interference with airflow.
Kootek Laptop Cooling Pad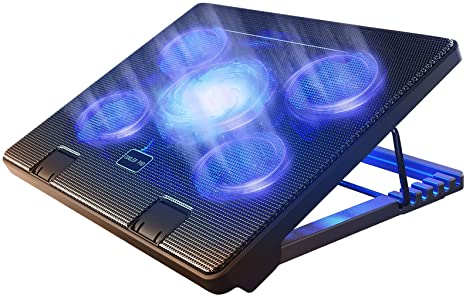 With this laptop cooling pad, you can stay comfortable and cool during long hours of working or playing games on your laptop. The powerful 5 built-in fans deliver a noise-free & interference-free environment for work while delivering excellent air circulation so that your computer doesn't get too hot.
You'll love the ergonomic stand with 6 adjustable height settings to play games or watch movies at the most comfortable angle; with 2 stoppers on the front of surface to prevent laptop from falling off; and keep 12-17 inch laptops cool, such as Apple MacBook. Enhance performance by connecting this cooling pad to any available USB ports on your desktop PC, laptop or any other devices!
You've had enough of your laptop being too hot to touch or spending too much time looking for another plug/trying to balance it on a stack of books. Kootek's Laptop Cooling Pad is the perfect solution! It stays cool while ensuring that your laptop stays even cooler, using specially designed built-in fans and adjustable slits to provide you with improved airflow so you can reduce heat from underneath and on top for stellar cooling without having an overheating machine in front of you.
TopMate C5 Gaming Laptop Cooler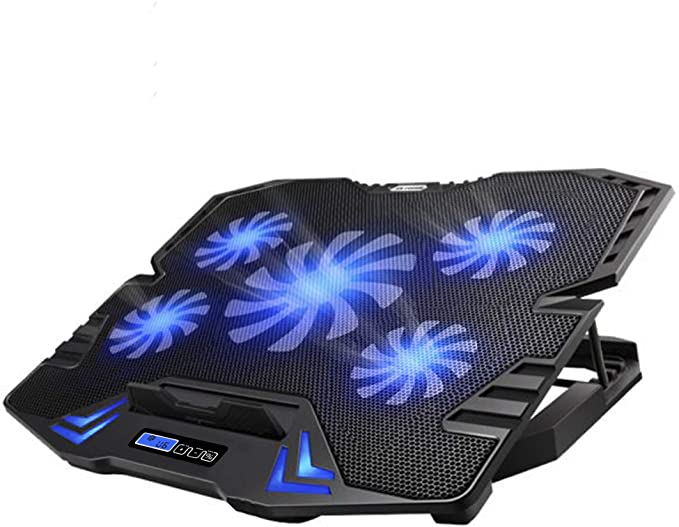 The TopMate C5 Gaming Laptop Cooler has five fans, four outer fans and a larger inner fan. It can keep your gaming device from overheating no matter what kind of situation you're in. The laptop cooler has an unique design that is adjustable to accommodate different users and their needs. If it's too high for you or if the weather outside prevents any physical activity while working on your device, this product will help adjust its height.
The stand also has non-slip baffles that keep your device planted securely on the stand even when you're typing at top speeds with little fear of having a sudden meltdown in the middle of work due to low battery life or not being able to connect the mouse due to some type of interference.
Dealing with itchy necks every time you play games for hours on end has been the price of being an enthusiast gamer, but not anymore! With TopMate C5 Gaming Laptop Cooler, the days of fighting to find a working angle are over.
The best comfort will come from this no-slip design: The flip up mesh design isn't just durable for keeping laptops steady while they're in use; it also allows cool air to flow around them. Do away with sweaty palms and make all your friends jealous by getting this sleek white gadget now!
AICHESON Laptop Cooling Pad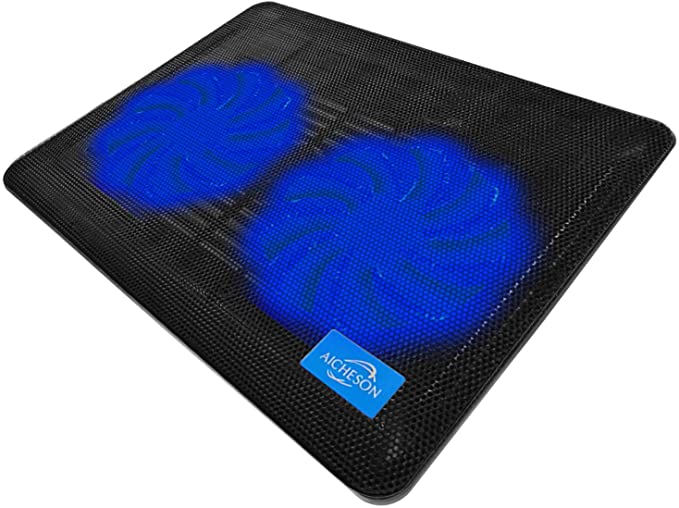 AICHESON laptop cooling pad is a cost-effective, convenient and space-saving solution to your high temperature laptop sitting on your lap. Its ergonomic design provides you with maximum comfort so that your thighs are relaxed and muscles aren't strained. 
AICHESON's Laptop Cooling Pad S007 provides you the perfect balance between functionality and ergonomics. Made of all metal mesh for durability with USB "pass through" port so you never have to take it off while seated at any desk location in order to plug in any cables like an external hard drive or mouse.
The AICHEISON S007 computer cooling pad contains 2 900-1000RPM fans for heat dissipation as well as blue LEDs for an ambient glow that doesn't annoy others in public settings such as libraries or shared offices. It's the perfect companion while traveling whether its gaming on long bus commutes or starting work from an airport hotel room, AICHEISON laptop fan won't let raising the air temp get between you and the people you care about most!