Google Slides is made to help us deal with the making of presentations for any task, especially in school or work, and other else. This feature allows us to make presentable and accommodating presentations to give vital information and data to the audience properly. It also has varying features like varying designs, layouts, formats, and so many more. With this, there is an assurance for your presentation to be successful and appreciated.
If you are using this tool for the first time, I'm sure you still find it hard to use this. Given that, here are some of the tips that you can use and apply to make you look like a pro when using the Google Slides.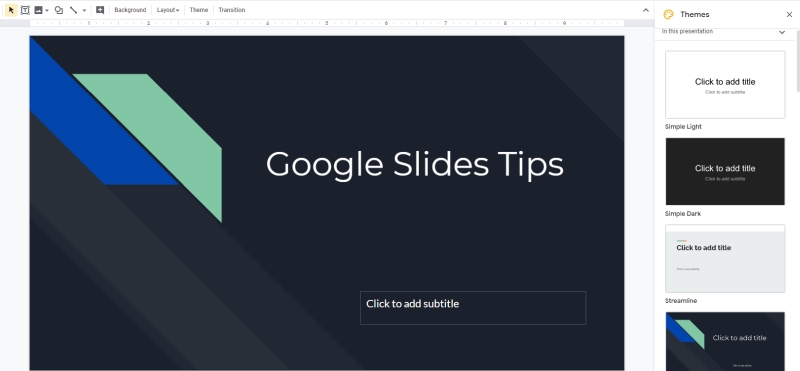 Try to Create your Own Shared Folders
Sharing a company's file on by one is hard. That is why Google Slides is here to help. Start by creating a folder in your Google Drive and upload there all of the important files in your company. All of the other employees must have access and ability to reach the file in Google Drive. With this, you can assure that all of the employees will be able to access the company's important files that they might need, especially in the presentations using Google Slides.
Edit your Presentation using the Master Edit Feature
If you don't want to suffer anymore in stress and pressure in making a presentation, you can try to use the master edit feature of the Google Slide.
Undo the Changes
The Google Slide does have the capability of providing the user with a history of their presence even though they have done several changes. The Google Slides do have the revision and restoration capability to make your presentation a much better one.
Use the Masking of Images
If you would like to have a presentable photo during your presentation, image masking can be done. This feature helps in the proper and neat changes to your photos.
Use Proper Charts in your Presentation
Charts illustrate and represent a certain topic in your presentation. Comparison and similarities can be shown when using the appropriate charts. Some harts that you can use are Pie Chart, Bar Graph, and Line Charts.
Choose Proper and Readable Fonts
Your audience will not find it hard to see and read your content if proper and readable formats are used.
Keep the Simplicity
A simple yet surprising presentation must be considered. As long as you can, avoid using arts or anything that can distract your audience's attention.
Apply audios or videos
These two can help to make your audience visualize and deepen their understanding in your presentation.
Limit the use of Bullets
A presentation must be coherent and cohesive but limit the use of bullets to maximize the page of your presentation.
Include High Quality Photos
To deepen the understanding of your audience, the addition of high-end photos can help you out.