Do you wish to save money and learn how to play the piano at the same time? Well, rather than investing in an instructor, you can learn how to play the keys via various apps.
Here are the 8 best iOS apps to learn piano from: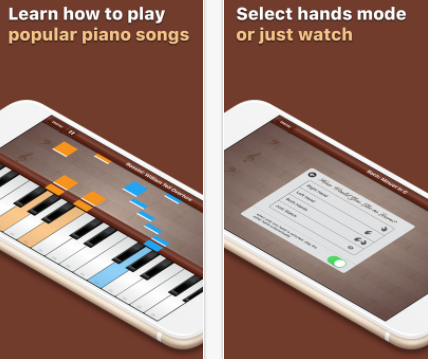 You can use this app to find out how to play even if you don't have a piano. How? You can do so via its 3D touch feature which turns your device into a keyboard for you to practice on. You can customize hand selection – left hand, right hand or both, watch mode – sit back and listen, learning speed, and displayed piano. Additionally, this app listens to your tunes and gives instant feedback.
Piano 3D is ideal for those who wish to polish their skills before purchasing a piano. It features a multi-sampled piano sound which is immensely realistic in nature to provide you with as real of an experience as possible, and  jaw-dropping 3D graphics powered by Metal.
This app includes a collection of animated lessons for you to learn the basics of the piano as well as to allow you with a chance to play your favorite tracks. Every song features easy-to-understand tutorials which are bound to ensure that you get the hang of it.
Piano – Play Keyboard Music Games with Magic Tiles by Gismart
Piano app is equipped with a full 88 key piano keyboard and 9 Different piano keyboards and musical instruments (Piano keyboard, Grand Piano, Organ, Harpsichord, Accordion, Electric Guitar, Harp, Cello Pizzicato, Vintage piano), which provide you with the perfect virtual piano for you to improve your skills upon. The app also offers you a choice between 9 piano keyboards and a large collection of songs.
Do you wish to avoid carpel tunnel while playing the piano? Well, this app provides you with ten exercises which allow you to do so, along with the piano skills you're looking for. With the help of this app, you can bid time-consuming and expensive piano lessons goodbye.
Whether it be sight reading, rhythm, or playing with both hands, watch as your kids master it all with the help of this app. The real-time feedback offered by the app is bound to improve your skills.
Flowkey allows you to learn how to read music as well as play it. It includes step-by-step instructions which will enable you to develop the correct playing technique in no time. The premium options of the app allow you to gain access to all songs and unrestricted course content.
Grand Piano is full of all the latest songs, and its collection is regularly updated. The piano sound is customizable, and you can choose between different hand selection modes to make you comfortable playing the digital piano.