I have been learning to play the guitar on my mobile device. It has been a fun and challenging experience. I have had to learn how to use my fingers in a new way, and I have also had to practice patience as I am still a beginner. There are many great apps for learning how to play the guitar on mobile devices.
Who says you need a professional to teach you how to play guitar? We are here to tell you that all you need is an iPhone or iPad. Here are some of the best iOS apps to learn guitar from: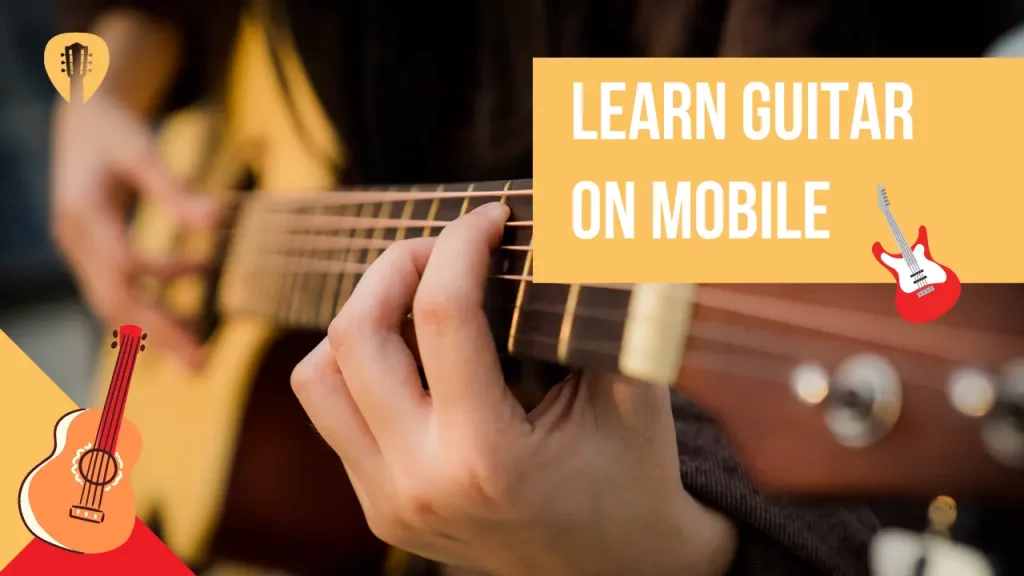 Songsterr is a great app for those who want to learn how to play the guitar. It features a realistic guitar engine that allows you to learn how to play the strings. The app also includes over 800,000 tabs and chords, each of which is immensely accurate to provide you with an authentic experience.
In addition, the Tab Player allows you to slow down tab playback by up to 15% to learn difficult parts. You can also loop selected measures so that you can play them back over and over again. Plus, you can use the app offline so that you can continue learning even if you don't have an internet connection.
If you are new to playing guitar, rather than investing in a course, you can instead begin by downloading this app. The app features the inclusion of dots which will show you the proper hand placement on the strings. You can choose from various songs available in the app and learn the one you like.
Thousands of songs and tunes are available, and you can play at your own pace. The app is also adapted for left-handed players. Tablatures are included, and detailed with care so that you can follow along easily. Coach Guitar is a great way to start learning guitar without investing in a course.
Uberchord stands out amongst other apps due to its ability to listen and adapt according to your playing skills.
With the Uberchord app, you also get visual feedback on your fingering, which helps you to correct any mistakes that you might be making. In addition, the Uberchord app comes with a song catalog of over 200 great titles. With the Premium Plan, you will have access to all of these tracks.
This app is a great choice for beginner guitar players. The step-by-step play-along lesson is especially helpful in learning basic chords and chord changes. The videos by Justin are also very helpful. You feel like you have your personal guitar trainer!
The app is perfect for those who want to learn to play guitar from Day 1. The bite-size lessons allow you to learn at your own pace. The innovative color chords help you learn chords faster. And the easy-to-use guitar tuner is a great bonus! Over 1,000 hit songs are included, plus new songs are added regularly.
This free app provides you with the easiest way to learn how to play guitar. This app is ideal for both novices and professionals who wish to polish their skills. A premium version will get you access to 11,000+ lessons and 1000+ song lessons, which can turn anyone into a professional guitar player.
Plus, song tutorials include massive hit songs from great artists such as The Beatles, Ed Sheeran, The Rolling Stones, Eagles, Rihanna, Shawn Mendes, Jimi Hendrix, Stevie Ray Vaughan, B.B. King, Eric Clapton, Van Halen, Lynyrd Skynyrd, and many more!
This app is designed for beginners and provides step-by-step video lessons to teach you the basics of playing guitar. The app starts with the absolute basics, such as how to hold the instrument and what the different parts are called, and then moves on to more advanced topics such as chords and strumming patterns.
You can customize your learning experience by choosing your instrument and genre. The app provides bite-sized video guitar lessons from experienced instructors. You can also play along using chord diagrams and guitar tablature. The app is ideal for kids and beginner players, and for helping intermediate level musicians level up.
This app is similar to Guitar Pro in that it includes a library of popular songs to learn, along with lessons on technique, theory, and ear training. However, where Yousician really shines is its interactive gameplay feature.
Using the microphone on your device, the app gives you instant feedback on your accuracy and timing so you can quickly identify and correct any mistakes you're making.
With over 10,000 lessons and exercises, as well as hundreds of videos covering all the skills you need, Yousician is a great tool for anyone wanting to improve their musical skills. And with weekly challenges, you can compete with friends and other Yousicians around the world.