Who says you need a professional to teach you how to play guitar? We are here to tell you that all you need is an iPhone or iPad. Here are some of the best iOS apps to learn guitar from: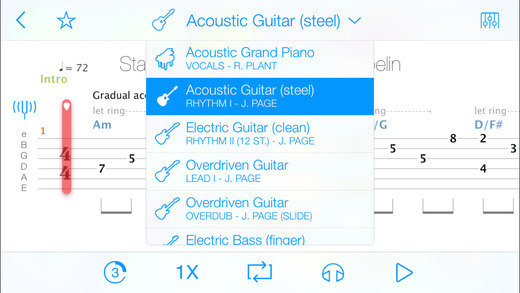 Songsterr features a realistic guitar engine which allows you learn how to play the strings. The app includes over 500,000 tabs and chords, each of which is immensely accurate to provide you with an authentic experience.
If you are new to playing guitar, rather than investing in a course, you can instead begin by downloading this app. The app features the inclusion of dots which will show you the proper hand placement on the strings. You can choose from various songs available in the app and learn the one you like.
Learn Guitar app includes 27 video lessons, each of which is easy to follow. The course is about an hour long and is bound to help you polish your guitar playing skills. By the end of it all, rest assured that you will be able to play chords and read chord diagrams masterfully.
Uberchord stands out amongst other apps due to its ability to listen and adapt according to your playing skills. It provides you with instant feedback, which allows for an effective learning experience. The app includes over 100 tracks for you to master at a subscription.
Justin Guitar Beginner Song Course
This app has many value-added features which make it a likely choice of many guitar players. It includes a step-by-step play along lesson which allows you to master basic chords and chord changes. The app also includes over 25 videos by Justin to help you.
Guitar Lessons by Guitar Tricks
This free app provides you with the easiest way to learn how to play guitar. This app is ideal for both novices and professionals who wish to polish their skills. A premium version will get you access to 11,000+ lessons and 700+ song lessons, which can turn anyone to a professional guitar player.
Achording Guitar Tabs and Chord
Achording app's ability to offer users guitar lessons even when offline is appreciated by many. The tabs of the app are formatted in a way to fit in the screen of all kinds of devices. Moreover, the inclusion of the auto-scroll feature is convenient for many since it renders the need to manually scroll up and down useless.