Drawings and art have a special way of conveying meaning and truth. They are significant in the way they leave an impact, and they are important because they often make us feel things that are inherently inexplicable but those that we know to be true nonetheless. Hence the saying, "A picture is worth a thousand words." In this age, where self-expression through artistic mediums has become a part of our identity, ways of creating art have also become readily available. Now, you can make drawings and pictures very easily on your phone. To help you find the best apps for such endeavors, here are the 5 best drawing apps on Android.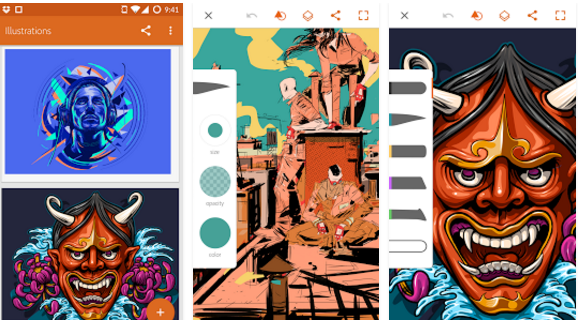 This is an award-winning app that has been widely recognized and appreciated by people. The Illustrator Draw allows you to create vector artwork and work with multiple layers of images simultaneously. You can use stencils and shapes to help you out with your work, and you have the option to choose from a variety of pen tips (which can be adjusted to different shapes, thicknesses, and colors). The Illustrator Draw also allows you to share your drawings with desktop programs like Adobe Photoshop. This is simply one of the best apps to have.
ArtFlow: Paint Draw Sketchbook
ArtFlow is your modern digital sketchbook. Through the use of stylus pens, your cellphone or tablet can be turned into a digital canvas. The app comes with a variety of brush strokes, eraser and smudging tools, and color fills. This app is easy to use and becomes second nature quite easily. It is a good app to unshackle your imagination.
MediBang is a great app for comic artists and illustrators. This easy-to-use and light app is filled with preset fonts, brushes, stock backgrounds and other illustration tools. You can use this app to create a whole variety of artwork easily, and you can also use its cloud storage services to back up your progress or send it to the other workstations you may be using. This versatile app is indispensable for artsy people.
PaperOne: Paint Draw Sketchbook
PaperOne is an excellent app for those people who want to imitate the stroke of real paintbrushes and sketch tools. Perfect for doodling, drawing, and graffiti, the app allows you to make drawings and sketches on the go without requiring the actual tools of the trade.
ibis is an app that allows you to share your artwork with a like-minded community of people. It is a very easy-to-use app that allows for personal expression. The concept of social art is readily used here and works wonders for people who want encouragement and critical support in their artistic endeavors.