Whether you're planning a trip to Korea or you have Korean ancestry, learning the language can be a fun and rewarding experience. Too busy to enroll in a proper Korean language course? So there's no better way to learn a new language than with your trusty iPhone by your side.
 Here are the best apps to learn Korean on your iPhone and iPad on the go: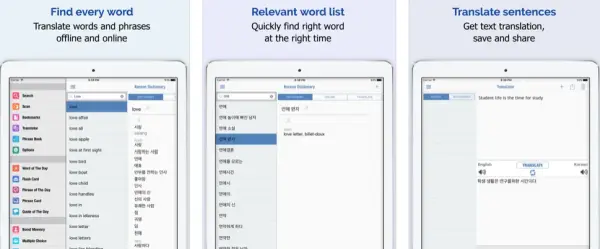 This bilingual dictionary is perfect for students and tourists who want to learn Korean. The app allows you to translate words and phrases from English to Korean and vice versa. This offline dictionary includes over 150,000 Korean words to enable you with the opportunity to learn the language quickly.
Korean Dictionary + can translate individual words, phrases, whole sentences, or text in images via camera. You can use bookmarks and recent history to quickly recall recently learned words. It also has multiple games that help to improve English and Korean vocabulary.
The app also has a thesaurus, synonyms, and antonyms. You can translate individual words, phrases, or whole sentences. The Korean Word Dictionary+ app also has a bookmark and recent history function for instant recall. The word of the day feature helps you learn IELTS, TOEFL, and SAT words.
The app also has multiple games to help improve your English and Korean vocabulary. The offline pronunciation feature helps you learn words properly. The flash card and word of the day feature also help improve your vocabulary. The phrase book, phrase of the day, and phrase card features help you learn common phrases in Korean.
Memrise is a famous app to learn various languages, including Korean. With over 15 million users worldwide, it's one of the most popular language-learning apps available. And for good reason – the courses are made by linguists and language experts, so you can be confident you're learning useful, real-world vocabulary and phrases.
With 50,000 audio and video clips, you'll get a good feeling for how the language sounds and looks in everyday situations. And if you're worried about speaking another language in front of others, don't be – the app provides a safe space to practice without fear or embarrassment.
In today's world, we are constantly bombarded with a never-ending stream of information. With so much to learn and so little time, it's no wonder that many people feel overwhelmed. However, there is one app that claims to be able to teach you Korean in just 24 hours.
While this may seem impossible, the app does provide users with audio and over 1,000 words to help them get started. The beauty of this app is that it can be used at your own pace and fits easily into your busy lifestyle.
Whether you're driving, commuting on public transportation, or simply relaxing at home, you can plug in your headphones and start learning.
Hangeul 101 includes audio pronunciation, which makes learning Korean an easy feat. It comes with various value-added features like over 28 basic exercises, a quiz system, and the inclusion of 140 syllables. This app is ideal for the starter to learn 40 letters from modern Korea, including 24 basic and 16 compound consonants and vowels, and 80-word examples.
Learn Korean Phrases & Words is a great app to help you improve both speaking and listening skills. The app does not require an internet connection, which makes it perfect for learning on the go.
The native Korean-speaking parrot is always there to help you pronounce words and phrases correctly. The parrot works together with you to practice your speaking and listening skills, wherever and whenever you are. Learning Korean can never be easier!
This app also features search by Korean or English, native Korean pronunciation, and customizable font size.
Duolingo is one of the most popular language-learning apps out there and for good reason. It makes learning a new language fun and easy with its game-like lessons. You'll start with basic words and phrases and then move on to more difficult concepts as you progress. Duolingo also keeps track of your progress so you can see how far you've come. And the best part? It's free!
Babbel is similar to Duolingo in that it uses game-like lessons to teach you Korean but it also goes a step further by incorporating conversation exercises. This is great if you want to learn how to actually hold a conversation in Korean rather than just knowing individual words and phrases. Babbel also offers paid subscription plans but you can try out the app for free first to see if it's right for you.
HelloTalk is an app that connects you with native speakers of the language you want to learn so you can practice your conversation skills. With HelloTalk, you can find a conversation partner who lives in Korea or anywhere else in the world. You can also use the app to chat with friends who already speak Korean.
Mondly is an all-in-one solution for learning Korean with lessons covering everything from vocabulary to grammar to the conversation. One of the things we like about Mondly is that it lets you choose how fast or slow you want the lessons to be. This is great if you want to take your time learning or if you want to speed through the lessons depending on your schedule.