Nowadays it is possible to learn language on a smartphone. New apps are advanced, intuitive and they are even fun to use. But, there are so many of them, so which one to choose? Here are the best apps for helping you learn English language.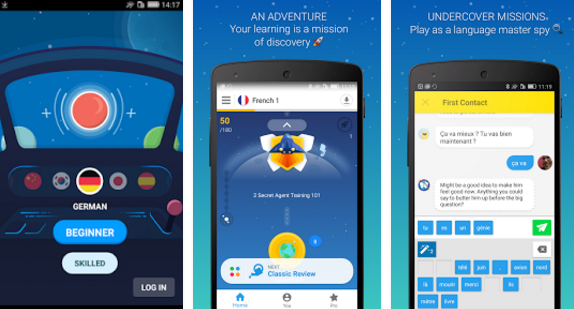 Learn Languages: Rosetta Stone
Rosetta Stone is simply the most popular learning software on the planet. It is also available for a smartphone, which makes it an even better. You will learn to speak, write, grammar and to have a conversation. The app requires a lot of time to learn you, meaning that high verbal skills can be achieved.
This app is probably the most advanced and the most unique language learning choice you can make. It will place you in a role of a spy (in the space). You will have to learn English language in order to beat your enemies. Even better, there are 1.000 videos, recorded by native English speakers that will help you. Let's not forget goals, awards and games, all designed to teach you a language.
The app in question is based on dialogue learning style. The most important feature is sentence break down, which allows you to see all the elements of a sentence. The best virtue of the app is a small amount of time needed. It is perfect for busy people.
busuu – Easy Language Learning
Here, you will be responsible for having regular language exercises every single day. You will learn grammar, dialogue, punctuation and all the rest, until you reach a high conversation level. We must mention that this app was the best in 2015. The app is also available in offline mode, when you don't have the internet connection.
Duolingo: Learn Languages Free
Duolingo teaches you new words every day, as long as you need them. It features questions, tests, games and a lot more. The best fact is that the app will help you improve writing, reading and speaking. It requires time, but it is highly efficient, simply because it slowly teaches you the English language. Don't forget that this app was announced as one of the best, by prestigious world magazines.
Babbel is a different type of app. It was developed by linguistic experts, so it features 15 minute lessons, an easy interface and a new way of learning. It will help you understand the culture and the differences of English-speaking nations. Explanations are simple and fun. Speech recognition is supported as well. It will help you speak English fluently. The main goal of the app is to teach you speak English for social and traveling purposes.
Learn English app is as simple as possible. It will teach you 6.000 words and it will help you understand much more. It has been downloaded up to 50 million times and it is available for Android 7. You will get illustrated images and recordings of native speakers that will help you learn English.