Nowadays, we have emojis for every single expression. It has become so popular that there are many good emoji apps on Google Play Store.
Emoji keyboard – Cute Emoticons, GIF, Stickers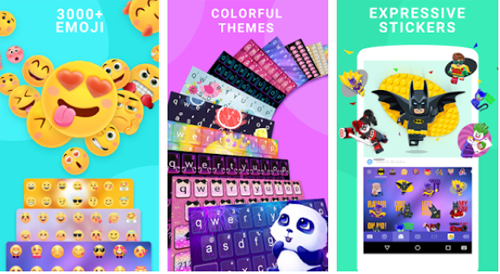 If you are looking a perfect emoji app for your android phone, this is the one. It allows you to send GIFs, thousands of emoji and etc. It is also the first app ever to support skin tones in Whatsapp. The app comes with dozens of useful features and it is stable.
All of you who are looking for a more complicated emoji app with more advanced features will appreciate this one. It comes with a huge library where you can choose between thousands of emoji, stickers and etc. You can also create your own and share them as you prefer.
Kika Keyboard – Emoji Keyboard, Emoticon, GIF
Kika Keyboard simply must be on the list due to the fact it has more than 20 million users. It is an excellent keyboard specifically developed for all users who are addicted to typing and chatting. Each emoji is well-developed and there are plenty of them, so you will never get bored with the app.
Elite Emoji offers precisely what the name suggests. It comes with 1000 HD icons and emoji which look great on any smartphone. In general, the app has it all and it is easy to use, although you will need some time to get used to it.
The app will replace our current keyboard and allow you to enjoy thousands of emoji which are just great. The keyboard is slim and looks elegant. Because it comes without the number row, it is perfect for those who make a lot of mistakes while typing. And yes, each emoji is developed to look perfect.
Now you are free to replace the official keyboard and emoji app of your phone and get one of the advanced apps with a lot of additional features.