If you are a fan of mobile gaming, you need a tool that will allow you to play on your mobile device with much ease and comfort. Since it can be hard to balance your phone with your hands alone while you concentrate on the game, game controllers are necessary. However, not every game controller can support 7 or 10-inch tablets. Below are 5 game controllers that can hold big size tablets.
H11 Tablet Game Controller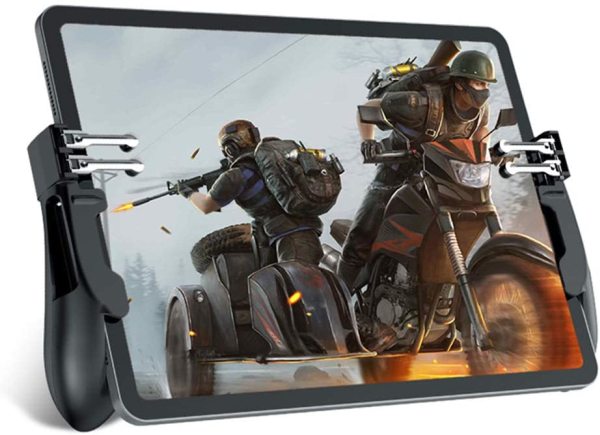 The H11 Tablet Game Controller is made for those who play games with their hands. The controller offers 6 fingers control and operation which means you can simultaneously move, turn, aim and shoot by using the index fingers to press the buttons on top of it. This eliminates any troubles you would have when using thumbs only to make all operations available in the game.
The controller also has a hidden tablet stand holder which is ideal for watching a Netflix marathon or browsing the internet.
Hold a PUBG or Knives Out session with one hand! Become a true gamer! If playing shooting games gets too frantic for your heart rate then our product might be saving some lives!
AnoKe Tablet Game Trigger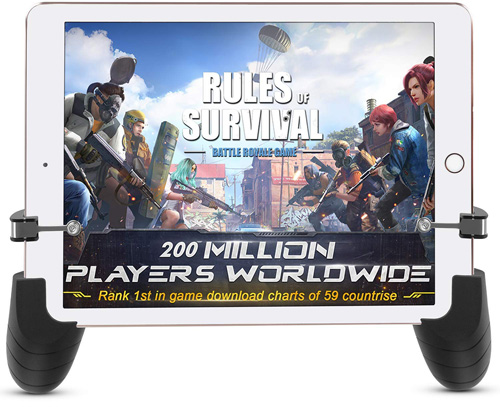 This trigger is perfect for those who only want to hold a tablet comfortably while playing the game. The LR buttons and grip will help you play the game better and say goodbye to finger numbness.
AnoKe Trigger is compatible with shooting and battle royale games such as PUBG, Rules of Survival, Knives Out, Survivor Royale, and Critical Ops. The best thing about triggers is that there is no need for battle and power.
The LR mobile triggers are sensitive to shoot and aim. The only con of this trigger is its lacking of support for certain cases.
Mad Catz L.Y.N.X.9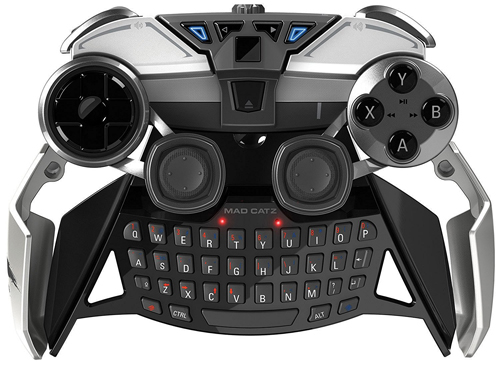 This game controller boasts versatility. It is designed to be foldable and it can easily fit into your pocket. It features a keyboard with a QWERTY design and mouse control. This ensures that typing those in-game messages will be very easy to do. It can even be used to double as a mobile keyboard as well. It even has built-in microphones. This is quite ideal for those calls and those internet searches that can be done through voice control.
The design is certainly leaning towards being tough and comfortable at the same time, the unit is very ergonomic in nature which makes it the ideal choice for those video games that might reach some extended rounds. This is a good choice for people that engage a lot in mobile gaming. The only con I found about this gadget is its price which is quite high compared to others and its limited screen size support which is only up to 7″.
BEBONCOOL Wireless Gamepad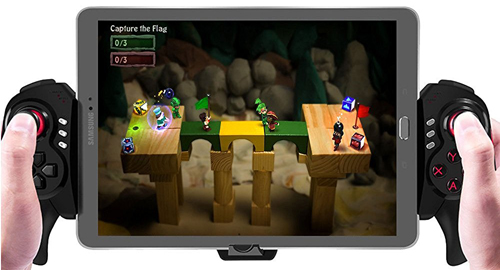 If you are looking for a game controller that is Standard HID protocol type, this is a good choice. It has a wide variety of phones and tablets that it can support and is compatible with. Thanks to its 300 mAh battery, the unit can last about six to ten hours of playing time. This is a controller that is designed to ensure higher sensitivity as well as quicker response.
This unit has a telescopic holder. It features a lock for the table or the mobile phone. It has the Wireless connect ability to connect to any tablet by Android as well as VR headsets that are running Bluetooth 2.0 and higher. The controller is packed with handles that have antiskid rubber. The cushion is essential to ensure that there is a comfortable feeling on the hand when handling it.
iPega Extendable Game Controller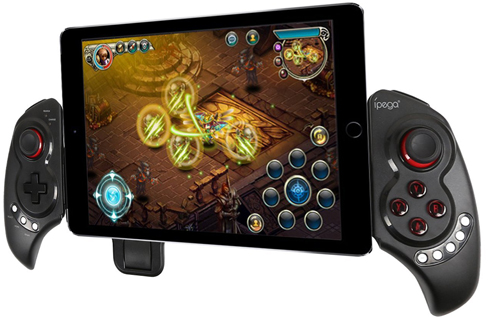 iPega has quite a large range of Android game controllers. This one can hold not only a phone but also a tablet. If want to choose a cheap game controller, it is a good option. Many games and game emulators support this controller. It comes with a telescopic stand which is so perfect for those tablets that are seven to ten inches in dimension.
Conclusion
If you like tablet gaming, then it is about time you consider getting a game controller. With the 3 tablet controllers, we provided you with above. It should be easier to take your pick now. Remember, comfort and ease and functionality are crucial.