Third-person shooter games are a type of video game where the player character is visible on the screen and the gameplay is viewed from a third-person perspective. This means that you can see your character as they move around in the game world, and it also allows you to see what is happening around them. This style of gameplay is popular because it gives players a more immersive experience, as they feel like they are right in the middle of the action.
Third-person shooters are a popular genre of video games, and there are plenty of them available on Android devices. Here are 10 of the best Android third-person shooter games:
10 Best Third-Person Shooter Games for Android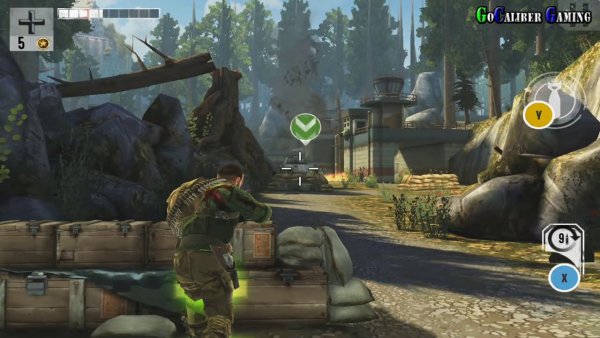 Brothers in Arms® 3 is a mobile game that lets you experience squad-based combat in a single-player setting. You'll use your brothers to gain a tactical advantage, employing their diverse abilities like air strikes, molotovs, and rocket blasts.
You can also unlock new allies as you play, upgrading them into seasoned soldiers with increased damage output, ability cooldowns, and HP pools. In addition to Brothers in Arms® 3's campaign mode, the game also features a multiplayer mode with four different maps to master.
You'll be able to choose from two gameplay modes (Free For All and Team Deathmatch), and you can also unlock game-changing perks by playing with each weapon class.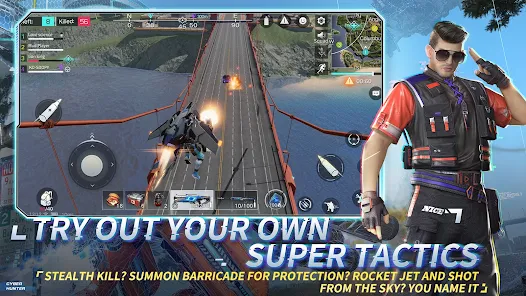 Cyber Hunter is a mobile game where players compete against each in an open sandbox environment. In Cyber Hunter, 100 players are dropped onto an island where they must fight to be the last person standing. 
The island is brimming with guns, grenades, vehicles, and all the other loot to help them become the last person standing. There are plenty of tactical skills available to players, such as optical camouflage, quantum barriers, invisible force fields, and fire support. You can formulate your own tactical system.
The game features vivid characters with verisimilar faces. With next-generation face-shaping art and over a hundred cosmetic designs, players can create heroes that are distinct and lifelike.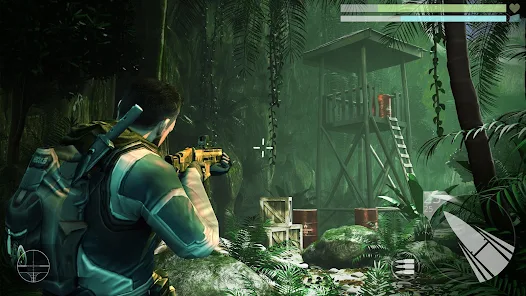 Cover Fire is a cover-based shooting game that follows the resistance in a war against Tetracorp corporation. You can loot weapons from a killing arsenal and level up your soldiers with unique skills.
Cover Fire features a challenging story mode. In this mode, you join the resistance and must command the battle like a pro. You will be armed with different weapons and will have to use them to strike the enemy army.
The graphics are HD and the environment is destructible. You can also become a real veteran soldier in the online tournament mode. This mode puts you in a fun adventure with nonstop action against other players.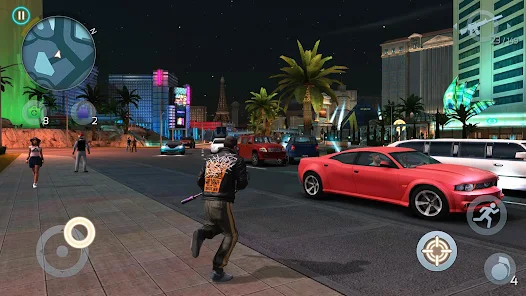 Gangstar Vegas is an open-world TPS game set in the city of Las Vegas. In the game, you'll take on the role of a gangster fighting for control of the city's underworld.
You will play as a mixed martial arts fighter, fighting your way through 80 missions. The game features a variety of missions to complete, ranging from street fights to dealings with the city's mafia cartel. You'll also be able to take part in special events and limited-time adventure crime clans.
There are lots of normal and unique weapons like shotguns, sniper rifles, Molotov cocktails, flamethrowers, and even an electric guitar. You can enjoy your trip with crazy vehicles such as monster trucks, muscle cars & fighter jets.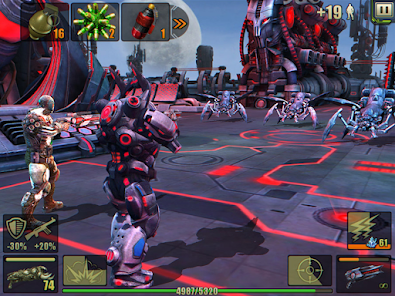 Evolution: Battle for Utopia is a revolutionary new game that combines the best elements of shooter, RPG, and strategy genres to create a truly unique and immersive experience. In Evolution: Battle for Utopia, players will explore a world that has been devastated by an apocalyptic event, and must work together to rebuild it into a paradise.
To do this, they will face their enemies in real-time combat, using a variety of heroes with different skills and abilities. They will also need to build up their team by leveling up their heroes, plundering battlefields for loot, and completing missions. With stunning visuals and an incredible amount of gameplay variety, Evolution: Battle for Utopia is an essential game for any fan of the genre.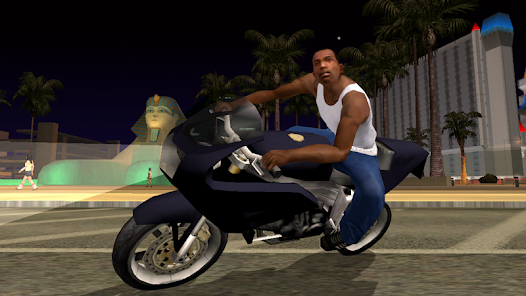 One of the best games on Playstation 2 now comes to Android. You will enjoy Carl Johnson's journey to becoming the top mafia in San Andreas with remastered, high-resolution graphics built specifically for mobile and over 70 hours of gameplay. This game supports both touchscreen and bluetooth gamepad.
The game features remastered, high-resolution graphics that look great on mobile devices. You can also save your game to the cloud so you can pick it up on another device later. The controls are easy to use and highly customizable, so you can play the game the way you want to. And if you're looking for even more immersion, the game also supports tactile feedback effects.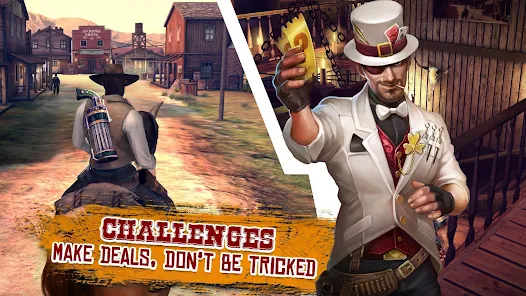 Six-Guns is a game that allows you to explore a rugged, open world set on the blood red sands of Arizona and Oregon. In Six-Guns, you play Buck Crosshaw, an outlaw who had to fake his death and escape to Arizona. You'll travel the path of a wanted man, dead set on redemption, as you become completely immersed in the story and red hot action.
Six-Guns gives you the chance to take on 40 missions with a great variety of tasks to overcome. You'll race horses, take out robbers, fend off waves of enemies (living and dead), and much more along the way.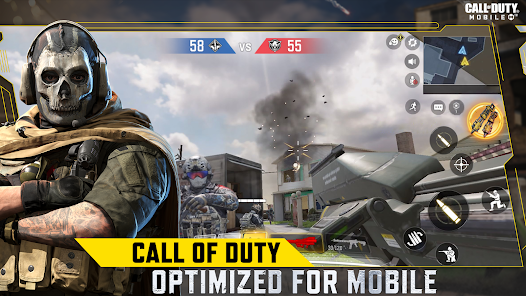 If you're a fan of first-person shooter games, then you'll definitely want to check out CALL OF DUTY®: MOBILE. It is not just a game, but an emotion. An immersive and intense experience that should be experienced by every mobile gamer, this third person shooter offers customizable characters, weapons, skins and costumes- making it one of the best TPS games of 2021.
With a fascinating Battle Royale mode, as well as other multiplayer modes that allow you to play with friends, Call of Duty: Mobile presents an unmatched gaming experience. The success of the game can be largely attributed to its pedigree- as one of the most popular PC games.
This game features console quality HD graphics and intuitive controls that are customizeable to your preferences. You can also voice and text chat with your friends while you play for an even more immersive experience. Plus, the 3D graphics and sound are absolutely thrilling.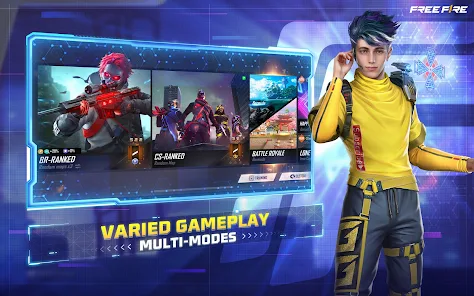 Garena Free Fire is an Android Battle Royale and multiplayer game that has become popular among gamers for its fast-paced and intense 10-minute matches. In Free Fire, players are dropped into a large map where they must scavenge for weapons and supplies while staying within the safe confines of the ever-shrinking play zone.
With only 50 players per match, Free Fire provides a more intimate Battle Royale experience where players can really get to know their squadmates and strategize together. The game also features a unique in-game voice chat system that allows players to communicate with each other even before the match begins.
Whether you're looking for a quick fix or a more strategic battle, Garena Free Fire is sure to provide an enjoyable and action-packed experience.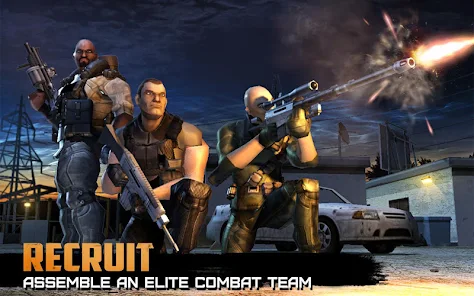 In Rivals at War, players take control of a commander leading their team of soldiers into 7 different combat scenarios. There is a large variety of soldier types to choose from, each with its own strengths and weaknesses.
Players must carefully consider their team composition in order to be successful. The game also features upgradeable skills and customizable uniforms and headgear. tactics cards can be used to give the player an advantage in battle.
The game also features online leaderboards, allowing players to compare their teams' performance against others.