Imagine what it would be like to be able to control your favorite mobile games the exact same way that you control the video console games you play in your living room – with a dedicated controller instead of fumbling around on the screen with your thumbs.
Wouldn't it be so much more fun to be able to use a legitimate controller to manipulate everything and anything going on in that the little digital world, rather than trying to figure out what's going on when your thumbs (inevitably) get in the way?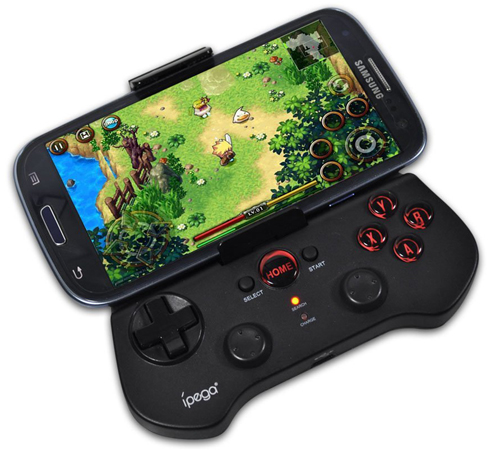 Buy Ipega controller from Amazon
Of course it would – which is why you're going to want to check out the
IPega Bluetooth controller
just as soon as you possibly can!
Revolutionizes mobile gaming forever
Thanks to the unique design and engineering that went on behind the scenes to create the IPega Bluetooth videogame controller, you're going to be able to really enjoy all of your favorite mobile video games in ways that you never would have been able to in the past.
Built on the back of the same groundbreaking design that PS4 and Xbox One controllers use for their layout, this is literally the best of both worlds – and one of the easiest to use video game controllers out there on the market today.
On top of that, the control scheme is immediately mapped to all of the control configurations in your mobile games so that you don't have to spend any time fussing or fidgeting with settings. You can just connect it to your device and you are ready to rock and roll!
Connects to just about any device
Thanks to the Bluetooth 3.0 protocol technology built right into the IPega PG-9017S, you are going to be able to connect this videogame controller to almost any device (including smart phones and tablets) out there right now – with absolutely no hassle or headache at all.
The Bluetooth connectivity is almost instant once you have paired your device with this wireless controller, and as mentioned above the button mapping takes care of itself.
Just one IPega Bluetooth controller can be mapped to all of your devices, so that you only have to purchase one to play games on all of your technology!
Turns your device into a portable big screen gaming system
Because this system is completely wireless, you can use its docking system (built right into the top of the controller) to attach your smart phone or tablet to the controller – instantly transforming your mobile device into a portable "big screen"!
You'd have to be at least a little bit crazy to videogame on your mobile devices without the IPega Bluetooth controller in your hands! You can buy Ipega controller from Amazon.