Do you have a USB drive that isn't showing up on your computer? If so, it's possible that there is some kind of issue with the hardware. This article will help troubleshoot common problems and answer questions like: Why can't I see my USB device in Windows Explorer, or what does "USB device malfunctioning" mean?
A number of things could be happening. If you have recently installed a new piece of hardware such as a printer, scanner, or webcam and uninstalled it but the USB device is not showing up in Windows Explorer then you probably have to reinstall the drivers.
While it is difficult to pinpoint the exact reason why your computer doesn't recognize the USB, there are a number of potential solutions that you should try.
We have a few effective solutions to try when you're experiencing difficulties with your USB device in order to fix the connection. Many of these apply to devices that require a connection by USB, like mice, disk drives, or video game consoles.
Check for device compatibility or plug in another PC
When you are using a USB connection, but your device is malfunctioning or not functioning properly, then it could be because the power source for it has been compromised somehow. Try to plug in another one and see if that solves the issue before trying anything else. If it still doesn't work after doing this then contact customer service from the company that you bought the device from.
If you attempted to plug your USB stick in, but there was no pop-up indicating that Windows recognized the device, it may be because the device doesn't work with a PC. Most USB 3 devices can connect to older computer ports (USB 2), meaning this should pose little problem.
You can use an alternative dock/port to connect the device and check again if functioning properly on the new connection. Or purchase a USB extension cable so that you can place the peripheral where needed without being next to another port or hub (this could solve many connectivity problems)!
Update your operating system
If you're currently running an outdated version of Windows, then it could be the cause of your USB device not working. You can update to a newer operating system and see if that fixes the problem before installing any new drivers. To do this, simply type Windows Update settings in to Windows 10's search bar.

After the app's window is opened, click on the Check for updates button to request information bout a new patch.
Use the Disk Management tool
The Disk Management tool scans your PC to find the location of any external data drives and displays all your hard disks including partitions, sizes, and more.
Stick in your USB.
Right-click on the Windows icon and access the Disk Management menu.
You will now see all the drives in your computer on a list, including external ones like USB disks and CDs/DVDs.
If it is not showing up then you need to reconnect or eject it from Windows Explorer by right-clicking on the drive.
Then open up Disk Management again, and the device should now be there.
Troubleshoot drivers
If your USB device is able to be detected by another computer, you may have a driver issue that should be addressed.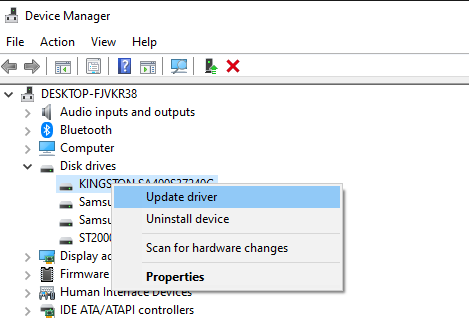 You could try reinstalling them by opening Device Manager.
Expand the Disk drives menu item.
Right-click your USB drive and choose Update driver.