Pokemon GO has been the talk of the town all over the world right after its release. It is a lot of fun to wander around and capture Pokémon. However, the game drains battery life of Android devices. Here are my 3 tips to save battery life of your phone while playing Pokemon GO.
Enable battery saver mode
It is fortunate that Niantic, Pokemon GO developer, has integrated a battery saver mode in the game. Enable this mode is a simple process.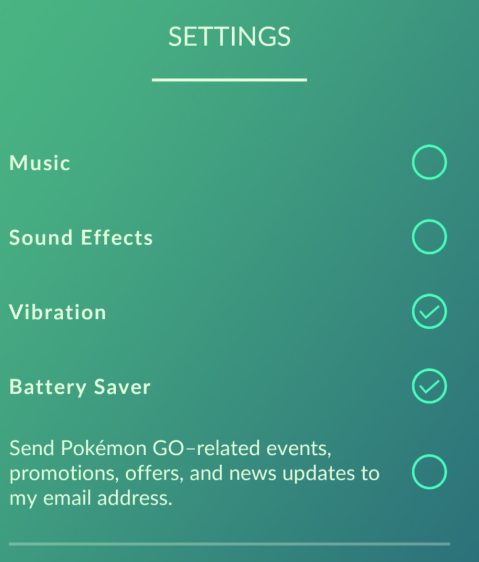 Start the game > tap on "Settings" button at the top right corner > check "Battery Saver" item.
This option will surely save your phone's precious battery life while you play Pokémon Go.
Turn off unnecessary background processes
In the same setting screen, you can also turning off sound effects, music and vibration. Uncheck those options can prevent your battery from draining too fast.
AR can also be turned off. It is not fun to play without AR but this is a good solution you can adopt to reduce battery drain when you catch a Pokemon or battle at a gym.
Use offline maps
Pokemon GO uses GPS to pinpoint your location and Google Maps to show your real world's surroundings to your phone, which drain your phone's battery like crazy, esp when you are wandering around with mobile data connection ON.
One solution to this problem is to use an offline Google Maps. It can help not only reduce downloaded data to save battery life but also increase the game's performance.
To enable Maps' offline data:
Step 1. Run Google Maps app.
Step 2. Access Settings menu.
Step 3. Tap on "Offline areas"
Step 4. Tap on the "+" icon to select an area you want to download then tap on "Download"
Get a 15000mAh portable battery pack
There is nothing better than caring a battery pack around to keep your phone's battery life when it reaches a low percentage. A portable battery pack can be charged separately then plugged into your phone to supply power. It is totally a life saver when we are on the road. There are many portable charger with different power levels but I recommend 15000mAh battery packs. They are big enough to charge a phone with built-in 3000mAh battery 5 cycles. That's a lot.
Play Pokemon GO on PC
Playing the game on PC leaves no worry about battery life. I wrote an article about this here. However, as I disclaimed in that post, your account might be at risk of getting banned later.