Never worry about battery of your Android phones again with a USB battery charger of which capacity is 5 times of the built-in battery's.
By far the most important aspect of any smartphone is its ability to run for long periods of time without draining too much battery. Even though it's a very important part of a phone, there are still plenty of devices out there that can only last a day at best. This can be a big problem when you're traveling for long periods of time and need a way to charge your phone and/or tablet. To solve this, you can buy an external USB battery charger which uses a standard mini-USB connection.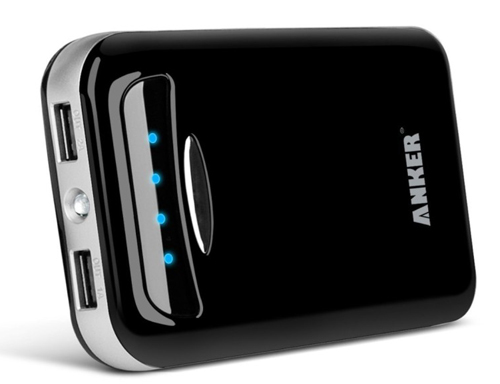 Anker Astro E5
Anker is one of the most popular brands for USB battery charger. Their Astro E5 in particlar supports a very wide range of Android devices including the Samsung Galaxy and Note series, Google Nexus series, HTC One, MOTO X, Motorola Droid, LG Optimus, Xperia Z2, and much more. It's priced at a very reasonable price, and includes 15,000 mAH of battery capacity, which can change the average smartphone around 4 to 7 times in a row, depending on how much battery capacity the device has. From very low power, it will typically charge a device in about 9 to 10 hours when using the 5V/1.5A adapter.

MaxBoost Electron Plus
Priced at the same level as the Anker model is the MaxBoost Electron Plus, a 15,000 mAH battery that supports quite a few devices including the HTC One, the Samsung Galaxy and Note series, Apple iOS devices, and much more. It includes a bright LCD display showing you the percentage of power remaining, making it one of the easier battery packs to use. It also allows multiple products to be charged at the same time, giving it a slight edge over most other battery packs while retaining the same price point (at least on Amazon).
EasyAcc Ultra
If you want a bit of value for your dollar, the EasyAcc Ultra is a great USB battery charger with its 16,000 mAH capacity while still having the same price as other 2 portable chargers mentioned above. It includes 3 USB ports, which means that you can charge up to 3 devices at the same time. It supports nearly any device that uses mini-USB, and can last for up to 5 or 6 hours. Out of the three it's likely the biggest bang for your buck, but you may or may not like it for reasons other than battery capacity, including weight, size, charging speed, and so on. The EasyAcc Ultra offers a nice balance of each of these aspects, and is not much bigger to hold than an actual smartphone.