Primary monitor or the display pertains to the screen in which Operating System is properly installed and "Start Menu" shows. Another display that is connected into the USB cable or the port is known as the secondary monitor. Individuals can duplicate, extend or can even use stand- alone monitors or any of these.
Changing primary monitor is somewhat a task that needs to be done at certain period of time but many individuals are facing issues and difficulties. Good thing is that there are ways to make this process easier for them.
Now changing primary monitor has become a lot easier with the help of these steps. If you are up to the task of changing primary monitor, read on as the steps to do this task are revealed and highlighted below.
Steps to Change Primary Monitor
Changing primary monitor should not be complicated. The following steps are beginner-friendly and comfortable. The following are the steps to change monitors properly:
Step 1
Attach second monitor into your PC.
Step 2
In the desktop of your main display, you need to right click and choose the Display settings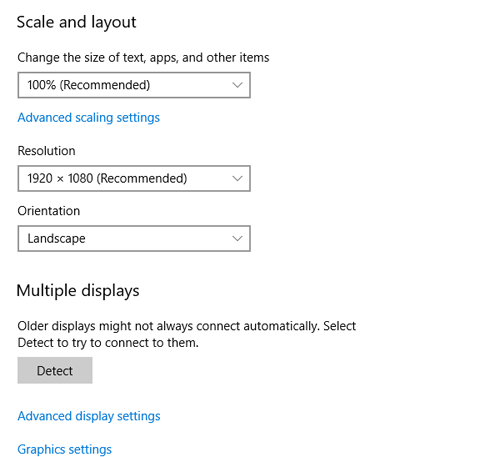 Step 3
Under the display menu, you'll see Multiple Displays sections. Click the 'Detect" button in case your monitor isn't detected manually.
Step 4
You will now see virtual workspace on top for "Select & Rearrange Displays" and the two screens with number 1 and number 2 on that.
Step 5
In this step, you will need to click number 2 in virtual workspace which is actually your external USB-powered monitor.
Step 6
Scroll down. Look for the "Make this My Main Display" with one box ahead. You need to mark this box and you'll make the main monitor changed along with the external display.
Step 7
You must repeat the process in order to switch back from the secondary monitor and make the primary one as before.
Essential Pointers to Keep in Mind
If you duplicate displays which results in making all screens show similar contents, you have to make sure that you will keep aspect ratio the same in all of them. If aspect ratios on the screen are different, there are actually chances of highly stretched images or some black borders in any side of the monitor.
If you disconnect your external monitor, everything that you opened on both screens will then come in the primary monitor and then adjusts depending on your display properties. You therefore don't need to worry if you have any issues in your second screen upon making the dual-monitor set up. You just need to just sit back, relax and enjoy doing numerous tasks and at the same time use two or even more monitors in your desk.
Aside from the information given above, there are other processes in changing primary monitor into secondary monitor. You can search online for more helpful information or obtain tips from reliable sources.
So when changing primary monitors, keep in mind and follow the steps mentioned above.