If you are using a monitor, you actually have full control of your processor temperature in order to give it longer and healthier life. Maintaining the temperature of your laptop is an important thing to do for other good reasons such as:
Ensure good functions
Avoid slow processing
Extend its life
Guarantee reliable and healthy performance
Keep in mind that failure on your part to maintain the right temperature can pose to various negative effects like hanging, low processing and more. Checking and keeping the right temperature of your laptop must be done regularly.
Steps in Checking Laptop Monitor  
Overheating laptop can be an annoying issue especially if you've got dual monitor. This is even more challenging if you are an online gaming lover and aficionado. So better check the temperature of your laptop to avoid overheating and other related issues.
By using the Method A-Bios the following steps can help the process easier:
Go to Menu, select "Restart" option and then reboot your laptop.
Upon seeing the screen after you restart your laptop, you need to press expected key at the right time. In case you've missed that time, windows will start regularly and you will need to try again. Keys might vary depending on the hardware creator. As per your own laptop, the correct keys will be displayed on its screen.
Wait until the BIOS screen comes up
Upon finding the H/W monitor screen, you will see some data on the laptop's health status
Check the temperature of the CPU. Note that this varies depending on the processors.
By using this method, you can also check for the temperature of the motherboard, CPU fan speed, temperature of the graphics card and more.
Aside from this method, there is also temperature monitor software that you can use such as:
Best 4 Temperature Monitor Software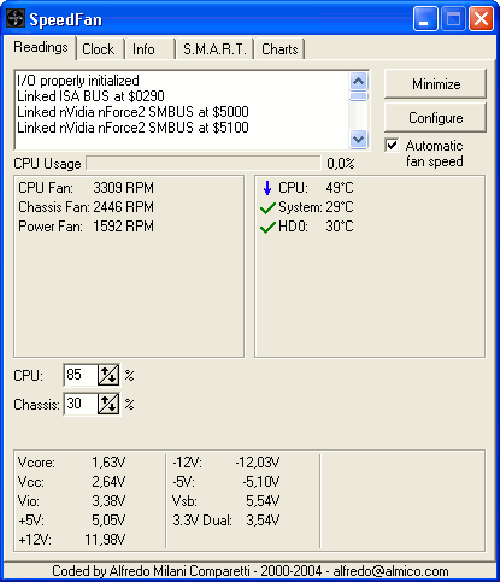 Aside from monitoring temperature, this software is also used in monitoring speed. This is a reliable 2-in-1 app that also checks the voltage. Speed Fan notifies chart values in times of troubleshooting.
This software shows the GPU temperature and also shows the memory clock, show core clock, memory usage, load, fan speed and more. This software supports many different versions.
This is an all-time solution for you since this is accurate, flexible, fast and compact program to check the temperature of the CPU and give essential information about the system. This supports AMD, Intel and Window versions.
This is open-source software that helps you watch out for your laptop's heating issues as well as clock speeds, voltages and fan speeds. This reduces overheating and supports hardware monitoring as well. This is on top of the list and definitely a must have if you are looking for a reliable software to check the temperature of your laptop.
These are the four best software that you can rely on if you want to check the temperature of your laptop and ensure its reliable function and smooth performance as well.