If you're multitasking all the time using your desktop computer, you need an extra monitor to make the job easy for you. Yes! Your work would be effective particularly if you aim to meet the deadline for the day.  But, what if you're using a tablet or a laptop? Don't worry! Manufacturers have come up with the best solution to the problem – USB powered monitors!  These USB monitors are handy as you bring your laptop when you travel.
But before you buy the best USB monitor, you need to consider the resolution, portability and viewing angles of the monitor. From here, you can make the right decision in selecting the USB monitor of your choice. Here are the top 5 USB monitors you might like to have: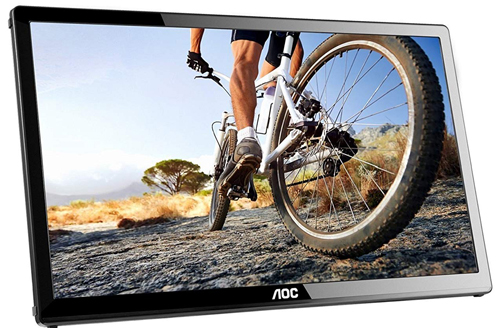 Users who are familiar with the ADC Company would be grateful with the ADC portable monitor release. This USB monitor allows you to achieve full HD experience.  The USB 3.0 means you wouldn't worry about cables on the back of the monitor. The monitor's excellent resolution gives you the high quality image you would like.
The super slim design adds to the monitor's efficiency. You can use it as you perform your work anytime. The automatic pivot mode lets you use the USB monitor easily during work hours. The 16 million colors give chances to enjoy watching movies or reading. You wouldn't strain your eyes as you use this monitor due to its amazing colors.
Also, the USB monitor doesn't affect your budget, so it's a good choice to buy it today! The quality the budget-friendly features is perfect for any consumer!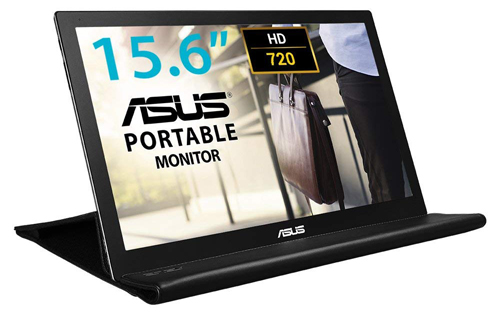 When it comes to PC parts and monitors, ASUS stands out as one of the reliable IT companies you can trust. The ASUS USB Monitor is perfect for your daily needs at home or at work. It also does an excellent job to make your gaming experience unique due to the HD experience it offers. The portability of the USB monitor allows you to achieve ease and comfort in your gaming experience.
Don't worry if there's poor light in a room. The auto lighting sensors do an excellent job to give you a quality image.  The stylish shape is perfect for users who want to have handy monitors. The lightweight features enable users to bring the monitor on their travel adventure. The ASUS USB Monitor is also compatible with old 2.0 USB ports.
Another great thing it offers is it can connect to 5 monitors using a USB regardless of the PC graphic capabilities. ASUS also offers an excellent warranty that clients would be too happy to have. Also, you can use it by equipping a Smart Case for comfortable usage.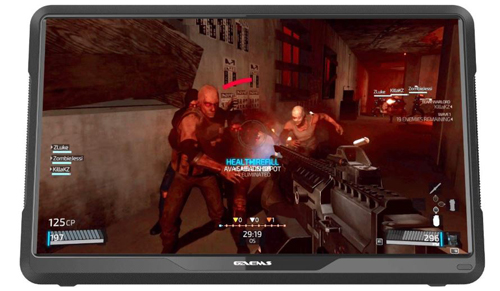 Cheers to all hardcore gamers out there! The GAEM portable monitor is the right choice for you to enjoy your gaming experience.        The excellent resolution and ratio enable you to enjoy every game you play that lets you have the best experience. You can easily plug the monitor and comfortably play any game you like. The excellent rubber feet hold steady on any surface so you can always have an excellent gameplay experience. For those who want enjoyable streaming, they would like the mount feature of the monitor or a clamp or a tripod.  The glossy screen features compliment the USB monitor's sleek design
Gamers who love to experience excellent sound quality would be amazed to use the audio jack. You can use headphones that let's enjoy the full gaming experience. You can also bring it to your travels for you to experience full game enjoyment even if you're on the road.
GeChic 15.6 Inch Monitor with HDMI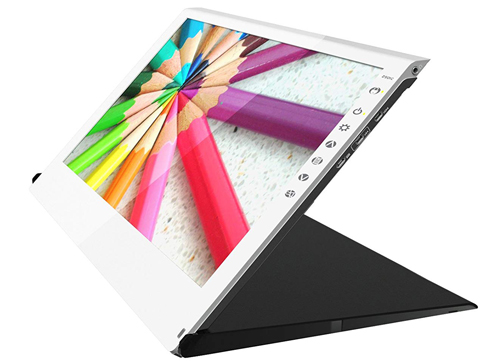 Gamers who want style and portability in one monitor can give big thumbs up to the GeChic USB Monitor. The sleek design gives you excellent and handy gaming experience. You connect this to a USB port, and you're set to enjoy an excellent gaming experience.  GeChic has Real Vide that means you wouldn't experience any HD experience. But, you can still have an excellent gaming experience you would consider terrific.
The powerful display and clear graphics presentation let you see any angle of the game. Gamers would have a full blast to enjoy the game they play due to the monitor's excellent graphics. The monitor also offers viewing angles that enable you to enjoy your gaming experience any time. Also, you can carry the monitor around in your bag. From here, you would fully enjoy its usage all the time.
Since the GeChic Monitor meets your requirements, it's worthy to buy it for you to achieve an excellent gaming result.  Come and check this monitor now and see the great things it can do!
AOC 16 inch LED Monitor with Case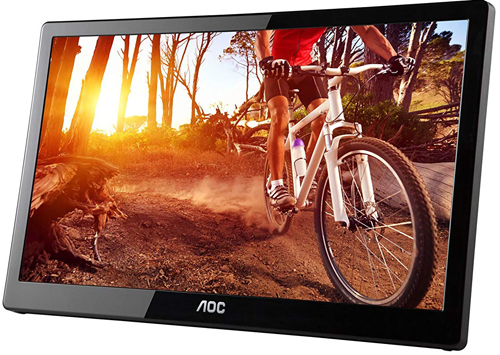 It's always good to experience Plug and Play functions when you're playing games. Well, the AOC LED monitor levels up your experience through its great resolution and ratio. The classy and sleek design allows you to be comfortable in using the monitor. You wouldn't think about cable management when you have this monitor. Why? You can easily insert the monitor's plug on a cable port, and you're ready to have an excellent gaming experience.
Its lightweight features are perfect if you're always on the travel adventure. You can put it inside a laptop's bag and it whenever you like. It's good to note that this monitor has a flexi stand that lets you mount it on a wall as long as you have the right wall bracket or arm. Since the monitor fits your budget, you buy it anytime. With a small price, you have a quality LED monitor that's perfect for your needs.
Come and buy this monitor now for you to achieve excellent results Gamers and PC users would be delighted to use this monitor at home or even at work.
If you're looking for the best USB powered monitors, you will gain satisfaction if you buy and use these top 5 USB powered monitors. Come now and experience satisfaction at its best!