Google Drive and Dropbox has always been considered to be an active competitor among other such cloud storage solutions. It is so because each comes with a package appealing enough for the consumer to opt. Both Google Drive and Dropbox have provided good features, reasonable price and a trial session which comes for free. As such, there arises a confusion as to which the consumer should go to enjoy up to the maximum advantage.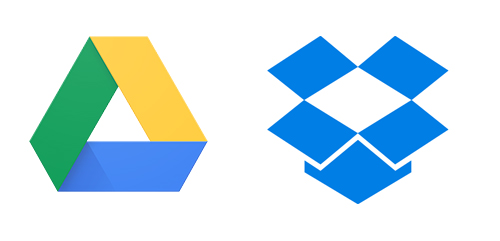 Google Drive and Dropbox can be compared in a lot of ways to provide proper information to the consumer as well as to see which cloud storage is more consumer friendly. To distinguish between these two cloud storages and to see who emerges as the winner a detailed study of the features provided by both Google Drive and Dropbox is necessary. So, to declare a winner among these two cloud storage solutions, each of the cloud storage solutions should be analysed in detail.
Storage
Firstly, both Google Drive and Dropbox provide their first-time users with a trial period for free before spending their money to become permanent members. In this free trial, google drive offers with 15GB free storage comparatively larger than dropbox's storage of 2GB. But Dropbox does not fall short on this because there are specific ways which Dropbox gives to its users to increase the storage room. A business oriented kind of offering is provided to the users to increase storage space of 500MB if they give reference of this service to another person. But this offer seems a bit irrelevant in this time and age because cloud storages are readily available and most people do not need any reference to download.
Price
Concerning price, both Google Drive and Dropbox have somehow the same kind of expense cost as both offers almost similar kind of subscription. Both Google Drive and Dropbox offer excellent storage space with various features for different payments. But for business-related usage Dropbox provides more features. For Dropbox, there is the "smart sync" which allows only changed files to sync and not the whole folder whereas Google Drive does not support such synchronization of specific data.
File Sharing
For file sharing, both offer flexible sharing through web browsers and apps and allows to transfer files through emails. Though both offer such flexible sharing, yet google drive does not provide the necessary setting for privacy concerns. It enables users to edit permission but does not have the feature to put a password and protect files like Dropbox does which is quite vital in an age where hackers maybe living just next door.
Final Verdict
Both Google Drive and Dropbox have shown decent performances to be rated as one among the best. Through such comparisons, Google Drive seems to appeal more to those users who do not intend to use it for work-related storage whereas Dropbox is more inclined towards work or business purpose. As such, Dropbox appears to be the winner because people these days need more room to save files or folders related to work or business.