Microsoft Office is one of the world's leading productivity suites, with nearly 500 million users around the globe relying on its intuitive yet powerful tools for daily tasks. Here are 12 interesting facts about Microsoft Office that you may not know: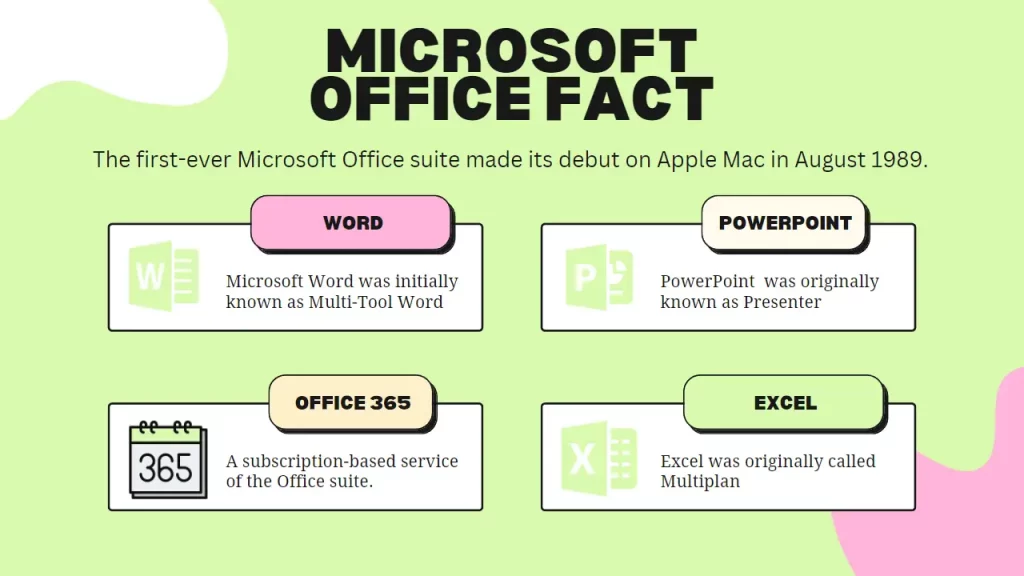 The first-ever Microsoft Office suite made its debut on Apple Mac in August 1989. It included Word, Excel, PowerPoint, and Mail. Then, just one year later in October of 1990, the suite was released for Windows. However, this version lacked the Mail program which was only available on Apple devices at the time.
Microsoft Word was initially known as Multi-Tool Word before it was renamed in 1983. The software was designed for use on MS-DOS operating systems and helped popularize the use of the mouse as a user input device.
Excel is one of the most popular tools in Microsoft Office and was the first ever application to come out of the suite. It was initially released on Apple Macintosh as 'Multiplan' before being renamed Excel in 1985. By 1987 it had also made its way onto Windows, allowing this powerful spreadsheet software to reach a much wider audience.
PowerPoint was originally created by a software development company called Forethought Inc. and was originally known as 'Presenter'. This powerful presentation software was so successful that it caught the attention of Microsoft, who eventually acquired it in 1987 for $14 million.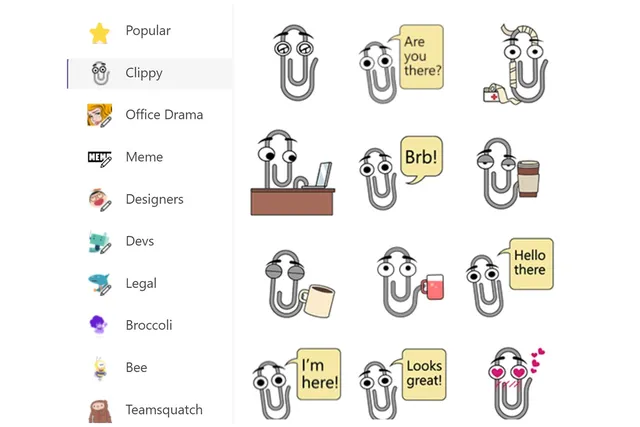 Old users of the Microsoft Office Suite will certainly remember Clippit (or Clippy), the virtual office assistant that first appeared in Office 97 in 1996. Over the following eight years, users became accustomed to having this helpful little helper around for tasks such as taking notes and making sure documents were properly formatted. However, starting with Office XP, Clipit was removed from the suite. Then 8 years later, Clippy appeared once again as Microsoft Teams then was killed off again. Now it is a sticker pack inside Teams.
The 2016 version of Office offers cloud storage capabilities and collaboration tools, helping teams work together seamlessly from anywhere. Users can easily share documents and projects online, as well as collaborate in real-time using a range of communication tools. These capabilities make it easier for colleagues to stay connected and productive even when they're not physically together, unlocking enhanced productivity and creativity for users around the globe.
Office 2019 expanded support for macOS and iOS devices, making it easier than ever to use across different platforms.
Office 365 is the brand name used by Microsoft for a range of software applications that provide access to a wide range of features to subscribers. This includes features such as cloud storage and file sharing, email and calendar management, video conferencing through Skype for Business, and access to Microsoft's latest versions of Word, Excel, and PowerPoint.
Office 365 has become incredibly popular among businesses around the world, with over a million companies using the productivity suite software. In the United States alone, over 879,851 companies are taking advantage of its capabilities by 2022 according to Statista.
Microsoft Word's AutoCorrect and AutoFormat features first came to the attention of users when they were added in version 6.0, released in 1993. These two handy tools enabled users to quickly correct typos and improve the formatting of their documents with just a few clicks.
Microsoft OneNote is a digital note-taking service that has been part of the Office suite since 2003. It is a versatile tool for organizing notes, ideas, web pages, and images into notebooks which can be shared with other users or accessed from any device with an internet connection.
The Melissa macro virus caused approximately $80 million worth of damage in 1999. It spread as an email attachment and when opened on computers with Word 97 or Word 2000, sent itself to the first 50 contacts stored in Microsoft Outlook. Initially, the virus was considered a minor annoyance but, as it quickly spread from one account to another, mail servers throughout the world were brought down due to congestion. Despite not deleting files, the Melissa virus wreaked havoc on business operations and services during its reign – highlighting the importance of staying vigilant against malicious software and cybercrime.