If you're looking for a fast and efficient way to communicate with teams, Microsoft Teams is the perfect solution. It works as well on mobile devices as it does in your computer browser window, meaning that no matter where you are or what device you have with you at any given moment, your team will be just an email away!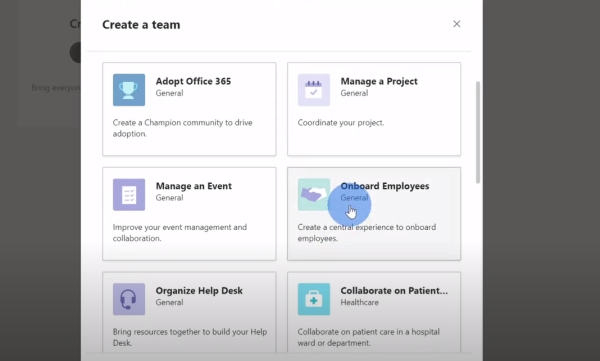 Microsoft Teams also integrates seamlessly into Office 365 plans: once enrolled in those programs, notifications can be sent out through Skype for Business – all of which are linked together so important information has never been more accessible than now!
Why you should use Microsoft Teams:
It is free for up to 300 users (Microsoft recently increased it to 500,000 users per organization), and can be used by businesses of all shapes and sizes.
You can use it on your desktop as well as smartphones (no matter what type or operating system you are using).
The interface is very user-friendly – meaning that it's simple enough for almost anyone to catch onto!
Integrates with other Microsoft programs such as Skype, Outlook, OneDrive, etc.
Offers a group video chat feature which should prove indispensable in some cases.
Supports threaded conversations so you won't have any difficulty keeping track of the different topics being discussed in each channel at one time. This software also allows teams outside the organization to participate in a meeting.
Microsoft Teams Hotkeys
General
| To do this | In the Desktop app, press | In the Web app, press |
| --- | --- | --- |
| Show keyboard shortcuts | Ctrl+Period (.) | Ctrl+Period (.) |
| Go to Search | Ctrl+E | Ctrl+E |
| Show commands | Ctrl+Slash (/) | Ctrl+Slash (/) |
| Open filter | Ctrl+Shift+F | Ctrl+Shift+F |
| Goto | Ctrl+G | Ctrl+Shift+G |
| Open apps flyout | Ctrl+Accent (`) | Ctrl+Accent (`) |
| Start a new chat | Ctrl+N | Left Alt+N |
| Open Settings | Ctrl+Comma (,) | Ctrl+Comma (,) |
| Open Help | F1 | Ctrl+F1 |
| Close | Esc | Esc |
| Zoom in | Ctrl+Equals sign (=) | No shortcut |
| Zoom out | Ctrl+Minus sign (-) | No shortcut |
| Reset zoom level | Ctrl+0 | No shortcut |
Navigation
| To do this | In the Desktop app, press | In the Web app, press |
| --- | --- | --- |
| Open Activity | Ctrl+1 | Ctrl+Shift+1 |
| Open Chat | Ctrl+2 | Ctrl+Shift+2 |
| Open Teams | Ctrl+3 | Ctrl+Shift+3 |
| Open Calendar | Ctrl+4 | Ctrl+Shift+4 |
| Open Calls | Ctrl+5 | Ctrl+Shift+5 |
| Open Files | Ctrl+6 | Ctrl+Shift+6 |
| Go to previous list item | Left Alt+Up arrow key | Left Alt+Up arrow key |
| Go to next list item | Left Alt+Down arrow key | Left Alt+Down arrow key |
| Move selected team up | Ctrl+Shift+Up arrow key | No shortcut |
| Move selected team down | Ctrl+Shift+Down arrow key | No shortcut |
| Open the History menu | Ctrl+Shift+H | No shortcut |
| Go to previous section | Ctrl+Shift+F6 | Ctrl+Shift+F6 |
| Go to next section | Ctrl+F6 | Ctrl+F6 |
Messaging
| To do this | In the Desktop app, press | In the Web app, press |
| --- | --- | --- |
| Start a new conversation | Alt+Shift+C | Alt+Shift+C |
| Go to compose box | Alt+Shift+C | Alt+Shift+C |
| Expand compose box | Ctrl+Shift+X | Ctrl+Shift+X |
| Send (expanded compose box) | Ctrl+Enter | Ctrl+Enter |
| Attach file | Ctrl+O | Ctrl+Shift+O |
| Start new line | Shift+Enter | Shift+Enter |
| Reply to a thread | Alt+Shift+R | Alt+Shift+R |
| Mark as important | Ctrl+Shift+I | Ctrl+Shift+I |
| Search current Chat/Channel messages | Ctrl+F | Ctrl+F |
Meetings and Calls
| To do this | In the Desktop app, press | In the Web app, press |
| --- | --- | --- |
| Accept video call | Ctrl+Shift+A | Ctrl+Shift+A |
| Accept audio call | Ctrl+Shift+S | Ctrl+Shift+S |
| Decline call | Ctrl+Shift+D | Ctrl+Shift+D |
| Start audio call | Ctrl+Shift+C | Ctrl+Shift+C |
| Start video call | Ctrl+Shift+U | Ctrl+Shift+U |
| Toggle mute | Ctrl+Shift+M | Ctrl+Shift+M |
| Announce raised hands (screen reader) | Ctrl+Shift+L | Ctrl+Shift+L |
| Raise or lower your hand | Ctrl+Shift+K | Ctrl+Shift+K |
| Start screen share session | Ctrl+Shift+E | No shortcut |
| Toggle video | Ctrl+Shift+O | No shortcut |
| Filter current list | Ctrl+Shift+F | Ctrl+Shift+F |
| Go to sharing toolbar | Ctrl+Shift+Space | Ctrl+Shift+Space |
| Decline screen share | Ctrl+Shift+D | No shortcut |
| Accept screen share | Ctrl+Shift+A | No shortcut |
| Admit people from lobby notification | Ctrl+Shift+Y | No shortcut |
| Toggle background blur | Ctrl+Shift+P | No shortcut |
| Schedule a meeting | Alt+Shift+N | Alt+Shift+N |
| Go to current time | Alt+Period (.) | Alt+Period (.) |
| Go to previous day/week | Ctrl+Alt+Left arrow key | Ctrl+Alt+Left arrow key |
| Go to next day/week | Ctrl+Alt+Right arrow key | Ctrl+Alt+Right arrow key |
| View day | Ctrl+Alt+1 | Ctrl+Alt+1 |
| View workweek | Ctrl+Alt+2 | Ctrl+Alt+2 |
| View week | Ctrl+Alt+3 | Ctrl+Alt+3 |
| Save/send meeting request | Ctrl+S | Ctrl+S |
| Join from meeting details | Alt+Shift+J | Alt+Shift+J |
| Go to suggested time | Alt+Shift+S | Alt+Shift+S |