Have you ever heard of Enterprise Resource Planning software? No? ERP software refers to a system that helps a specific business to manage its day-to-day operation. ERP software does a spectrum of work for businesses that range from procurement, accounting, risk management, customer management, etc.
Businesses that have adopted this system have been flourishing because of the accurate and efficient services. Knowing that you're here, surely you are also interested in integrating ERP software with your own.
In this article, the 8 best free and open-source enterprise resource planning software will be discussed. Surely, from this selection, one might interest you.
Top 8 Free ERP Systems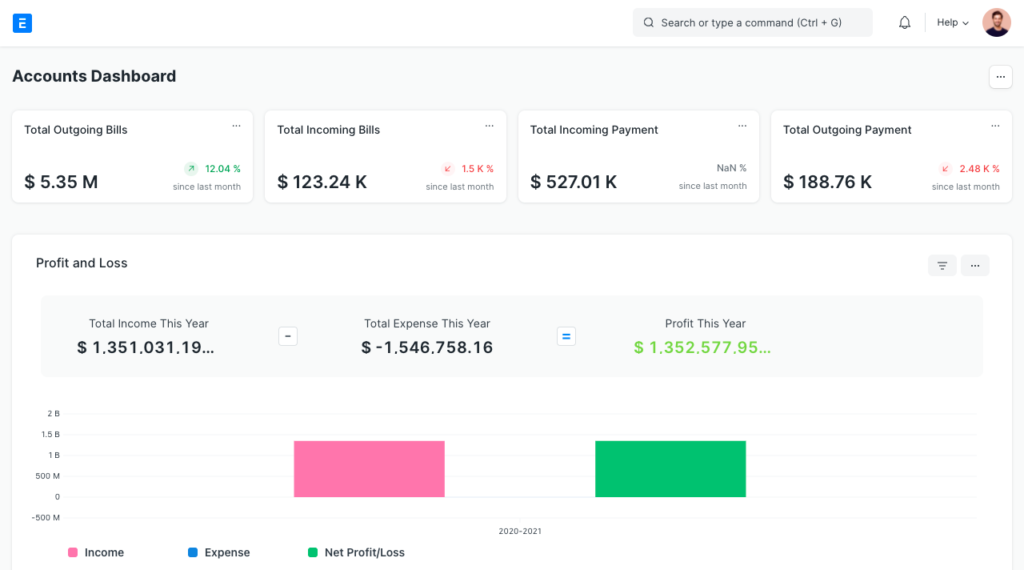 ERPNext is an open-source enterprise resource planning software. It was founded in 2008 by Frappe, and went open source in 2010. The software is used by businesses to manage their operations, finances, and supply chain. ERPNext is written in Python and released under the GPL 3 license.
ERPNext is a software solution designed for small to medium businesses. It is not just one application, but a series of applications, each with its unique functions. ERPNext includes areas for accounting, warehouse management, CRM, sales, purchase, HRMS, project management, support, asset management, quality management, manufacturing, website management, and more.
With so many different aspects of business covered, ERPNext is a comprehensive solution for business owners looking to streamline their operations. Customization options also allow businesses to tailor the software to their specific needs, making it an even more powerful tool.
Dolibarr is open-source software that helps businesses automate various processes, including customer relationship management (CRM), sales, human resources, logistics, and accounting. Dolibarr is highly customizable and can be extended with various add-ons to suit your specific needs.
One of the biggest advantages of using Dolibarr is that upgrades to newer versions are integrated into the development process, so you can upgrade at any time without losing any data. Dolibarr is also available in many languages, making it a truly global application.
MixERP is designed on the ASP.net framework and includes all the basic needs of a business, such as sales and inventory management, accounting, and human resource features to help your business run on a daily basis.
With MixERP, you can easily track and manage your inventory levels, sales, and accounting across all your locations from one central application. This can save you time and energy in managing your business operations, and help you to keep better control over your overall business performance.
MixERP is an ERP software that you can use to manage multiple branches in a centralized environment.
Odoo is a comprehensive suite of business applications that covers everything from accounting to manufacturing to project management. It's an all-in-one solution that can adapt to the needs of any business, large or small. Odoo is also modular, so you can add only the features you need, and it's open source, so it's constantly being updated with the latest features and improvements.
Odoo is a comprehensive ERP software solution that offers a wide range of benefits for businesses of all sizes. Perhaps the most significant benefit of Odoo is that it is totally free to install and use. This makes it an extremely cost-effective solution for businesses who want to enjoy the benefits of an ERP system without the high upfront costs.
In addition, Odoo is very easy to use and configure, meaning that businesses can get up and running quickly and start reaping the benefits almost immediately. The wide range of applications included in Odoo also means that it is highly flexible and can be customized to meet the specific needs of any business.
The community edition of the VIENNA Advantage is the free version. This version is specially made for microenterprises, developers, tech companies, and others that are looking for a basic feature to use.
The free version does not have any built-in support system, so you will be needing an expert to start and maintain it. If installed, you can enjoy basic functions such as accounting, document management, and reporting features. It is great for starting small businesses.
What sets the VIENNA Advantage Enterprise Cloud apart is its special approach to building enterprise software – partnering up with leading cloud infrastructure and intelligence providers like Oracle and Yellowfin BI. This gives the tool the unique power to offer a robust, cloud-based solution that is tailored to meet the specific needs of our customers.
When it comes to choosing the right ERP software for your business, it's important to consider your specific needs. For manufacturing and distribution companies, xTuple's modern cloud-based ERP delivers the flexibility and adaptability you need to power up profits.
With quick scalability and the ability to integrate with QuickBooks and E-Commerce platforms, xTuple provides comprehensive visibility into all of your business processes. If you're running a small business or service company with just one location, PostBooks ERP software may be a good fit for you.
With features like billing, sales, accounting, and reporting, PostBooks can help keep your operation running smoothly.
Openbravo is a cloud-based software platform that provides retailers and restaurants with the ability to deliver unified commerce experiences faster. The Openbravo community edition is a free, simplified version of the professional and enterprise editions that only offers free public and free core modules functionality. However, upgrading to the professional or enterprise edition will also upgrade the features.
Openbravo OMS is a cloud-based unified commerce platform that helps retailers manage inventory, and sell and fulfill merchandise across all in-store and digital touchpoints. Openbravo's agile retail POS enables stores to play a more active role in the new retail reality by managing all store operations from a single point.
The web-based and mobile POS solution provides employees with the tools they need to provide an excellent customer experience.
iDempiere is a powerful, open-source ERP/CRM/SCM system founded in 2011. The project focuses on high-quality software and a philosophy of openness. iDempiere's collaborative community includes subject matter specialists, implementors, developers, and end-users. The community skillfully supports the development of this software. Through continual expansion and improvement, iDempiere provides users with an increasing set of capabilities.
If you're looking for a comprehensive, open-source ERP solution, iDempiere is worth considering. While you do have to pay for a license, the cost is relatively affordable, and you'll get access to features like POS, warehouse management, reporting, accounting, and forecasting. In other words, everything you would expect from a top-quality ERP system.
iDempiere is also highly customizable, so it can be adapted to meet the specific needs of your business. And with a strong community of users and developers behind it, you can be confident that you'll have the support you need to get the most out of the software.