Google Office Suite is a Cloud platform that allows you to run any business or any application regardless of where you are at the moment. It has a lot of main elements or software if you like and it is even better thanks to the add-ons. Here we will present to you the best ones.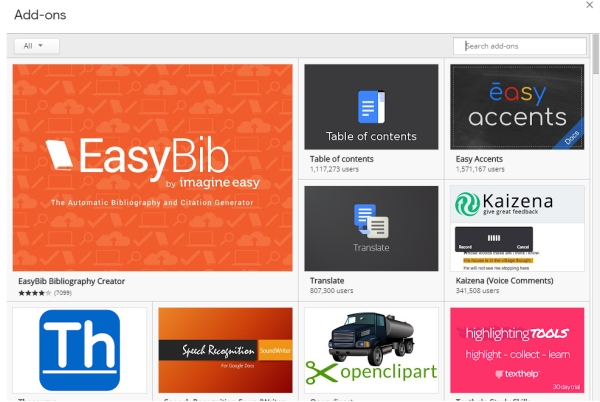 Google Docs
Google Docs is loaded with the add-ons and you can navigate to the add-ons menu and select the ones you want to install. They will appear in the menu after installation. The best ones are:
Better Word Count – The add-on gives you a real-time word count. You can see the total word count, characters and with or without spaces.
Extensis Fonts – Extensis Fonts is used to install additional fonts you want to use. It is helpful if you are a designer. Keep in mind that when another person is previewing a document he will get standard font if he doesn't support the one you used.
OneLook Thesaurus – Offers a search engine where you can find new words and replace the old ones.
Translate – It is Google Translate extension. You can use it to translate a word or the entire document.
WordPress.com for Google Docs – It is used for publishing the entire articles directly to WordPress website from the Google Docs.
Google Sheets
Google Sheets is a replacement for Word Office Excel and it is extremely popular at the moment. Here we can see several add-ons that stand out from the crowd.
Remove Duplicates – The add-on will find duplicates in the document and remove them.
Template Gallery – Here you can find useful templates for your document according to the type of document you are creating.
Save as Doc – The add-on simply allows you to save the spreadsheet as a Google Doc file.
Advanced Find & Replace – The addition allows you to find any word or element in the file and replace it when needed.
Add Rows & Columns – It is a simple add-on that helps you add rows and columns within seconds.
Google Forms
Google Forms is another element of the suite used to collect useful information by the companies or individuals. You can still get add-ons for this element. The best ones are mentioned below.
Email Notifications for Forms – Once you get a response to your email, you will get a notification with the help of this add-on.
Form Translator – It will translate the forms to any language you need.
123RF Stock Photos – The add-on allows you to add pictures to your forms easily and within seconds.
Forms Contact Addition – Basically, the add-on will help you add a specific email to any group you like.
Timify.me – It is used to add a time frame in which a form must be completed. It is used for tests and exams.
Conclusion
With these add-ons, you can make Google Office Suit fit perfect to any need you have. They are simple to use, come with great usability and they can boost your efficiency and productivity.