Google Office Suite, also known as G Suite, is a collection of productivity tools that includes Gmail, Google Drive, Google Docs, Google Sheets, and Google Slides. These tools are widely used by businesses and individuals alike for their versatility and convenience. But did you know that you can enhance your Google Office experience even further with the help of add-ons?
Add-ons are third-party tools that integrate with Google Office Suite to provide additional features and functionality. They are easy to install and use, and can greatly enhance your productivity. In this article, we will take a look at the best Google Office Suite add-ons that you can use to take your productivity to the next level.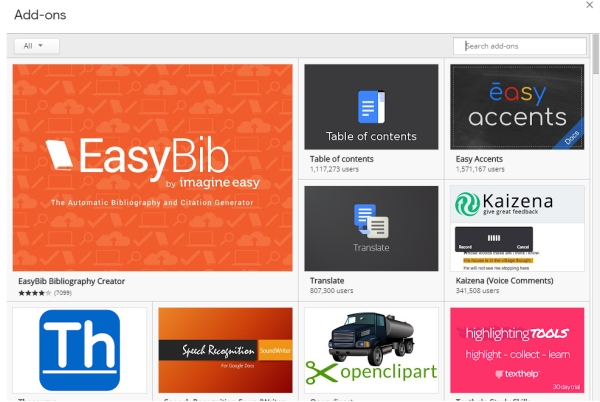 All
HelloSign: This add-on allows you to sign and send documents directly from Google Docs, Sheets, and Slides.
Google Docs
Google Docs is loaded with add-ons and you can navigate to the add-ons menu and select the ones you want to install. They will appear in the menu after installation. The best ones are:
Better Word Count – The add-on gives you a real-time word count. You can see the total word count, characters, and with or without spaces.
Extensis Fonts – This extension is used to install additional fonts you want to use. It is helpful if you are a designer. Keep in mind that when another person is previewing a document he will get the standard font if he doesn't support the one you used.
OneLook Thesaurus – Offers a search engine where you can find new words and replace the old ones.
Translate – It is a Google Translate extension. You can use it to translate a word or the entire document.
WordPress.com for Google Docs – It is used for publishing the entire articles directly to the WordPress website from Google Docs.
Grammarly: This add-on provides real-time suggestions to improve your grammar, spelling, and writing style.
EasyBib: This add-on allows you to easily create and format bibliographies and citations in your Google Docs.
Easy Accents: This add-on allows you to easily insert special characters and accents into your Docs.
MindMeister: This add-on allows you to create and collaborate on mind maps directly within Google Docs.
Lucidpress: This add-on allows you to create professional-looking flyers, brochures, and other marketing materials.
Google Sheets
Google Sheets is a replacement for Word Office Excel and it is extremely popular at the moment. Here we can see several add-ons that stand out from the crowd.
Remove Duplicates – The add-on will find duplicates in the document and remove them.
Template Gallery – Here you can find useful templates for your document according to the type of document you are creating.
Save as Doc – The add-on simply allows you to save the spreadsheet as a Google Doc file.
Advanced Find & Replace – The addition allows you to find any word or element in the file and replace it when needed.
Add Rows & Columns – It is a simple add-on that helps you add rows and columns within seconds.
Avery Label Merge: This add-on allows you to easily create and print labels.
Google Forms
Google Forms is another element of the suite used to collect useful information by companies or individuals. You can still get add-ons for this element. The best ones are mentioned below.
Email Notifications for Forms – Once you get a response to your email, you will get a notification with the help of this add-on.
Form Translator – It will translate the forms into any language you need.
123RF Stock Photos – The add-on allows you to add pictures to your forms easily and within seconds.
Forms Contact Addition – Basically, the add-on will help you add a specific email to any group you like.
Timify.me – It is used to add a time frame in which a form must be completed. It is used for tests and exams.
Google Drive
CloudConvert: This add-on allows you to convert a variety of file formats.
Kami: This add-on allows you to annotate, fill out, and sign PDFs.
Conclusion
In conclusion, these add-ons can greatly enhance your Google Office Suite experience. Whether you need to improve your writing, automate repetitive tasks, or create professional-looking materials, there's an add-on for you. Give some of these add-ons a try and see how they can help you be more productive!