Does your Android phone feel like it's running a bit slower than usual? If so, you're not alone. Over time, all smartphones can become bogged down with too many programs, apps and files. Fortunately, cleaning up your phone is easier than ever with the help of Android cleaner apps.
Various Android cleaner apps allow users to optimize the performance of their smartphones and tablets with immense ease. Whether it be enhancing the speed of your phone or saving battery, cleaner apps have covered it all. In this article, we will introduce the best Android cleaner apps to get you started.
What is a Cleaner App?
Cleaner apps for Android are becoming increasingly popular with smartphone owners, offering users a way to keep their devices in tip-top condition. By simply downloading the app, users can significantly improve their phone's performance, in terms of both speed and storage capacity.
Cleaner apps can be used to clear away clutter such as unnecessary background processes and stored files. They are also able to detect and delete any malware that could otherwise cause harm to the device.
Furthermore, these apps can be used to identify issues related to battery consumption, allowing consumers to quickly and effectively enhance the lifespan of their phones.
With all these features available at the touch of a button, it's easy to see why cleaner apps are making such an impact on the Android experience.
Android Cleaner Apps: 6 of the Best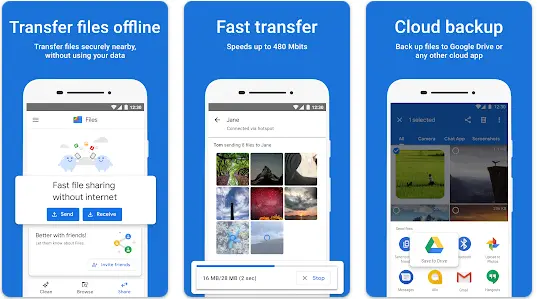 Why worry about running out of space on your phone? With Files, it's easy to free up memory by deleting old and unused photos, memes, duplicates, apps and caches. Plus, with built-in search and simple browsing capabilities, locating files is no longer a hassle.
Google's Android file manager is the perfect tool for all your tidying needs straight from your smartphone. Not only does it allow you to organize, delete and transfer files but also clear all that extra junk from your device, making way for a more efficient and organized device.
To access the cleaning options, simply launch the app and tap on the 'Clean' tab at the bottom of your screen. Through this tab, you can easily delete unnecessary pictures and videos or delete entire apps to free up space in an effortless manner.
And if you need more storage on your device but don't want to invest in more physical memory, you can back up files to the cloud – saving yourself precious space.
SD Maid is an incredibly useful tool for keeping your device organized and running optimally. It provides the user with a wide array of features, allowing for complete customization and control over how files, apps and databases are managed.
With SD Maid, you can quickly insight details into storage capacity, identify duplicate content and delete unnecessary files to free up space – all while handling app management and caring for databases with ease. In addition, users can take advantage of scheduled runs or utilize widgets to ensure their device remains cleaned and maintained on a regular basis.
No longer will you have to worry about clutter slowing down your workflows or wasting valuable storage! Instead, you'll be able to enjoy the efficiency that comes from having a well-maintained device thanks to SD Maid.
CCleaner is famous on PC, and its Android version can also clean the junk files and data that accumulate in your device. This feature boosts the speed of your phone. The fact that you can delete call logs and messages individually and in bulk serves to be a convenient feature as well.
This powerful cleaner app is capable of removing over 600 types of junk files from your Android device in just one tap. It also includes a memory booster function to free up RAM and ensure better performance overall. Plus, it can protect your privacy by deleting browser history and other sensitive data that you might want to keep private.
The All-In-One Toolbox is a great choice to get the most out of your Android phone. It gives you a collection of tools to help maintain good performance in just one click, such as a junk cleaner, history eraser, speed booster, memory optimizer, battery optimizer, and CPU cooler.
With its app manager feature, you can easily transfer apps to SD card, backup & restore selected ones or do batch uninstallation – no need for individual operations anymore!
Give your phone an extra boost by enabling the Boost+ mode with just one touch – it will scan which process can be exited and free up around 400MB of memory every time. Moreover, you can also check your CPU temperature with ease by tapping 'CPU Cooler'.
Norton Clean is another popular choice for Android users who want to keep their devices clean and secure at the same time. It can erase unwanted files, free up storage space and boost speed with its memory-boosting function.
Not only that, you also have access to an incredibly useful app manager to help you manage and get rid of bloatware with ease.
With the Junk Remover tool, storage cleaning no longer needs to be a chore; simply use the feature to analyze, cleanup, and effectively remove those pesky junk files that clog up your device's memory and storage space.
As for APK File Remover – this powerful tool helps you identify and delete Android Package (.apk) files from your device to reclaim phone or tablet storage space that has been taken up by large manually installed files.
It has additional features such as an app advisor that gives you information about installed apps and a web security scanner to detect malicious websites or links in text messages or emails.
AVG Cleaner offers some great features like App Manager which helps clear out unwanted apps from your device. It also includes a Task Killer feature which stops background apps from running when they're not needed anymore.
Not only does it enable you to uninstall unwanted preinstalled apps, but its battery saving feature extends your battery life, as well as allowing background apps to be hibernated in order to save mobile data.
In addition, Cleaner can clean junk files, remove bad or unwanted photos and videos and identify the apps that are slowing down your device with its RAM Cleaner & memory booster. For the full picture of your phone, AVG provides a easy-to-view System Info page with everything that you need to know displayed in one screen.
To top it off, they have a powerful Smart File Manager & Storage Cleaner which analyses pictures, files, and apps to let you make the most out oft he storage space available on your device.