It is not uncommon for any users to delete important files by mistake. Don't panic. Losing important files on your Android device can be frustrating, but the good news is that it is often possible to recover deleted files on your device. Whether you have accidentally deleted a file or your device has experienced a malfunction, there are several methods you can try to restore your deleted files.
Here are some steps you can follow to try to recover deleted files on your Android device:
Use a File Recovery App
If the deleted files are not in the Recycle Bin or Trash folder, you can try using a file recovery app to scan your device's storage and attempt to recover the deleted files.
There are several file recovery apps available on the Google Play Store. These apps work by scanning the device's storage for deleted files and attempting to recover them.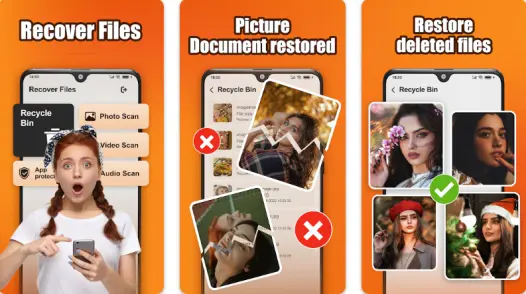 Recover Files – Files Recycle is n Android that helps users recover recently deleted data, including photos, videos, apps, and audio. It offers a simple and straightforward recovery process, requiring just one click to scan and recover deleted files. No subscription is necessary to use the tool, and it does not require rooting the device.
With Recover Files, users can recover deleted photos, videos, apps, and audio from their device or SD card. The recovery process is successful and the recovered files are imported to the local folder specified by the user.
The app quickly locates and recovers damaged or deleted files from your device or SD card in just seconds – far from the hours it would take to find them manually. Plus, it's a breeze to use; once you hit the recover button, the file is recovered and imported into a local folder without any fuss.
The tool has earned a reputation as a reliable and efficient deleted apps recovery tool.
Tenorshare UltData is a powerful Android data recovery tool that can help users recover deleted photos, videos, and WhatsApp files from both the internal memory and SD card of their Android devices. No rooting is required to use the app, and it is able to recover files in any situation, as long as they have not been overwritten by new data.
UltData is able to scan all data on the device for deleted files and provides users with a quick filter feature to easily locate and select the specific files they want to recover. It also offers a preview feature, allowing users to preview and play the scanned files before recovery to ensure they are able to get the desired files back. Once the recovery process is complete, the lost data can be easily and quickly restored directly to the phone.
Tenorshare UltData is designed with ease of use in mind, offering a simple recovery process with a customer-centric design. It is also risk-free, ensuring that the recovery process does not disturb the files or breach the user's privacy. Overall, it is a reliable and effective tool for recovering lost data on Android devices.
Use Recovery Software
If the above methods don't work, you can try connecting your Android device to a computer and using recovery software to scan the device's storage.
There are several options available, such as Mobikin and FonePaw. These programs work by connecting to your device and scanning its storage for deleted files. They are often able to recover files that are no longer present on the device itself, but they may not be able to recover all types of files.
To use recovery software, you will need to download and install the software on your computer, then connect your Android device to the computer using a USB cable. Follow the instructions to scan your device's storage, and the software will show you a list of deleted files that it has found.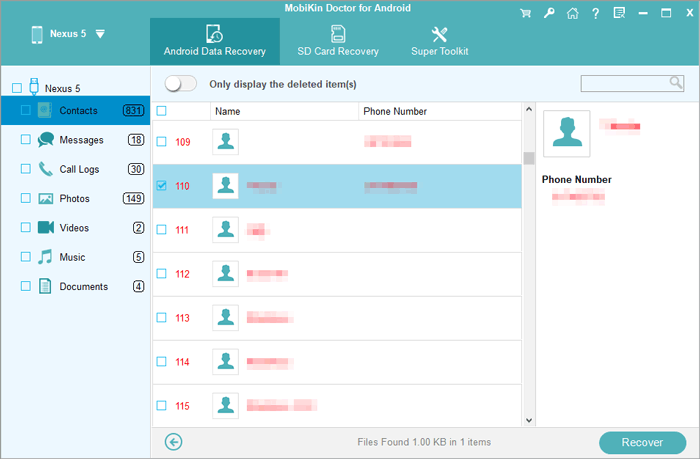 MobiKin Doctor for Android sounds like a useful tool for recovering lost or deleted data from Android devices. It seems to have a high success rate and supports a wide range of Android devices and operating systems. It also has the added benefit of being able to act as backup software, allowing you to transfer and keep your data safe on your PC.
It is always a good idea to have a backup of your important data in case of any accidental deletion or device failure. However, it is important to note that data recovery software is not always able to recover all lost data, and the success rate may vary depending on the specific circumstances of the data loss. It is always a good idea to try to prevent data loss in the first place by regularly backing up your data and being careful when deleting files.
FonePaw Android Data Recovery is designed to provide a comprehensive solution for Android users who need to recover their original and deleted data with an easy-to-use and attractive interface. With 8 different data types supported, including photos, videos, contacts, text messages, and more, this innovative software offers a hassle-free and efficient way to restore any lost data from any Android device.
Not only does FonePaw offer recovery from the internal memory but it also ensures that even forgotten files can be retrieved from your SD card or SIM card if inserted into the phone. The scan and recovery process is incredibly efficient – taking just seconds to find 1000+ deleted files.
Best of all, no technical skills are needed as FonePaw is an all-in-one tool for dealing with Android data loss in just three simple steps – scan, preview, and recover. Make sure you never lose important data again by investing in this top-notch backup tool now!
Restore from a Previous Backup
If you have a recent backup of your Android device, you can try restoring the device from the backup to recover your deleted files. This method is most likely to be successful if the deleted files were present on your device at the time of the backup.
You can use Google Drive, Samsung Cloud, or another backup service to restore your device. To restore from a backup, you will need to follow the instructions provided by the backup service.
Keep in mind that restoring from a backup will erase all of the data on your device and replace it with the data from the backup, so make sure to only do this if you are sure you want to restore your device to its previous state.
It's important to keep in mind that the success of these methods will depend on the type of file you are trying to recover and how