Netflix uses an algorithm that will show recommendation based on the movies or TV shows you watched already. The algorithm is far from perfect and it will usually show the things that are not related to your preferences. To reset the filter or if you simply want to remove the viewing history, you will have to delete it. This is an easy task that can be completed within seconds. Follow the steps below.
Log in to your account
The first step is obvious. You will have to log in to your account using your credentials. You can use any internet capable device but the process in question is a bit easier on a computer so we will use this platform as an example.
Go to a user account
This is a page which contains all the possible information and similar things associated with your use. You can change literally anything and you will need to navigate here to find the next step.
Click on Viewing Activity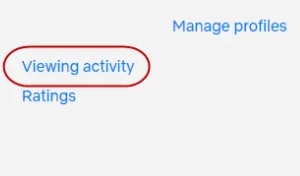 Viewing Activity is located on this page and on the bottom. All you have to do at this point is to click on it and move to the next step. The history that will be showed is linked to a specific account you are logged in at the moment. If you want to delete the history of another account, log in to it and continue.
Select watching history
The viewing history is divided into two sections. The first one is viewing history which contains the details about TV shows and movies you watched. The second part is rated which contains information about videos you rated. Click on watching history.
Hide it

Here you can see that Netflix doesn't allow you to delete the history in a standard way. They refer to it as hiding it. However, the purpose is the same. You can click on the hide icon at the right side of each episode to hide it. To hide all, you have to do is to scroll to the bottom and click on "Hide all" link. They will be removed.
Go back to your profile
Now you can go back to the profile page or any other of the Netflix and start watching new shows and movies. The recommendations will be changed and probably more accurate.
Conclusion
By hiding the viewing history you remove all the traces of the videos you have watched. After some time simply repeat all the steps and remove it again.