Netflix is a household name, known for its vast library of movies, TV shows, and documentaries. The company has revolutionized the way we consume media, making it easy to stream content from a variety of devices. Here are some interesting facts about Netflix that you may not have known: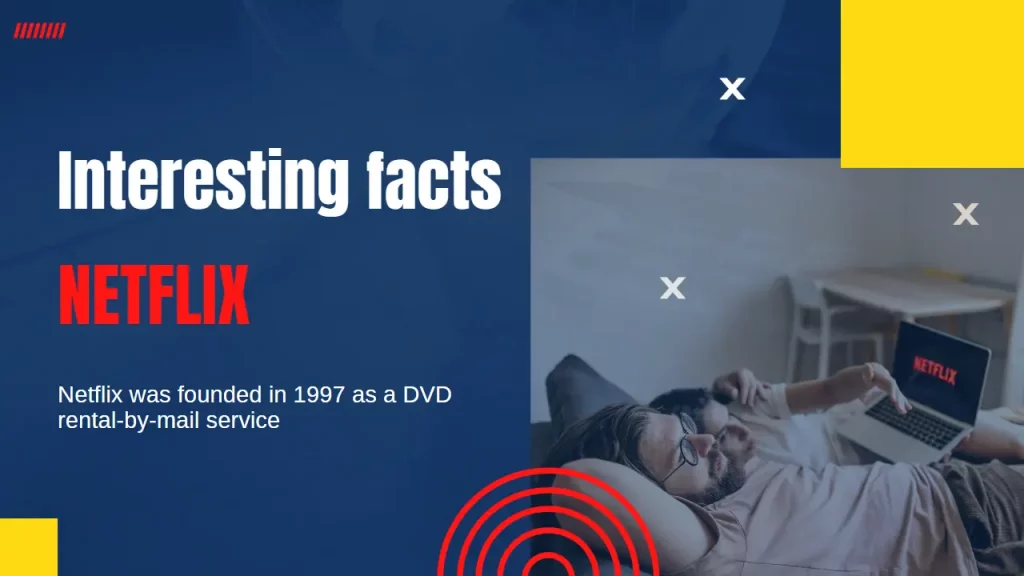 Netflix was founded in 1997 as a DVD-by-mail service. It wasn't until 2007 that the company introduced streaming, which quickly became its primary focus.
Netflix has a massive library of content, with over 3,700 movies and 1,800 TV shows available to stream. The company also produces its own original content, which has proven to be incredibly popular with viewers.
Netflix has a unique approach to content production, using data to analyze viewer preferences and make decisions about what shows and movies to produce. This has led to the creation of popular original series like "Stranger Things," "Orange is the New Black," and "The Crown."
Netflix has a global presence, with over 220 million subscribers in more than 190 countries. It's available in more than 20 languages, making it accessible to a wide range of viewers.
In 2017, the streaming giant made history when it won its first Oscar for the documentary The White Helmets. Directed by Orlando von Einsiedel, the short film follows a group of Syrian volunteer rescue workers whose everyday lives are filled with danger as they work to save lives in war-torn Syria.
In 2000, Netflix attempted to sell itself to Blockbuster, a major player in the video rental industry, for $50 million. However, Blockbuster reportedly turned down the offer. This rejection would come back to haunt them in the following years, as streaming services grew in popularity and put traditional video stores such as Blockbuster out of business. Nowadays, all that remains of the once iconic video chain is a single store located in Bend, Oregon.
In the United States, Netflix is responsible for 7.6% of TV viewing time. In an October letter, Netflix revealed that it accounts for a greater share of "TV time" among American viewers than any other streaming service. Specifically, Netflix users in the U.S. spend 7.6% of their TV viewing time streaming content on the platform.
Netflix has a strong commitment to diversity and inclusion, with a company-wide initiative to increase representation on screen and behind the scenes. The company has also made efforts to reduce its environmental impact, including transitioning to renewable energy sources and offsetting its carbon emissions.
Despite its success, Netflix has faced criticism and controversy over the years. Some have accused the company of promoting a "binge-watching" culture, while others have criticized its business practices, including its treatment of employees and its impact on the traditional entertainment industry.
The gripping series, Squid Game, continues to be Netflix's most-watched show ever with viewers having spent a staggering 1.65 billion hours watching since its launch. The thriller series, which follows a group of individuals participating in deadly games for the chance to have their debts forgiven, has captivated audiences and remains a fan favorite.
Season 4 of the iconic, Stranger Things, has earned its place as the second most-watched season of any series on Netflix. Boasting 1.35 billion hours of viewing from Netflix users it marks the biggest English language season ever for the streaming giant. The supernatural sci-fi series follows a group of friends who investigate supernatural occurrences in their small town.
Back when Netflix still relied on the mail order system, a mix-up resulted in subscribers expecting to receive the Clinton-Lewinsky scandal DVD instead of receiving Chinese pornography. Needless to say, this caused quite a surprise and left some customers feeling uncomfortable as they unexpectedly viewed content not suitable for their age group.
It was an unprecedented time. With the world in lockdown due to the coronavirus pandemic, more and more people were turning to Netflix for their entertainment needs. It was no surprise then that Netflix saw a huge jump in its subscribers over the first quarter of 2020, with 15.7 million users joining up as compared to the same period a year prior.
In 2021, Netflix made a major push in the world of original content by investing a staggering $17 billion in new productions. This included a wide range of genres and formats, from blockbuster films and prestige dramas to comedy specials and documentary series.
Netflix Originals now make up a staggering 40% of the Netflix US library, with over 2400 original titles. This represents an impressive investment from the streaming giant as it seeks to secure its position as the leader in premium entertainment.
As of April 2020, Netflix was valued at $162 billion, representing a significant increase in value since the company introduced its streaming service in 2007. This impressive financial performance has also contributed to the net worth of Netflix's CEO, Reed Hastings, which was reported to be $4.8 billion.
In 2017, one Netflix subscriber achieved an incredibly impressive feat – watching the animated hit movie "Madagascar" a total of 3,352 times!
The stakes were set high for Netflix's hit series The Witcher, and Henry Cavill was more than willing to rise to the challenge. He proposed doing all of his own stunts so that Geralt of Rivia could be portrayed in the most accurate way possible. Netflix originally wanted him to use a stunt double to save time and money, yet Cavill insisted on taking matters into his own hands. He dedicated himself to perfecting the art of swordsmanship both on and off the set, proving that he is a true champion when it comes to bringing characters to life.
Before the launch of Disney+, Netflix shelled out an astonishing $300 million to get exclusive access to stream Disney's content on their platform. This was a huge move for both companies, allowing more people the chance to enjoy timeless classics, such as Frozen and The Lion King, as well as newer titles like Zootopia and Moana.
According to the Leichtman Research Group, a massive 80% of Netflix subscribers use smart TVs to watch their favorite shows and movies. By connecting a streaming device like Roku or Amazon Fire TV, users can unlock access to thousands of hours of content without having to get up from their couch.
Overall, Netflix is a fascinating company with a rich history and a bright future. It has revolutionized the way we consume media and has become a major player in the entertainment industry.