With traditional broadcast TV slowly falling by the wayside in favor of Internet-based media, some of the big tech companies have stepped up to the plate to fill in the void along with companies such as Netflix, Hulu, and others. Traditional TV will still be around for a long time to come, but some of the "new age" media is becoming pretty compelling, especially if you look at something like the Amazon Fire TV.
The Amazon Fire TV is the company's first entry into the TV set-top box market. It plugs into any TV or monitor via an HDMI port, and when combined with a fast Internet connection, it becomes a convenient gateway into modern media.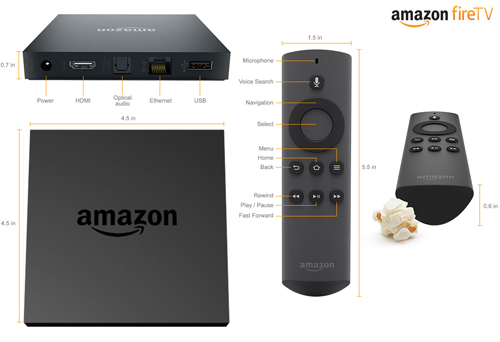 Visit its official website
Large Selection
One of the biggest points in favor of Amazon Fire TV is the extremely large selection. Along with everything in Amazon's Instant Video library, you also get access to pretty much all other types of Internet media including Netflix, Hulu Plus, Pandora, YouTube, and much more. Additionally, Amazon has recently made a deal with HBO to stream select HBO shows to Prime Instant Video. By extension, users of Amazon Fire TV will be able to receive this content as well.
Having something to watch is perhaps the most important part of any TV media solution, but it's definitely not the only part.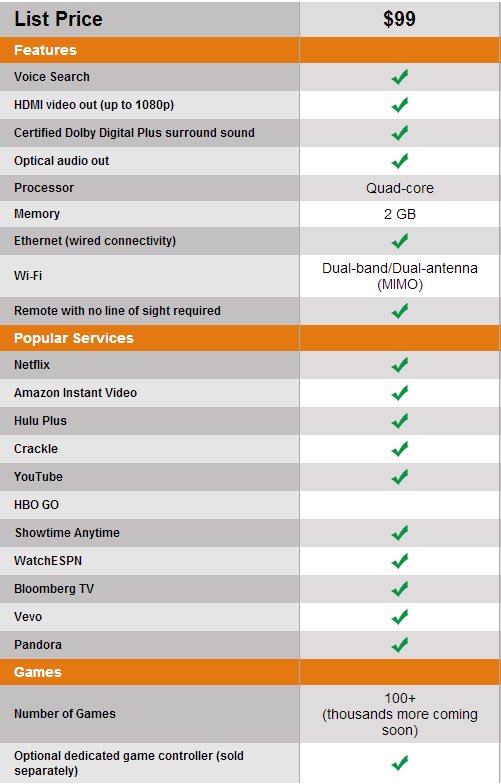 Powerful Hardware
Due to the high-definition nature of modern content, it takes a fair bit of processing power to make sure that everything runs and plays smoothly. To help this along, the Amazon Fire TV includes a Qualcomm Krait 300 quad-core processor at 1.7 GHz, an Adreno 320 GPU, 2 GB of memory, and the ability to output at up to 1080p resolution at 60 frames per second.
If these sorts of specs seem at all familiar, you may recognize them from reading reviews on Android devices. This is because the Amazon Fire TV is, in fact, powered by Android, except designed for the living room TV.
Gaming and Apps
In addition to providing access to a wide variety of streaming content, Amazon Fire TV also offers a selection of games and apps. Games and apps can be downloaded from the Amazon Appstore.
Since the whole system is based on Android, you get to play and/or run a few of the apps and games that already exist. For example, you can play Minecraft Pocket Edition on the Amazon Fire TV, or choose from many other games and apps on Amazon's Marketplace.
Sold separately is the Amazon Fire Game Controller, designed for exactly this type of usage. It works seamlessly with the Amazon Fire TV and can provide a console-like gaming experience.
Voice Search
Built into the Amazon Fire TV remote is a microphone, allowing you to control the unit using only your voice. You can use it to very easily search for the movies and TV shows that you want to watch, without having to manually type in anything or navigate endless menus. You are taken directly to where you want to be.
Amazon Fire TV's voice search is powered by Amazon's Alexa Voice Service. This allows you to search for content using your voice. You can also use voice commands to control your Fire TV, such as "pause" or "rewind."
To use Amazon Fire TV's voice search, simply press and hold the microphone button on the remote control. Then, speak your search query into the microphone.
Amazon Fire TV's voice search is a convenient way to find content on your Fire TV. It is also a great way to hands-free control of your Fire TV.
Amazon FreeTime
Amazon FreeTime is a suite of parental controls that allow parents to set time limits and restrictions on what their children can access on Amazon devices. It is available as a free app on Amazon Fire tablets and as a feature of Amazon's Family Library plan.
With Amazon FreeTime, parents can choose which books, apps, games, and videos their children can access. They can also set time limits on how much time their children can spend using different devices, and configure bedtime curfews. Parents can also receive activity reports that show how long their children have been using different devices, and what they have been watching, reading, or playing.
Amazon also wants this unit to be used by parents, which is why they've included FreeTime, a feature that allows parents to set personalized profiles as well as restrict the times at which children can watch. You can also allow only certain kinds of shows, movies, and content.