Netflix subscription is the leading video streaming and cheaper among cable subscriptions. Unlike other cable companies, Netflix offers set pricing, and therefore, it is non-negotiable. Nevertheless, you can find ways on saving money with a Netflix subscription.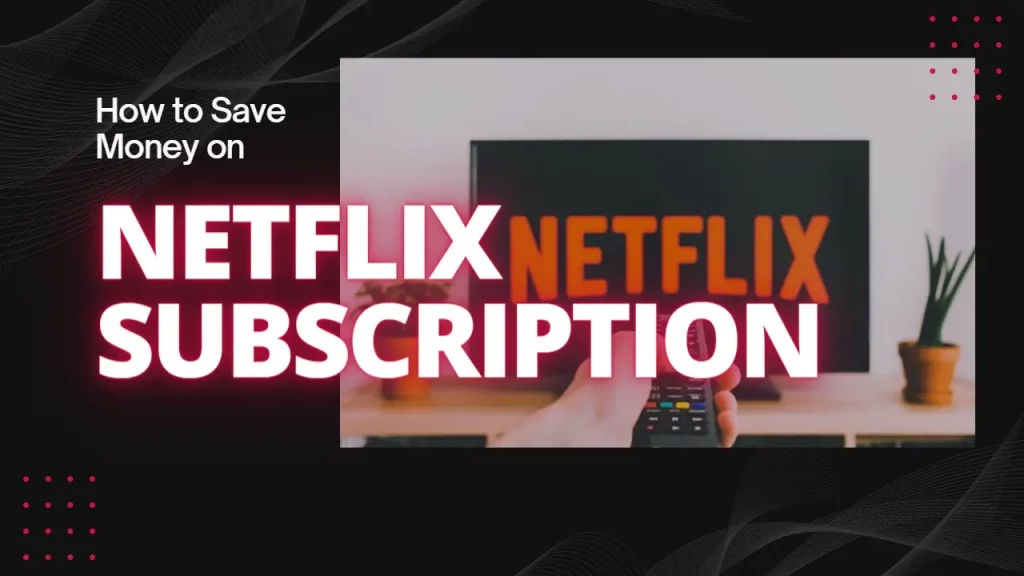 Below are seven practical ways of how to save money on your Netflix's Subscription.
Sharing your account and then splitting the bill
There are five individual profiles supported in every Netflix subscription. Having 5 individual accounts in one account enables you to effectively share the account among family and friends, then split the monthly bill.
For instance, if you pay per month $12.99 by sharing with others; you will be paying only half of its price per month.
Sharing an account is legal in some areas. Netflix designed a platform wherein households can share different profiles in one account.
All you need to do is set up a profile for each person who wants to use your account. That way, everyone can keep track of their own watching history and queue. You can also use profiles to control what content each person has access to. For example, you can limit kids' profiles to only view shows that are appropriate for their age group.
Pause you subscription
Netflix allows you to pause your subscription and restart it at a later time and date, allowing you to save money. It can be also helpful when hopping from one streaming service to another without bill surges.
Do you know that you can get another free trial to resubscribe after canceling your subscription? While it may seem like a hassle, canceling and then resubscribing is the only way to get another free trial from Netflix.
Pause your gift cards for a while
A lot of brick-and-mortar and online retailers retail Netflix cards. Somehow, the price is lower than direct payment to Netflix.
On the other hand, those without a wholesale club membership can still enjoy a cheaper gift card from Netflix through Google Play and iTunes. 
A gift card can save you money up to 10% more than Netflix charges.
Select a cheaper subscription
Do you ever find yourself scrolling through Netflix, trying to find something to watch? Or perhaps you're mid-way through a show and you realize that you're not really enjoying it. If this sounds familiar, it might be time to change your Netflix subscription plan.
Netflix offers three different subscription tiers. Basic, standard, and premium at different prices.
With the standard plan, you can watch Netflix on two devices at the same time and you have access to high-definition content. If you want to save more money, you can opt for a standard definition package with excellent video quality to save half of your bill per month.
If you want to watch Netflix on more than two devices or if you want to upgrade to 4K resolution, you can sign up for the premium plan. You also have the option of adding on a DVD or Blu-ray plan if you want physical copies of your favorite shows.
Not sure which plan is right for you? Try out the one-month free trial and see how it goes. You can always change your subscription later if you need to.
Watch shows and movies on Netflix offline
One of the drawbacks of Netflix is that it requires an internet connection to stream content. This can be problematic if you're traveling or in an area with poor internet connectivity. Fortunately, there is a way to watch Netflix offline.
By downloading shows and movies onto your mobile device, you can enjoy your favorite content even when you're offline.
Simply open the Netflix app, select the title you want to download and tap the "Download" button. Once the download is complete, you'll be able to watch the show or movie without an internet connection.
So whether you're on a long flight or taking a road trip through areas with patchy internet coverage, you can always enjoy your favorite Netflix shows and movies.
Use a VPN to access different regions' Netflix libraries
A virtual private network, or VPN, is a tool that can be used to access websites and online services that are normally unavailable in your region. By connecting to a server in another country, you can bypass geographical restrictions and access a wider range of content.
This is especially useful for streaming services like Netflix, which offers different libraries of movies and TV shows in different regions.
Using a VPN, you can connect to a server in a different country and browse the Netflix library as if you were physically located there. This gives you access to a much larger selection of content, including many titles that are not available in your region.
While there are many free VPNs available, they are often slow and unreliable. For the best results, it is advisable to sign up for a paid VPN service. Paid VPNs offer faster speeds and more reliable connections, making them well worth the investment.
Cancel Netflix
You can cancel Netflix streaming to it. Many streaming platforms offer free TV shows and movies legally. With these free services, there are almost at all times ad-supported. But these services are worth a look if you have tolerance for the occasional ads.