What are subtitles? Subtitles are words that appear on the screen to help translate or summarize what someone is saying. Subtitles can also be used for films so that people without understanding a language can understand the dialogue of the film. There are many sites available online where you can download movie subtitles for free – just make sure to check them out before deciding which one's best for you!
5 Sites to Download Movie Subtitles for Free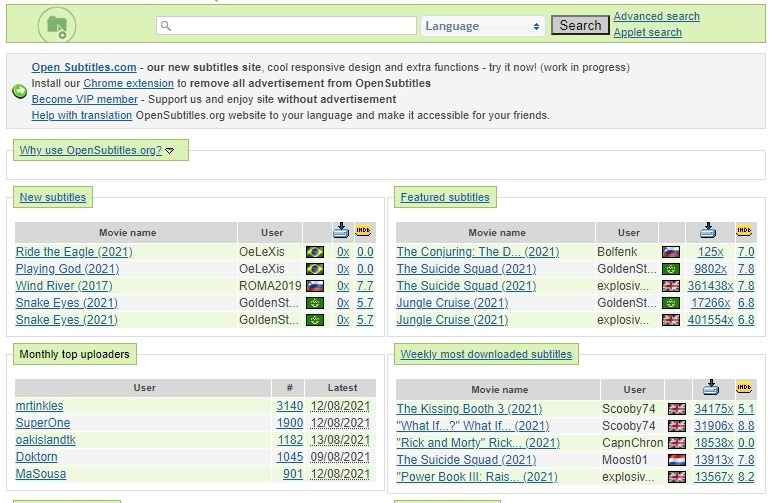 I decided to research OpenSubtitles as an option for downloading subtitles. I found that it has a huge collection of subtitles, with over five million total and 50 different languages to choose from.
There is an in-built search bar to help you find subtitles for your movies. You can look up the name of a movie, the upload date and comments as well as its overall rating on quality. If you want more control over what you're looking at then there's also an advanced search function that lets users choose between age range, format type or use other filters such as language settings.
The site has a comments section where you can write down your thoughts on the subtitle quality, which would be good to check out before downloading any subtitles.
I found that subtitles can be helpful for people who want to watch films in their native language, but don't know the foreign one well enough. I liked how OpenSubtitles had a section just for this!
Subscene is a website that offers subtitles in various languages and for hearing impaired audiences. The interface features an easy-to-use search bar on the top of every page, as well as popular movies or forum posts at the front of each category.
People can put subtitles on the site. They can sign up to be a part of it. It offers movie and TV subbers in addition to popular music videos.
One way to improve your experience on the site is by posting in the community forum, which has hundreds of discussions and tutorials.
This site is specifically for downloading movie subtitles, listed categorically by user-generated ratings and comments.
I found Addic7ed is a good option for downloading subtitles because of the easy to use platform. I liked that it had an extensive list with all different languages and titles available, which made finding one simple.
There's also a search bar where you can find subtitles by typing in the name of your movie or TV show and then sort through more specific categories such as the year, country and genre.
The site also has a RSS program that lets you know when new releases are coming out for your favorite TV shows so there's no need to keep checking back all the time!
Overall I think Addic7ed is one of my favorite subtitle sites because it offers an easy-to-use interface with a wide variety of movies available in various languages.
Podnapisi is a site where you can find subtitles for movies and TV series. This English-language site has over two million subtitles available, with 58000 movies and 6000 TV series in its library. The main page displays the latest uploaded titles as well as recently best-rated ones, most downloaded and commented on uploads. Other languages are being translated to this site, so it can be used.
The main page of Podnapisi has a shortlist of the latest uploaded subtitles and sections showing best-rated, most downloaded and commented on uploads. The website also offers an RSS feed for when new releases are coming out for TV shows so there's no need to keep checking back.
The site is separated into different categories, with a section for people who want to watch films in their native language but don't know the foreign one well enough. I liked how Podnapisi had this area!
Podnapisi is an excellent option for downloading subtitles thanks to its clean interface and great selection of titles.
Formed after the infamous piracy group and with their release in mind, YIFY Subtitles is a simple-to-use website to download subtitles. Unlike other sites, YIFY Subtitles only offers subtitles for movies.
The subtitles at YIFY Subtitles are safe and piracy-free, giving you access to the latest movies in multiple languages. The homepage offers a list of recently released or popular movies as well as categories which divide them by language.
The search bar is a great way to find any specific movie you're looking for. It's easy and convenient with the autocomplete function that lets you start typing what film your are searching while browsing through different options until it shows up on screen as an option, making life easier when trying to get some background information about something new or discovering films by chance.
When viewing each individual page of movies, they have all sorts of details available like length in minutes and seconds, release date if known (with links), rating out 5 stars based off reviews from critics where possible – but also giving their own star-rating which can be handy sometimes too!
The site itself is free to use, and you do not need to register. You can upload subtitles to the site as well.
Finding the Best Movie Subtitles
Imagine the power of a movie with subtitles. Suddenly, you can enjoy your favorite action flick in another language!
You won't need to spend hours trying to decipher what's happening on-screen when it all becomes so clear and understandable thanks to those helpful translations beneath each word from the dialogue that is spoken.
But there are more subtleties than just translating words; sometimes, no matter how fluent we think our grasp of English may be, certain phrases or expressions become lost between one culture and another as they're translated across oceans for consumption by other cultures who don't share their native tongue like us natives do – but now you'll never have this problem again if you use Subscene instead because everything will always sound right out loud (in contrast) even when it's written down on the page.
Finding subtitles for your favorite movies can be a chore, especially if you're not looking in the right place. There are many sites that offer this service – but not all of them will give you what you're looking for, or they'll be too difficult to use. You want the best movie subtitles so your time and effort aren't wasted!