Problematic electronics are no longer a problem with the help of the portable CINEMOOD Portable Movie Projector.
How many times have you come home from a long, stressful day at work with the kids screaming at you that they're hungry or having boy/girlfriend troubles? Couple all this with electronic problems when the only thing you long for is to lay down and watch your favorite movie before bed.  Your Wi-Fi is messed up, your computer isn't acting right,and you can't watch your favorite TV show or movie on Hulu or Amazon.
This is where the three-inch portable CINEMOOD Portable Movie Projector comes in handy.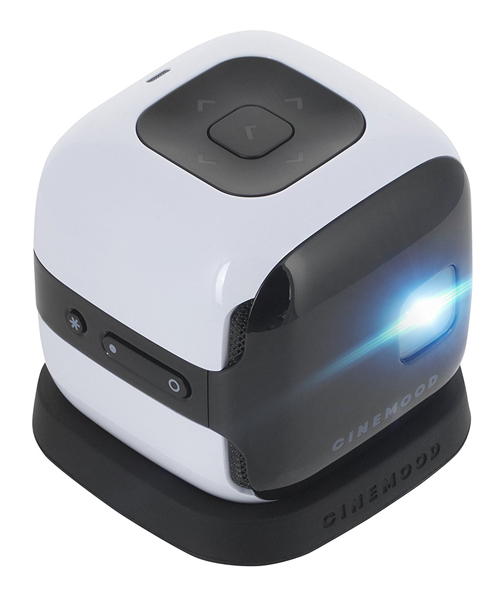 Even if you have no access to Wi-Fi, phone or other outlet, you can still watch your favorite YouTube videos or Netflix movie. It's a standalone 16GB device that comes with easy-to-use controls that will project up to 12 feet, in HD format, and works five hours before it needs charging once again. The projector comes with automatic visual image distortion correction and motorized focus control… similar to what you see in a movie theater.
You can even download content to watch if you want – ideal for people who are not big on streaming content.
CINEMOOD Features
Comes with 120+ hours of cartoons, e-books, shadow puppets, lullabies, and bedtime stories, headlined by more than 65 cartoons and stories from Disney.
Connect to WiFi and stream from their personal Amazon Prime Video, Netflix & YouTube accountts.
Media can be projected onto any flat surface.
Eliminating blue light.
CINEMOOD Specs
Noiseless cooling without a fan

Bluetooth and Wi-Fi enabled

Project over 12-feet to create images up to 150-inches

Built-in rechargeable battery lasts up to five hours

Streams HD videos from anywhere online

32GB internal memory to save your own content and download videos from Netflix and Amazon Prime Video

Control remotely with free iOS and Android apps for devices like smartphones, tablets and the Apple Watch

Advanced, motorized auto-focus

Auto-corrects visual image distortion

Soft lumen light and no blue light prevents children's eye strain