When it comes to WordPress, keeping informed about the newest thing is vital. This rule applies when considering WordPress plugins too. Here are the six best WordPress Plugins to add no-follow and open external links in a new tab.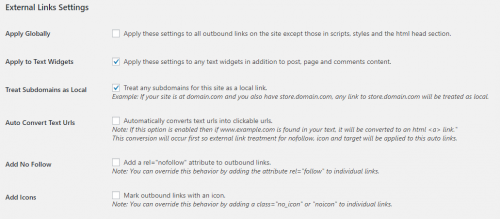 The WP Links plugin allows users to control all external and internal links on their websites. This plugin has been completely rebuilt in version 2, and it now provides features such as noopener, ugc, and sponsored values for rel, font icons, internal link options, and full WPMU support.
It also offers a variety of features such as follow or nofollow (for SEO purposes), adding noopener and noreferrer (for security purposes), setting other attributes like title and CSS classes, and link scanning.
The pro version has features such as a link scanner, exit confirmation, and link rules.
External Permalinks Redux is a plugin for WordPress that allows website administrators to redirect visitors to any URL they choose when accessing certain web pages, posts or custom post types.
This can be used to display content from external sources, or to temporarily redirect visitors to other pages. The plugin allows administrators to choose between temporary (302) or permanent (301) redirects for added flexibility. Furthermore, this plugin also has a filter system, which makes it easy to add a meta box to custom post types.
Additionally, a special function is available to include this meta box when using WordPress' add_meta_box function.
This allows the user to create a WP page and post a link to a URL of their choice, rather than post a URL or WordPress page. It redirects the user who got to the outdated normal or old URL to the latest one you have chosen. This is valuable for installing navigational links to non-WP sections of the site or off-website resource.
Once you utilize this plugin, rel-nonfollow, as well as target=_blank, will be inserted instantly, for the external link of the site pages or posts. NoFollow will not put in rel=_nofollow as well as target=_blank internal link of website pages or posts. Once you added red=dofollow to post manually, Nofollow will not put in rel=nofollow to which post.
An amazing plugin which provides you complete control beyond external links on your site. The External Links come with a full domain filtering attribute.
If you are searching for a search engine optimization-friendly WP plugin to add non-follow, look no further than WP Links. The aim is to standardize the scheme of an external link and make consistent on-page search engine optimization. Open external links in new window or new tab.