Now we present you 10 best blogs related to K-pop topics. In order to rate them accordingly, we measured the quality of the content, the frequency of the updates and the overall popularity on search engines and social media. The end result is as follows.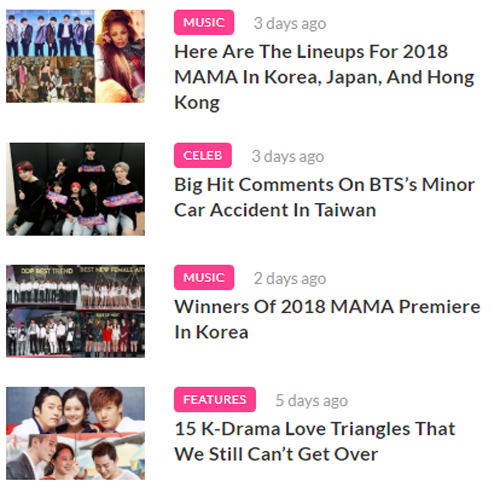 Soompi is simply the best clog related to K-pop stuff you can follow at the moment. They offer plenty of articles all related to fashion, music, news, and K-dramas. Add the videos and pictures and you get the best place to visit if you are interested in K-pop.
KpopStarz is another place to visit. Here, you can enjoy all about the Big Bang, Super Junior, Girls Generation and so much more. They frequently upload the blog so you will be able to get the latest details as soon as possible.
Add plenty of posts per week and the fact all of them are associated with the latest news about celebrities, fashion, music and drama and you get a perfect place to be.
The blog comes from Seoul and it is one of the most popular across the world. They are the best when it comes to sharing the news and general love associated with K-pop.
The best part of the blog is the fact they reveal the latest news all the time. However, they don't provide as many updates like some other blogs.
The blog is a very desirable place to be. Here you can watch the best and the most desirable Korean TV shows for free. They have a massive database and they add new ones regularly, each month, so you can get all you will need sooner than ever before.
This blog is slightly different. It gives you an option to listen to K-pop, download and so much more. They are more focused on sharing than other blogs of the same kind.
You will be surprised by the content available on this blog. They offer you plenty of news and data about K-pop, K drama and so much more. Also, they offer a lot of digital content for all of you.
They are known as one of the best news portals in Korea, all focused on K-pop. During their history, they have been working with some of the biggest names in the industry, including Aus2one, The Borne, Blok B, Aziatix and many others.
If you are interested in how K-pop fans live me the world, this is a blog for you. This is their sole purpose and the fact made them very popular at the moment. Some of the rarest information is available here.
All of you who are interested in K-pop and all that's associated with should visit the blogs we have mentioned here and get the latest news, best articles and so much more on their screens immediately.