In the digital age, it is becoming increasingly important to be able to convert printed text into digital format. Optical Character Recognition (OCR) technology makes this possible by scanning printed documents and converting them into editable text. OCR software can save you time and effort by allowing you to digitize printed documents quickly and accurately. In this blog post, we will introduce you to the 5 best free OCR software for Windows.
What is OCR?
Optical Character Recognition (OCR) is a technology used to convert scanned images of printed or handwritten text into machine-readable text. It is widely used in various applications such as document scanning, automated data entry, and document search. OCR technology is used to recognize text in images, such as scanned documents, PDFs, and digital photographs. It can also be used to recognize handwriting and convert it into digital text.
OCR technology works by analyzing the text in an image and then converting it into a digital format. It uses pattern recognition algorithms to identify the text and then convert it into a digital format. This technology is used in a variety of applications, such as document scanning, automated data entry, and document search.
It can also be used to recognize handwriting and convert it into digital text. OCR technology is also used in many other applications, such as automated document indexing, document classification, and document retrieval.
5 Best Free OCR Software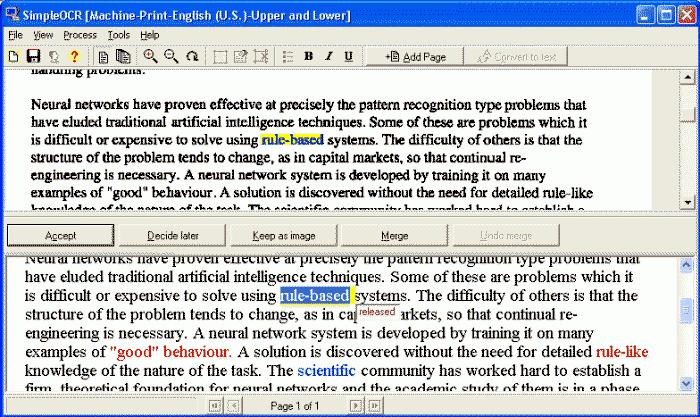 SimpleOCR is one of the best free OCR apps for Windows that is perfect for converting papers to scanned documents. This also features the ultimate suit of management that's helpful for file management as well. This software also got file indexing and scanning as well. This software is packed with many other features, such as character recognition or identification.
SimpleOCR supports a range of languages including English, French, German, and Spanish, among others. The software also offers a feature called "Zone OCR," which allows you to select specific areas of a document to be converted.
One of the most significant advantages of SimpleOCR is that it offers a high level of accuracy. The software uses advanced OCR technology to ensure that text is recognized correctly, even when it is in a small font size or a low-quality image. SimpleOCR allows you to save the converted text in various formats, including Microsoft Word and plain text.
FreeOCR is another popular OCR software that is available for free. The software supports a wide range of input formats, including JPEG, BMP, PDF, and TIFF, among others. FreeOCR is easy to use, and it can convert scanned images into editable text in just a few clicks.
This software also features Google's Optical Recognition, which is one of its excellent features within free OCR software. This specific feature is called Tesseract. You can now continue with converting images to text. This software can only be used in processing multiple batches, and this is great in terms of saving scanned documents and papers.
This software is available for Windows, Android, Mac, and iOS devices, and is free to use. It is highly dependent on a reliable internet connection, so it is important to ensure that you have a fast and reliable connection if you are planning to use this software.
It is a helpful tool for extracting text from screenshots. This allows users to copy text from websites, other on-screen texts, and more.
A9t9 is a free OCR software that is designed for automation. The software can integrate with other applications using APIs, which allows you to automate the OCR process. A9t9 supports several input formats, including PDF, JPEG, and PNG, among others.
This software supports numerous languages though this isn't really as wide-ranging as some of the other software included in this list. If you are using Windows 8 or up user needing OCR right now and you don't really have enough money to spend, you can simply click a Windows Store App, and in just a few seconds, the images to texts or documents will be processed by A9t9, and then you can easily edit these.
Filestack is a cloud-based file management system that enables users to upload, manipulate, and distribute files. It includes Artificial Intelligence-driven Optical Character Recognition (OCR) capabilities to extract text from both handwritten and printed documents.
Filestack can process any kind of document, including passports, IDs, tax receipts, and more, with notable accuracy in recognizing printed texts. It provides features such as various file conversions, automated OCR with workflows, integrated content delivery networks (CDN) for fast and secure file transfer, image editing functions, document previews, and virus detection tools.