With the aid of modern technology and innovation, lots of activities and tasks can now be done accurately and automatically. Even images can now be converted to text with the aid of special software. This is where OCR Software for Windows 10 comes in.
What is OCR?
Many individuals have probably heard about OCR but are not familiar with this and its functions. Optical Character Recognition or OCR refers to a technique used in changing scanned documents to edible texts. This is a highly refined and efficient software system allowing computers to extract text from the images.
Before the inception of OCR, people were used to retyping handwritten papers. This is undeniably a complex and time-consuming pursuit. The OCR technique is ultimately helpful for professionals like lawyers, doctors, and teachers who keep handwritten notes most of the time and convert these to texts later on for official use.
5 Best Free OCR Software
If you are curious on what the 5 best free OCR software for windows 10 to convert images to text, take a look on the following to gain clearer insights on the best of the best OCR software  for Windows 10: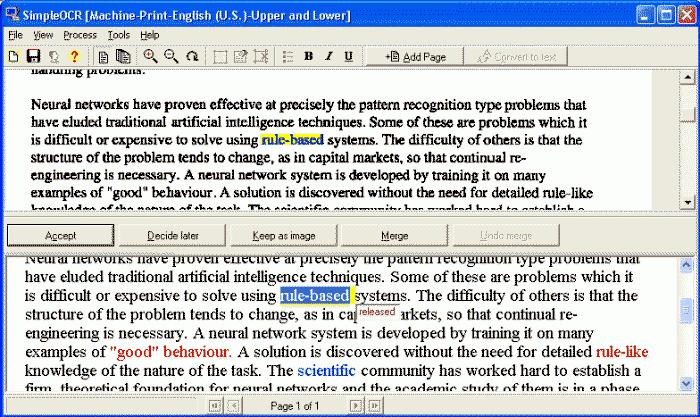 The SimpleOCR is one of the best free OCR for Windows 10 perfect for converting papers to scanned documents. This also features the ultimate suit of management that's helpful for file management as well. This software also got file indexing and scanning as well. This software is packed with many other features, such as character recognition or identification.
This is also one of the best free OCR software specially designed for Windows 10. This software also features Google's Optical Recognition, which is one of its excellent features within free OCR software. This specific feature is called Tesseract. You can now continue with converting images to text. This software can only be used in processing multiple batches, and this is great in terms of saving scanned documents and papers.
This software is not just for Windows but also Android, Mac, and iOS. This is the small, free and best software that depends on cloud-based. As expected, this clearly indicates that you would require fast and reliable internet so such software will run without any issue. If this is not a problem, you will find a helpful tool here. This best OCR aims of extracting texts from certain screenshots that further allow copying texts from sites or other on-screen texts.
This software supports numerous languages though this isn't really as wide-ranging as some of the other software included in this list. If you are using Windows 8 or up user needing OCR right now and you don't really have enough money to spend, you can simply click a Window Store App, and in just a few seconds, the images to texts or documents will be processed by A9t9, and then you can easily edit these.
This is also free OCR software for iPad and iPhone, making it easier to take a snap of documents then convert these to texts in images to digital format.
With these 5 best free OCR software for windows 10 to convert images to text, you will never have to experience the hassle and do a lot of work just to convert images to text.