Do you wish to learn the basics of Japanese as quickly as possible? Do you feel like you don't have the time for taking language courses? Don't worry. With the advancement in technology that we have witnessed, now you can easily learn a language via various apps on your phones.
Here are 5 best apps to learn Japanese on your iPhone from: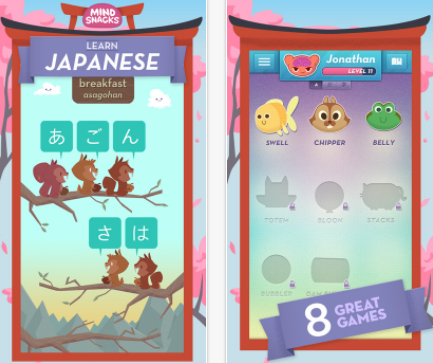 Learn Japanese is designed to be addictive and educational at the same time. It includes over eight games which allow you to build and improve your reading, writing, as well as your conversation skills. The app is ideal for you regardless of your age. The app features 8 unique games, 800+ Japanese words & phrases to study, 3 ways to practice: Kana, Kanji and Romaji, and 50 Japanese lessons designed by expert instructors
This multilingual Japanese dictionary is what you need to translate your words into Japanese, both to learn the language, and as well as to communicate with others when the need arises. It was built upon JMdict files from the Electronic Dictionary Research and Development Group. Imiwa? can be used when offline too!
Human Japanese by Brak Software Inc.
Human Japanese provides you with a holistic learning experience by including discussions, recordings, photos, reviews, and other tools to ensure that you are exposed to Japanese as comprehensively as possible. The app explains the key concepts in layman terms, which makes it an easier learning experience.
Learning Japanese by Ronaldo Timoshenko
This app is perfect for novices since it helps in building the foundation of Japanese grammar. The topics included in this app range from 3 writing systems to basic grammar and expressions. Learning Japanese also consists of formal expressions which will come in handy once you have mastered the basics.
Learn & Play Languages by CoolForest Publishing
Learn & Play Languages incorporates fun into the learning experience to allow for ease of understanding the language. You can learn Japanese while playing three-level games and by being a part of word-group learning exercises. Learn & Play focuses on you having fun instead of showing its users the normal back-and-forth of flash cards or trying to "learn the list".