Fighting enemies and saving the world don't sound amazing? Whether you have started loving superheroes by watching movies or reading comics, you admire them for the powers they possess, how they use them, and how they help their city and people. If you are a big superheroes' fan and love playing games, we have made a list of the top nine Android superhero games that you'll fall in love with.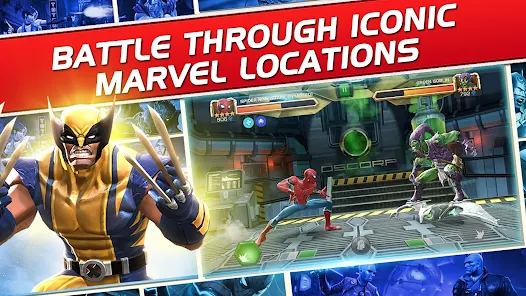 Marvel Contest of Champions is an epic versus-fighting game for Android featuring Marvel Super Heroes and Super Villains. Players assemble a team of iconic characters like Spider-Man, Iron Man, and Wolverine to battle against villains such as Thanos and Kang the Conqueror.
The game offers alliance-based gameplay, team-building strategies, and mastery trees for improving champions' abilities. With a wide range of heroes and villains to collect and an engaging storyline set in iconic Marvel locations, Marvel Contest of Champions delivers an action-packed experience for fans of the Marvel Universe.
Injustice 2 is a fighting game for Android that brings together DC Super Heroes and Super-Villains in epic battles. Players can assemble their own Justice League by choosing iconic characters like Batman, Superman, Wonder Woman, and The Flash.
Master new combos, unleash powerful Supermoves, and upgrade your heroes with special powers to become the ultimate DC champion. The game features a wide selection of DC characters, intense combat mechanics, and console-quality graphics on mobile devices.
Immerse yourself in the captivating storyline as the shattered Justice League relies on you to unite a team and restore justice. Customize your characters' appearances, fight styles, and abilities across various game modes.
Engage in PvP arenas, daily challenges, and compete on the leaderboard to become the champion.
Discover new team synergies, equip artifacts for unique bonuses, and take part in the Champions Arena for exclusive rewards.
Injustice 2 offers a thrilling DC battle experience where you can showcase your skills and immerse yourself in the world of iconic superheroes and villains.
Batman: The Enemy Within, the latest installment from the renowned studio behind Batman – The Telltale Series, presents players with a gripping narrative that challenges both Bruce Wayne and Batman. As the Riddler emerges to unleash chaos upon Gotham City with his gruesome puzzles, a more significant crisis looms in the shadows.
With a ruthless federal agent on the scene and the enigmatic Joker making his return, Batman must navigate treacherous alliances, while Bruce Wayne embarks on a dangerous path of deception. The choices you make will determine which new allies Batman can trust and how far Bruce Wayne will descend into the darkness.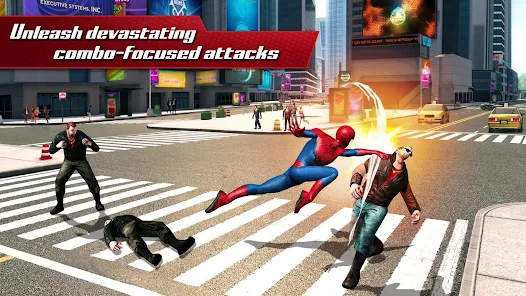 The Amazing Spider-Man 2 is an open-world 3D adventure game that puts you in the role of the iconic web-slinger. Set in New York City, the game presents a city-wide crime spree that only Spider-Man can stop. Face off against notorious villains like Venom, the Green Goblin, Electro, and Kraven the Hunter as you strive to restore order and safety to Manhattan.
As the official game of The Amazing Spider-Man 2 movie, the game expands on the film's storyline and introduces new characters from the comics, such as Black Cat and Screwball. Unlock various Spider-Man suits, including Symbiote Spider-Man, Iron Spider, and Ultimate Comics Spider-Man, each with its own unique abilities. The game features high-quality voice acting and cinematic cutscenes to bring the movie experience to life.
Experience cutting-edge gameplay with intense combo-focused crime fighting. Engage in acrobatic fighting styles to defeat enemies, ranging from street thugs to supervillains. Enjoy fluid animations as you swing through the open-world city with unmatched freedom. Take the fight to the skies with action-packed aerial combat and unleash devastating combos using enhanced icon controls.
The game offers a massive 3D open-world Manhattan to explore, with six detailed districts, including Times Square and Central Park. The console-like graphics provide a visually stunning experience. Immerse yourself in a deep story that takes you on an exciting adventure, featuring six legendary villains and a variety of side missions. Engage in heroic social events, such as battling waves of bosses and opponents in Mysterio's Arena.
Teen Titans GO Figure! is the thrilling sequel to the highly popular game Teeny Titans. Prepare yourself for an epic adventure as someone threatens the existence of Teeny Titans, and it's up to you to delve into the mystery and uncover the truth.
You can engage in exciting battles with your friends in the Multiplayer Beta and prove your skills in thrilling teeny clashes. As you progress and rank up, unlock an array of Legion of Doom figures to expand your collection.
With over 100 Teeny Titans figures to collect, including iconic characters like Batman, Superman, Wonder Woman, Flash, and the Radical Titans, the possibilities are boundless. Enhance your figures' abilities by leveling them up, unlocking even more powerful skills and attributes.
Unleash your creativity and customize your squad by repainting each figure, giving them a unique appearance. Swap character abilities to create a team that reflects your playstyle. Equip accessories such as the Bat Signal and Superman's underpants to gain an edge during battles.
Experience the full story mode from the perspective of any of the Titans: Robin, Raven, Cyborg, Starfire, or Beast Boy. Immerse yourself in the world of Teen Titans GO! with original voiceovers from the show's cast and engaging dialogue unique to each Titan.
Venture beyond Jump City and explore iconic locations like Metropolis, Gotham, and Jump City itself. Discover your favorite superhero figures as you shop and undertake special missions for DC heroes. Engage in thrilling tournaments held at legendary landmarks, such as the Hall of Justice and the Batcave.
Power Rangers: Legacy Wars is an action-packed mobile game that brings together an impressive roster of Power Rangers and villains from across the franchise's multiverse. The game revolves around fighting real-time multiplayer PvP battles against other players, offering an engaging and strategic gameplay experience. The stunning console-quality graphics and detailed character animations make for an immersive visual treat.
With over 80 warriors to collect, including both classic Rangers and those from the recent Power Rangers movie, players have a wide range of options to create their dream team. The addition of iconic villains such as Goldar and Lord Zedd adds an exciting twist to the gameplay. Moreover, the inclusion of Megazords, giant fighting robots, brings a new dimension to the battles, allowing players to customize and equip their Megazords with powerful abilities.
The game also offers various social features, such as alliances, where players can team up with friends to share tactics and strategies, trade shards, and participate in Alliance Missions. Additionally, the PvE Raids feature provides a challenging experience against AI opponents, including heroes, villains, and Megazords. The game rewards players with morph boxes, coins, and other exclusive rewards, encouraging them to continuously upgrade their team and dominate the competition.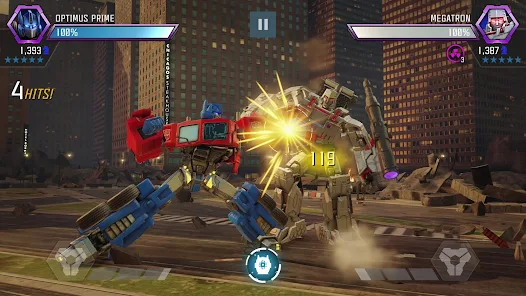 Experience the clash of two iconic franchises in Transformers: Forged to Fight. Gather an army of Autobots and Decepticons and engage in intense battles in stunning 3D environments. With its impressive roster of Transformers characters, strategic combat mechanics, and a compelling storyline, this game offers a unique blend of superhero action and robot warfare.
Ninja Turtles: Legends is an action-packed game where you join the Teenage Mutant Ninja Turtles in their battle against the evil Kraang Prime. The Kraang have kidnapped mutants, including the Ninja Turtles themselves, to create an army of Ultra Mutants. As Leonardo, you must recruit allies and enemies to save your brothers and stop the Kraang's nefarious plans.
Embark on an All-New Original story and explore the Turtles universe across seven chapters and over 70 stages. Take on iconic bosses like Shredder and Kraang in intense battles. Plus, for a limited time, experience an additional chapter based on the movie Teenage Mutant Ninja Turtles: Out of the Shadows, where you face off against the Foot Clan, Bebop, and Rocksteady.
Collect and level up over 30 TMNT characters, including the beloved Turtles themselves. Train them to unleash their unique moves and build a powerful team. You can even play as characters like Tiger Claw, Rocksteady, and Bebop, who are usually foes, to create strategic teams and fight against the Kraang. Explore favorite locations from the TV show, such as Dimension X, the sewers, and the rooftops of New York City.
Gather daily prizes and card packs to enhance your team, and embrace the Turtle Power as you engage in thrilling 5-on-5 battles alongside Leonardo. Ninja Turtles: Legends offers an immersive and action-packed experience for fans of the TMNT franchise.
LEGO® Marvel™ Super Heroes: Universe in Peril offers an exciting adventure that spans the entire Marvel Universe. In this game, you can take control of iconic Marvel characters such as Iron Man, Spider-Man, Captain America, Wolverine, and more as they join forces to thwart Loki and other villains who are attempting to assemble a super-weapon capable of destroying the world.
With over 91 playable characters, including fan favorites, you can unlock new heroes as you progress through the game. Some character families are available for purchase in the in-game store, allowing you to access them at any time. Embark on 45 action-packed missions where you'll chase down Cosmic Bricks across key locations from the Marvel Universe.
Engage in thrilling battles using the super power abilities of your chosen characters. Soar through the skies with flight, unleash incredible strength, or utilize invisibility to outsmart your enemies. Execute fast-paced combat moves and activate powerful Super Moves like Hulk's Thunder Clap or Iron Man's Arc Reactor.