There are many good games on the Japanese App Store. And more and more people have started playing games in the Japanese region as they do on game consoles. However, most get stuck when it comes to buying in-app items in these games. I want to share trusted places to buy and how to redeem Japanese iTunes Gift Cards in this post.
Trusted Shops to Buy Japanese iTunes Gift Cards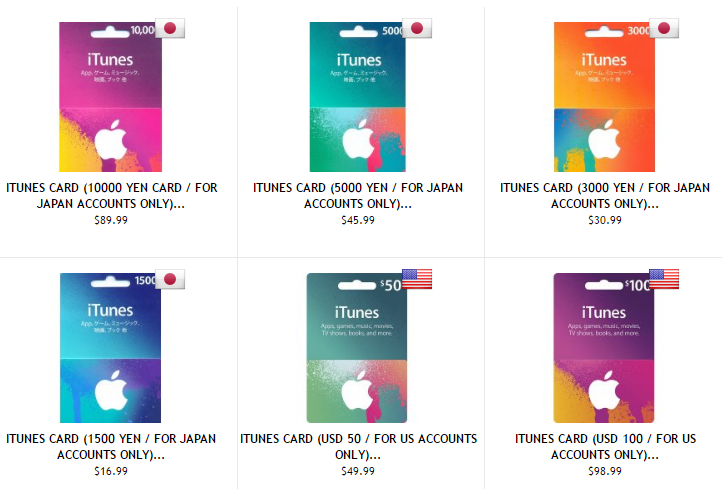 The one where I bought anything related to Japan from Japanese accessories to console games is Play-Asia. And it sells digital iTunes gift cards as well.
The shops sell 4 card types: 1500 Yen, 3000 Yen, 5000 Yen, and 10000 Yen. $10 is around 1100 Yen. You can choose a suitable card depending on your need. After purchasing and getting verified, Play-Asia will send you the digital code of the purchased card.
Amazon.com
One of the world's largest online retailers, Amazon.com offers a wide variety of Japanese iTunes gift cards at competitive prices. You can find cards with values ranging from 1500 yen up to 10000 yen. Plus, with Amazon's Prime shipping, you can get your card delivered right to your door in just a few days!
eBay.com
Another great option for purchasing Japanese iTunes gift cards is eBay.com. As with Amazon, you'll find a wide variety of card values available on eBay, and many sellers offer free shipping on orders over $25 USD. However, one downside of eBay is that you'll have to pay in US dollars, so be sure to take exchange rates into account when making your purchase.
MyGiftCardSupply.com
MyGiftCardSupply is a leading online retailer of iTunes gift cards from all over the world, including Japan. With MyGiftCardSupply, you can pay in either US dollars or Japanese yen, and all orders ship for free! Plus, MyGiftCardSupply often runs sales and promotions on iTunes cards, so be sure to check their website before making your purchase.
How to Redeem Japanese iTunes Gift Cards
On iPhone, iPad, or iPod touch
Access iTunes Store, App Store, or iBooks Store.
Tap on Redeem link at the bottom of the Featured section.
Tap on "You can also enter your code manually." then input your code.
On Mac or Windows
Open iTunes software.
Click Store then Sign In with your Apple ID.
Click Redeem on the Quick Links section.
Enter your code to redeem.
Conclusion
As you can see, there are plenty of great places to buy Japanese iTunes gift cards online! When making your purchase, be sure to take into account factors like pricing, shipping costs, and payment options before making your final decision. And if you're looking for even more savings, be sure to check out MyGiftCardSupply's website for the latest sales and promotions on iTunes gift cards!