Do you consider yourself to be health conscious? Is workout enough? Do you want to keep track of the calories you intake every day? If the answer to either of these questions is in affirmative, you will appreciate apps which hold track of your calorie intake.
Here is a list of five best android apps to count calories.
Calorie Counter – MyFitnessPal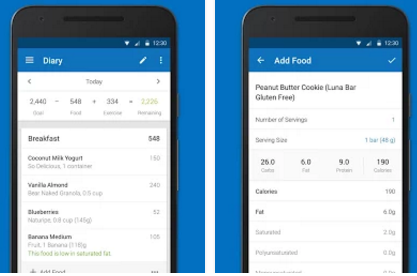 Calorie Counter – MyFitnessPal includes over six million food items in its extensive database, thereby insuring that you keep track of calories regardless of how unique the cuisine is. Moreover, using this app allows you to import the nutritional information of any recipe and create your meals accordingly.
Calorie Counter & Diet Tracker
The app lets you know how much nutrients as well as calories you eat every day. It also provides various demonstrations to burn calories and insure you stay healthy. With its extensive food database, you are bound to be informed about the nutritional details of your meal.
This free calorie counter app is marked by a user-friendly interface. It is a virtual food diary that helps you keep track of what you eat and aids you in making a healthy diet plan. It also allows you to create an exercise diary so that you know how many calories you burn every day.
This app not only allows you to count your calories as well as other nutrients, but it also makes sure that you plan your meals, exercise, and eat healthily. The fact that it allows for fast counting of calories insures that you can make quick decisions about whether a concerned food is worth.
Diet Point consists of a well-thought-out diet plan, a weight tracker, and a BMI. All these features allow you to lose weight and track your progress regularly. It also reminds you when it is time to eat, thereby limiting your meals as per requirement.